Brisbane
Friday 24th of February 2006

Place: Surfers Paradise via Brisbane to Sunshine beach, Australia
Climate: hot and sunny with some clouds, 320C
Health: Both in good condition
Thought of the day: Nice to see Maggie again (Anit) Maggie be prepared, here we come!!! (Henk)

As we left Surfers Paradise, we called Maggie that we were on the way. Of course we had already called her a couple of days earlier, but now we were really coming.
We arrived in Brisbane around 10.30 AM. We had to rush since we did not want to pay one day extra for the car. The Hertz office was right in the middle of Brisbane and we had to drive a bit to get there. When we dropped the car we were actually too late half an hour, but the lady helped us out and we didn't have to pay that extra day. We got a taxi to the house of Maggie, Mark and Josh. Maggie greeted us very warmly and showed us the house. They live in a very green area and they have a beautiful house with a lot of atmosphere and hart.
We didn't get much time to enjoy the house, because we were invited to a birthday party of the son of a close friend of Maggie. Mark was working somewhere in Siberia, so Maggie, Josh, Anit and Henk took the car and drove up one hour north to Sunshine beach. We would stay over for the night with the brother of Maggie, Martin and his wife Sharon. They also had a nice house with a swimming pool. In general, what we noticed is that in Australia people have big houses with swimming pools.
Also, that's the truth that Australians are very relaxed, open and hospital.
Together with Maggie, Josh, Tyo and Jedan we checked out the beach where the party would be tomorrow.
Later on we had a chicken and chips dinner with some nice wine from Australia. They really have delicious wines here.
Saturday 25th of February 2006

Place: Sunshine Beach, Australia
Climate: hot but cloudy with heavy rains in the morning, 270C
Health: Both in good condition
Thought of the day: 20 kids about 10 years old is too much for me (Anit) Well guys, we promised to put you on the internet, so here you go (Henk)

At this new place we slept really well. We woke up at 7.30am, made a cup of coffee and sandwich and enjoyed the breakfast outside.
Maggie and Josh were still sleeping so we didn't wake them up and had the breakfast with Martin (Maggie's brother) and Charlot (Maggie's mother). At 9 am we were supposed to be at the birthday party, which, due to the bad weather had to be moved to the garage. Originally it would be at the beach. When we arrived there, it was raining like a hell. All kids had to stay in garage because of the rain, and they didn't really like it because they couldn't do their tricks on skate boards there. At the beach there was a skating park, where they could do all these tricks and figures.

Luckily for Jadon the birthday kid, the weather cleared up and he and his friends could show us some of their tricks.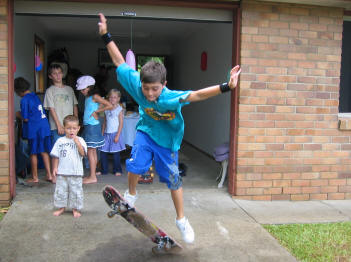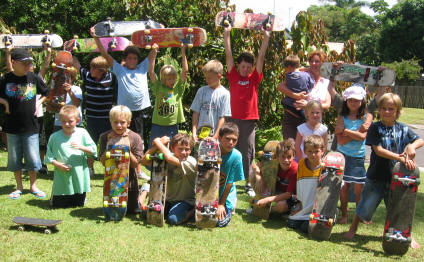 Participating in this birthday party was for us a new experience. We could observe the Australian youth as well as meet more Australian people.

We all had some good hotdogs (home made grilled) and of course Jadon received his birthday cake.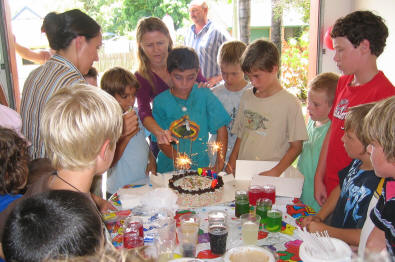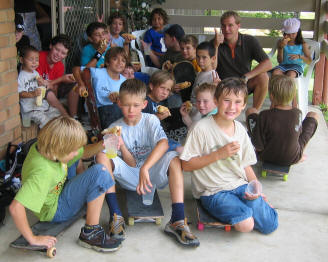 Around 11 the party came to an end. We thank Jadon and his mother for having us as guests at their party. We enjoined it a lot.
By the way Jadon, when reading this we apologize if we might have spelled your name or the name of your sister wrong. Just send us an e-mail with the correct names and we will change so. Also we have some more pictures of your party. Just drop us a an mail and we can send them.

Maggie suggested we could go for a swim in the ocean before we went home. We wanted to do so because up till now we hadn't really had a real swim in the Pacific Ocean. The waves were very big and very wild. They have quite strong current at the coast here and therefore they have here many rescue guards. You are allowed to swim only between the flags. The rescue guys watch the waves and can estimate where the currents are, how they go and where is the safe surface for swimmers. Henk was playing with the waves as crazy and Anit and Maggie stayed closer to the beach. The waves were so wild that sometimes it was difficult to stand in water. It's not really a pleasure and when you add a "Jaws" on top of this, you better stay out of water.
When we came back, we packed our things and we went back to Brisbane. Charlot joined us on the way back to Brisbane. On the way we stopped for a lunch. The rest of the day we spent on writing the diary, playing with Josh and chatting with Maggie and her mother. This evening Maggie prepared for us a delicious dinner.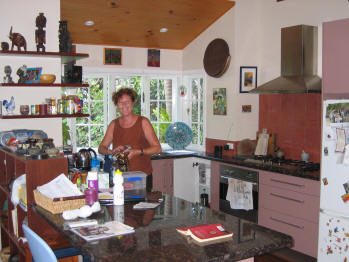 Sunday 26th of February 2006

Place: Brisbane, Australia
Climate: hot and sunny, some short rains, 300C
Health: Both Henk and Anit in good condition
Thought of the day: Lovely day, just doing our own things (Anit) And not forget that we did the lawn and helped cleaning up a bit at Maggie's, which was good fun by the way (Henk)
Guest thought of the day: Good to have some spare hands to help me out, it was a lovely day (Maggie)

Today we woke up as planned, that is at 7.30am. We were supposed to go with Maggie and Josh to the artificial beach in Brisbane, but because we were delayed with our website, we decided to stay at home and make some updates. This was fine for Maggie, who is very relaxed and made us feel here like at home. Together with Maggie's mother, Charlot, we made breakfast and afterwards we started with the update. When Maggie came back we made some housekeeping jobs. Henk was mowing the grass, Anit was blowing the cut grass away and, cleaning the tails and watering the flowers. Good exercise! It was nice to do some work again! Don't think we forget what is work!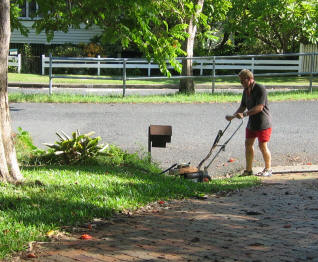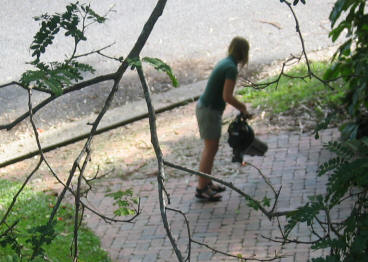 In the evening again we had a lovely meal, this time prepared by Charlot. That evening we sat all together in the garden and enjoyed our last night in Australia..............................................................................