China (Shanghai, Putuoshan and Yellow Mountain)
Friday 12th of August 2005
Place: Shanghai, China
Climate: Some clouds, but mostly blue sky, about 32 0C
Health: Both Anit and Henk in good condition (Henk some slight stomach irritations)
Thought of the day: Good to see Rob (Henk) After the sleepless night in the train I dream of some good rest at Rob's apartment (Anita)
We arrived at the station in Shanghai early in the morning (7.30am). Rob was already there to pick us up. We stayed at his place, a very nice top floor apartment in the city centre with a great view on Shanghai (See pictures below).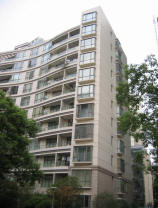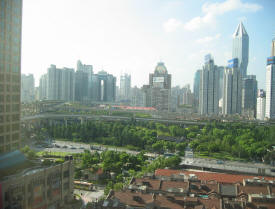 After having refreshed ourselves, we met Rob for the lunch at the "Kabb" restaurant. Since Rob has been living in China already one year, he could recommend some nice places in Shanghai, offered his guidance and informed us where and what to see in China. We can say that our trip was more or less planned up till Shanghai, as from this place we would have to make a plan for the further trip. So thanks to Rob's advices we made our plan for the further trip in China. We also visited Rob's office.
In the evening we had a good chance to try out the REAL Chinese food (Rob knows what is goodJ) and after that we went out to see how the Chinese enjoy the night life.


Saturday 13th of August 2005

Place: Shanghai, China
Climate: Sunny and very warm, about 32 0C
Health: Both Anit and Henk in good condition (Henk only stomach, so, so)
Thought of the day: Shanghai is beautiful, very different from Beijing, more business oriented, good restaurants, nice parks, waterfalls, fountains, flowers and trees; generally very positive impression as from the first sight (Anita); Finally some sun in China (Henk)
The weekend is ours! Together with Rob we went out to explore the city. To see the Shanghai from the sky, we went to the highest tower called Jinmao Tower (425m) , with Grand Hyatt Hotel inside, offering the gorgeous view on the river and the city centre. The Jinmao Tower is one of the highest sky scrapers in the world.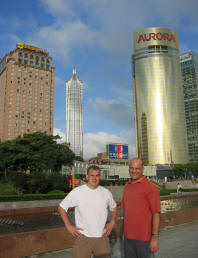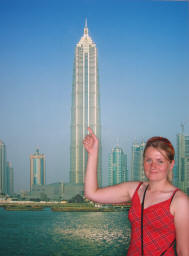 We went with the metro which is similar to Beijing, quick and cheap. The only difference was that the wagons are open so you can walk from the beginning to the end of metro, so it is like a one big open space. Taxi's, however, are also a very good means of transport. They are cheap (around 1 Euro in the center) and they are available nearly at every corner. Rob advised us always to take the green ones and aim for the drivers who have stars on their license. The more stars, the better they know Shanghai. Also interesting to mention is that most of the cars the taxi companies use are old models VW Passat, called Santana.
To get to the other side of the river, we took a boat and walked towards the old town. Also the second day in Shanghai made a very positive impression on us. In the evening we went out again for a nice food and later to the club to meet some more of Rob's friends. The club was quite ok, although the music was a bit too slow and somehow monotonous. The nicest adventure was yet to come. Henk went to the toilet, nothing special you may say, but… While he was pissing, unexpected he got a massage on his back and the warm towel was put on his shoulder! Complete shock! In fact, it was an additional service a man gets when he uses a toilet (it's not the case in the woman's toilet - and where is the justice asks Anit herself). Poor Henk could not really finish his "duty" and only afterwards he was educated by Rob that this kind of service is quite normal here. What was also quite striking were the cleaning ladies wandering among the people on dance floor and cleaning the possible rubbish. Quite tasteless, isn't it?

Sunday 14th of August 2005

Place: Shanghai, China
Climate: Sunny and warm, about 30 0C
Health: Both Anit and Henk in good condition
Thought of the day: Sleep, we definitely need some sleep (Henk&Anit)
The night was short so we stayed in bed till early afternoon. The rest of the day we spent on surfing on the internet, updating the website and sending out e-mails. It's not always possible to update the website where you are on the way so Rob's place with fast internet allowed us to catch up with some delays.
Using the msn camera and speaking option, we talked to Anita's mother and we showed her Shanghai from Rob's flat.
Evening: again out to get some food. You can afford to eat out since the food is not expensive if you compare it to preparing the meals yourself. By eating out you avoid the hassle to find something with English description (to know at least what you eat).

Monday 15th of August 2005

Place: Shanghai, China
Climate: Sunny, around 28 0C
Health: Both Anit and Henk in good condition (Henk's stomach so, so)
Thought of the day: We're stuck in Shanghai longer than expected (Anit & Henk)

The plan for today was actually to arrange the Indian visa but unfortunately there was an Independence Day in India and the embassy was closed. Well, not a big problem for us, we would go there the next day. So today: SHOPPING! Now, both educated by Rob and learned by our own experience we were prepared to bargain hard! First of all we made our way to the market where you can buy all the fake branded stuff like clothes, watches, bags, etc.
It was crowded at he market and no clear system where what was. Also the traders where extremely pushy which was not always pleasant. We were very careful and often walked away if we couldn't get the right deal. Quite nice experience looking from the point of view of the sales skills: what is the value of the product, what would be their purchase price and what profit would we give them. At what point are they loosing? How to create a win-win, what does the WIN mean for the Chinese trader? If you have time and the comfort that you can come another day, you shouldn't be afraid of going away and there are always many stands offering the same product. Running away helps by the way, because they often come after you and agree on your last price. You really should try this game. The most difficult of all is that they start always with astronomic prices (even higher than the real thing in Europe) and how low should be your counter offer. Too low turns them off immediately, but too high and… you pay too much.

Tuesday 16th of August 2005

Place: Shanghai, China
Climate: Sunny and hot, about 32 0C
Health: Both Anit and Henk in good condition
Thought of the day: I love shopping! The prices are so good that you just can't miss any single shop! (Anita); I like shopping, but…….not look at all the shops. Go for what you want buy and move on (Henk)
In the morning we went to the Indian embassy and to our disappointment we found out that the visa will be ready at earliest Monday next week. There would be a small chance it would be ready on Friday but it already complicated our plans. We wanted to leave Shanghai on Thursday or Friday but in this situation we had to stay one more weekend. Well nothing can be done, we just have to wait and enjoy our time in and around Shanghai.
Today was mostly Anita's day: all day spent on shopping. Thousands of shoe shops (Thousands, millions, a whole street full!!!!), clothes, Chinese traditional dresses, silk shops, souvenirs…

The good thing about shopping in Shanghai is, that some shops are open from 10.00 to 26.00!?!?!?!?!!?
Wednesday the 17th of August 2005

Place: Shanghai, China
Climate: Sunny and warm, about 31 0C
Health: Both Anit and Henk in good condition.
Thought of the day: It's my name day today! (Anita) Oooops, it's Anit's name day and still and no good opportunity to buy a present. Maybe I should create a small fight so we would split and I have time to surprise her?
Today we woke up late. It was time for…………nothing. And that's what we did, most of the day nothing. Yeah, we bought some food, checked Internet, e-mail, but that's it. Anita took some time to do the washing and repack her stuff which after a month trip in the backpack got a bit messy. Let's call it an organizational day, which is needed from time to time when continuously moving around.
After all this nothing we took a splendid ride to....................wake up!!!!!!!!! We took the Maglev train from Pudong to the Pudong airport. About 40 km magnet rail which is done on 7 minutes. The top speed of this train is 431 KM/H. Hallelujah, holy cows. That's fast and yeah it was.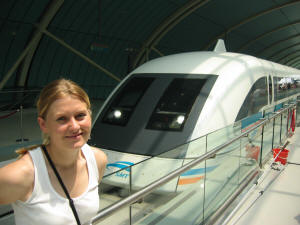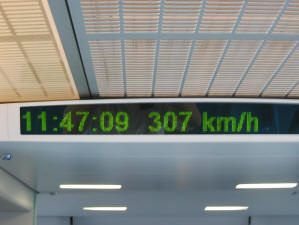 In the evening we watched the movie 9/11 Fahrenheit about Bush, Bin laden and Irak and all the facts according to Michael Moore all put together in a nice way. By the way, illegal copies of the newest movies can be bought here on each corner of the street for about 1 Euro a piece. Here in China it is not even illegal.

Thursday 18th of August 2005

Place: Shanghai, China
Climate: mist and some sunshine, about 32 0C
Health: Both Anit and Henk in good condition although Henk's stomach is still not 100% accustomed to the local food or any food at all
Thought of the day: Will we get visa for India today? I doubt it! (Henk) Would be nice to move on, we have seen Shanghai already (Anita)
Again, waiting for the visa. We checked the embassy but the visas were not ready yet.
We went out to do some shopping again. Basically Anita wanted to buy a nice Chinese dress but it was not that easy because of 1. Small sizes of Chinese women, 2. Prices are cosmic (for tourists always overpriced) and differ from shop to shop enormously. Well, we spent a lot of time looking for a nice and cheap dress and finally we got a very good deal. For 40 euro we bought a long red traditional Chinese dress, another knee-long Chinese dress, a jacket and a top. All of a good quality made of silk (or silk-like cloth). You know, the idea was to buy one dress, but the lady from who we bought the dress had a lot of more nice things and so we bought more (Anita). Kope, kope, kope, that's all I had to say to this (Henk).
In the evening nice dinner with Rob (He sure knows the right places in Shanghai and a fantastic view of Shanghai (Pudong side) from a restaurant on top of the roof. At this last place we had only some drinks (not nice prices, because of the view of course).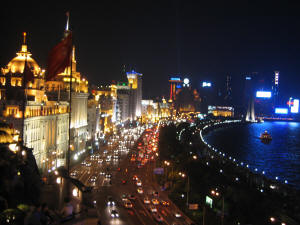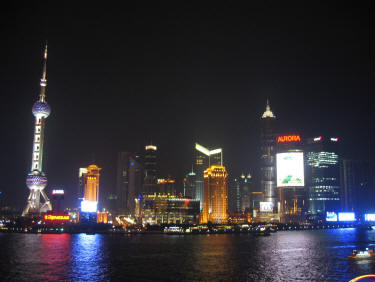 Friday 19th of August 2005

Place: Shanghai, China
Climate: mist and clouds, about 32 0C
Health: Both Anit and Henk in good condition
Thought of the day: Will we get visa for India today? (Henk & Anita)
Today we woke up at about 10.00h. We both felt like moving on and leaving Shanghai behind us. After we had bought everything we wanted to buy here, we spend most of the day reading the LP China and updating our web-site. The best is like with all jobs to do some every day, but sometimes you do not feel like doing that and than the 'job' gets bigger and then you need a couple of hours more to complete it.
In the afternoon we went to the post office to make our first shipment of goods (books, presents, etc). By surface was the cheapest way, 18 Euro for 6 kg. Now a quick visit to the Indian embassy, but no, we did not get our visa, like yesterday they said:" Monday, Monday".
In the evening we went out for dinner with Rob and this time Anit's favorite, a nice Italian restaurant. Since it cooled down nicely we said outside with some pleasant background music of the guys working with a big crane on the street at 21.00h on Friday evening?!?!?! Chinese do not know or have weekends.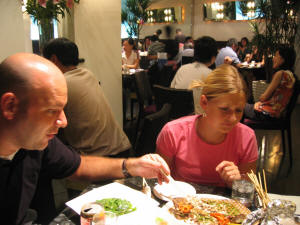 Later that evening Anit went home and Rob and Henk went to the bar to meet some friends from Rob.
Saturday 20th of August 2005

Place: Shanghai – Hangzhou - Putuoshan, China
Climate: mist and clouds, about 28 0C
Health: Both Anit and Henk in good condition
Thought of the day: Goodbye Shanghai, but we will return (Henk) I thought we could find some wild nature and peace at the West Lake but the place was terrible crowded mostly because of Chinese tourists (Anita)

This morning we left Rob's house at 08.30h, heading for one of China's most touristic places called Hangzhou with the West Lake. We took the subway (Saturday morning completely packed) to the Mailon railway station, which is specially built for the train to Hangzhou. Again at the ticket office it was a complete madness. We finally got tickets, but no more soft seats available, so hard seats it was. Getting on board and expecting the worst we found out, hard seats are not so bad, but for 1.5 Euro difference it's better to get soft seats. In the train with the help of our LP (where would a traveler be without Lonely Planet) we made our further plans and decided to make a small round trip from Shanghai to Hangzhou to the famous West lake) and then to a little island called Putuoshan where you can see the China, as it is in the mind of most foreigners, and from there back to Shanghai.

After 2 hours in the packed train we arrived at Hangzhou Central station. Also here, a lot of people. Simply, Chinese are everywhere. A city like Hangzhou has 6.1 million inhabitants!?!??! Before our visit to China we had never heard of this city. There are a lot of more similar cities here about which you never hear in Europe. Unbelievable.
At the train station we found the tourist centre where we got some help, but according to them no hotel near the West lake had rooms available, so we decided to take the taxi and check ourselves.
Scrawling around the lake we saw too many people (also maybe because of the weekend) and foggy very big lake. The hotel we wanted to stay was under construction, so we decided on 2 things; we would not stay here for the night and we would have a lunch first to discuss the plan "B".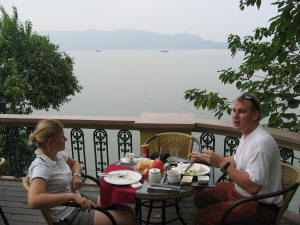 Lunch was great; we were sitting at the lake on the restaurant's balcony enjoying a tasty food. During lunch we came in contact with a business man from Bangkok and his Chinese assistant. He introduced himself as David. His business was buying batteries in China and selling them in Thailand, with also some export to nearby countries. According to him a worker in the factory costs +/-1,000 Yuan (= 100 Euro) per month, but company also supplies housing and 3 meals per day. Good system considering that the workers sleep next to the job, so are never late and make a lot of extra hours Their families mostly live thousands km's away and they see each other only during the holidays (eg. Chinese New Year.

He and his assistant helped us out with our further travel plans and wrote down some of the questions we needed to ask to buy tickets in Chinese. I was a nice chat and David suggested even to contact himwhen we where in Bangkok.
So lunch finished, time to say good bye to the beautiful, but overcrowded and foggi West Lake.
We took a taxi to the bus station, bought in an easy way tickets for the Deluxe bus to Ningbo, where we would spend the night. During the ride we saw hundreds of hectares with tree nurseries with small and big trees and most of them looking very nice.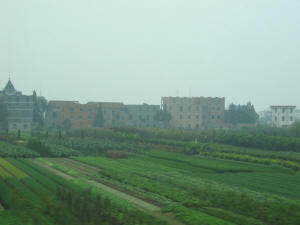 According to the LP there should be an okay hotel near the shipping station for our further way to the Island Putuoshan. The hotel was not there anymore, but at least the old Portuguese Catholic church was still there so we could find our location.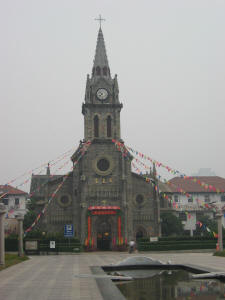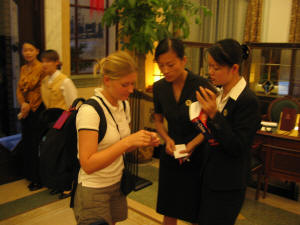 After we were helped by some girls from a restaurant (Mostly if you ask one person, 3 or 4 more show up and they all start to debate with each other to find the right answer!), we found a hotel right across the street. The hotel looked a bit sleezy, but the rooms where clean and the price was good; 18 Euro per night including breakfast.

After checking in, we made a walk through the centre of little Ningbo. Euhhhh, little with 5.4 million inhabitants!

We first made our way to the Portuguese church, it was really beautiful. Nearby we heard some music and talks so we decided to check where it came from. We saw a kind of gathering when we looked through the open door. Immediately we were pulled in and had to stay as guests at the farewell party of the priest of this church. His daughter spoke a bit English and she explained all and introduced us to everybody. It was really nice and we promised to come back for mass Sunday morning at 07.30h. Anita tried to find some common topic with the only Chinese speaking catholic community and asked about the Polish pope. In return I got some pictures of the pope with a prier in Chinese at the back side. Nice to see people who welcome a stranger so warmly, call you a brother at the other side of the world (Anita)

One the way back we sat down near the river, and had some ice cream. It was a very nice evening, but not finished yet.

On our way back to the hotel again we heard music, but now coming from a bar called Bourbon Street. Some nice live R&B music performed by a band from the US. The most fun we had on the toilet. Henk was 'attacked' again by the toilet guy for a massage. In Anit's toilet the toilet ladies where sleeping. No problem for Henk, he just knocked on their door and yelled: "Wakie Wakie it's 09.00 O'clock". Yes, it woke them up! God, how were they frightened!

In the Hotel we also checked the bar, but here where all separate rooms and everywhere young girls and old man? What was did and what where they doing? KARAOKE, also famous in China.

<![if !mso]><![endif]>


Sunday 21st of August 2005

Place: Island of Putuoshan, China
Climate: sunny and some clouds, about 30 0C
Health: Both Anit and Henk in good condition
Thought of the day: Goodbye Shanghai, but we will return (Henk) So, maybe here w can get some nature and piece…(Anita)

Today after the Chinese breakfast we took a bus to the ferry terminal and the ferry boat to the Putuoshan island. The whole way on the boat (around 1 hour) there was a monotonous music which, as we found out later, was specific for this island. The island is a home to Guanyin, the Buddhist Goddess of Mercy and the island has many temples and statues to pray to the Goddess.

We spent some time looking for accommodation what was not easy due to the peak season, also quit touristic place which is never cheap, and the "additional charge" for the foreigners. Finally we found hotel Hong FA for 200RMB (20 euro) per night (including cockroaches, which we found out later). By the way 20 Euro might seem cheap to most of you, but considering a Chinese worker making a 100 Euro per month it's a fortune and my Hotel in Austria (Frau Brieger) which was definitely of a much higher standard was 35 Euro (incl. breakfast). So for Chinese standards, outside the big cities this is we would say too much, but anyway we had a place to stay again and it looked all clean and okay.

Since it took us a long time to find a reasonable accommodation we took a power nap to gain more energy.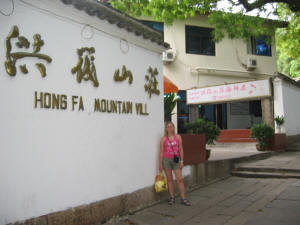 Monday 22nd of August 2005

Place: Island of Putuoshan, China
Climate: sunny, about 32 0C
Health: Both Anit and Henk in good condition.
Thought of the day: Interesting to see the Buddhist monks who occupy the island (Anita). Some fresh fish for dinner today? (Henk)
Today, after a Chinese breakfast (again rice and noodles) we went to explore the island. We recommend this place due to its specific holy character and the picturesque views. Especially the temples with the huge, golden statues of the Buddhist gods are worth seeing. We took a cable car (made by Dopplmayer from Austria, Austrians are everywhere, they must be very good) to the peak to see one of the temples.

The beaches here are very nice (clean and un-spoilt). You have to pay an entrance fee but the place is guarded and has facilities such as showers, lockers, restaurant, and rental of swimming equipment.
When we came back to hotel later this day, we found out that we were not only guests in this room. We shared it with gigantic cockroaches. Well, said Henk to the scared and jumping on the bed Anit; "wait till we are in India…It is much worse there …"

Tuesday 23rd of August 2005
Place: Island of Putuoshan, China
Climate: some clouds, but mostly blue sky with nice sun, about 35 0C
Health: Both Anit and Henk in good condition.
Thought of the day: Beach bay, beach baby, beach ohh yeah beach (Henk) (Anita)
Today was a fabulous day. We woke up at 09.00h and packed our stuff, to check out and to go to the BEACH!
The sun was shining and the weather was nice.
Some minor struggles with the ladies of our hotel to get some towels for the beach and not to forget,…….toilet paper (always useful). Interesting was here that they have mini toilet paper rolls. So, what we mean is the toilet paper is of the same size but there is only 20% on a roll like normally. Some things are funny and make you think.
At the reception we received our tickets for the night boat back to Shanghai, double-checked the times and the time when the bus should pick us up and bring to the port of Putuoshan. Everything seemed ok.
First, we still had to see the big statue (33 m high) of the Goddess Nanhai Guanyin. She is, after the founder of the Budism, the 2nd most important God of the Buddhism. We hopped on the bus (for 2 Yuan) which brought us at the foot of this impressive statute. We grabbed some fruits along the way and ………………….wow, impressive 33m long golden statue which makes you a tiny thing when you stand in front of her.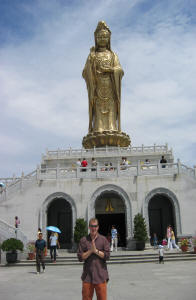 In fact, it was not only a statue, but like a complete monastery, with beautiful wood and stone carvings and statues of other Gods. Please just have a look at our pictures.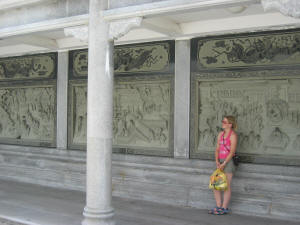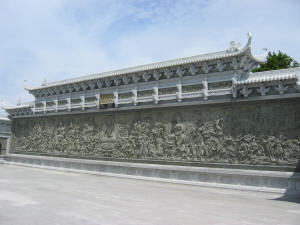 At the beach we grabbed some more breakfast (pancakes). Food is still an item we have to look for. We mean, would you like rice every morning as breakfast? Every day is a new experience and we try and taste different things.
Not taken the color of the water in consideration (color is like the color of the North Sea or East Sea), the beach was beautiful. There were some minor clouds to protect against too strong sun and a nice temperature of the water. We rented 2 rubber bands and flooded on the waves the whole afternoon. The sun was strong, we are getting yellow… J Life is great!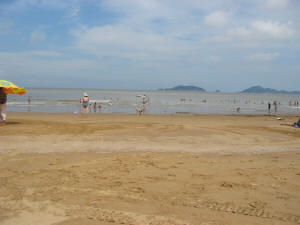 Later that afternoon we took a shower and had some dinner. A "must" here is to have dinner at one of the many sea food restaurants. You can choose the fish, shrimp, turtles, crabs or any other seafood live from the tub and they cook it for you. Henk had to discuss in detail what he wanted and how he wanted it and of course, not to forget.. agree on the price before you buy!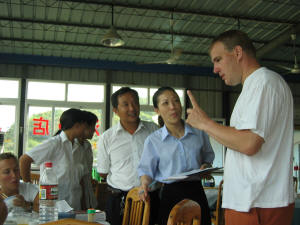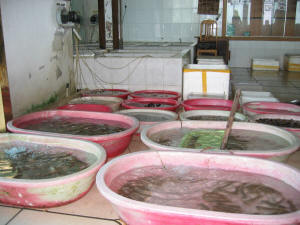 We had some shrimp, mussels and two small crabs with some vegetables and of course rice.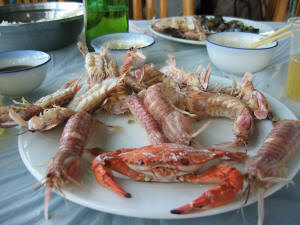 At the hotel the bus was perfect in time. We said goodbye and 5 minutes later we where at the port.
Boarding a boat with 100 Chinese people is really fun. After they opened the gate some Chinese almost killed each other to get on the boat first, even though everybody had his or her own bed?!!?!? Henk was upset and blocked the whole line (easy when you're bigger than most others) and said his words "Do't is henig an!"
Pushed from all sides, Anit lost her temper for the first time and hit the Chinese behind with her elbow with the whole power she still had. Even her violence didn't help much…
On board we where happy for a short time, since we had a room with only 4 beds and nobody seemed to come, but after a stewardess checked our tickets she redirected us to another place where we would have been both separated so Anit with 7 Chinese sharing a room and Henk with 7 Chinese sharing a room. Too much low budget and for 208 Yuan more we got a room just for ourselves.

The boat itself gave us the feeling we where on a kind of a Titanic, it was old and rusty and had only to life boats. Even the gate between second and third class looked a bit awkward (They didn't use it by the way).




Ah, about our room, it was not only us, we also had Jim the big airco hole which blow freezing cold air into the small room which could not be turned of or lower.

Goodbye Putuoshan.

Wednesday 24th of August 2005

Place: Shanghai, China
Climate: Mist, mist and mist, about 28 0C
Health: Anit in good condition and Henk got a cold from the airco, which was obvious.
Thought of the day: 06.00h, no sleep, no breakfast, bloody airco (hatsju) and get kicked out of bed. Not a good start of the day (Henk) (Anita)
The day started with some bad surprises, the boat did not arrive at 07.30h as expected but at 06.00h? We were woken by the ferry crew, put our things together and got off the boat as the last persons. What was nice, was to see in the park nearby that many elderly where practicing Thai Chi.
Also the boat did not really bring us to the center of Shanghai. From the harbor to Rob's apartment was 64 Yuan! No price for budget travelers.
We did some early morning shopping (food) and went to Rob's place. He was still asleep and locked the door from inside. We didn't want to disturb him so we waited 15 minutes until we heard his alarm clock.
Good morning, Rob was surprised to see us so early and we shared in short our experiences with him.
This last day in Shanghai we used for the last preparations for the further trip. We had to organize bus tickets to Yellow Mountains, flight tickets Tunxi to Guangzhou, a small present for Rob, some more things and not to forget to pick up our visa for India. Would they be ready?
Well, we can tell you, if you do not know your way in a Chinese city and you need tickets for bus, train, plain, etc. the best is to go directly to a 4 or 5 star hotel and if they want (since you are not a guest) they can help you perfectly. That's what we did finally, to go to the Four Seasons Hotel (very nice hotel by the way if you want to spend some money) and there a Chinese lady called Helen helped us with all our questions. In the evening we could pick up our bus tickets and plane tickets. With the plane we double checked what airline and what planes, but Helen assured us no Tupolev, but Boeing, so that should be fine don't you think Otto?
Before being so smart we spent almost half a day going from the train station to the bus station, to the CITS (Chinese International Tourism Service), other travel agencies, but all could not answer our questions due to lack of English, not having this service available or simple not willing to help!
In the mean time we also made a stop at the Indian consulate to get our visa. Yes, we got our passport with a nice big sticker for India, so India here we come (in a few weeks)!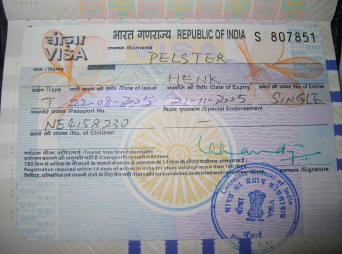 At the end of the day we quickly got a new city map of Shanghai for Rob (we more or less demolished his) and a small farewell present. Rob, we hope you like it and once more thanks again for the great hospitality and showing us around. Please send us picture of our gift than we can put it on the website.
In the evening we went out for the last time with Rob and his friend Millie also from the Netherlands to a very nice Cantonese restaurant, where we had all kinds of delicious dishes.
At 23.00h we came home, packed our stuff for tomorrow and hit the sack.


Thursday 25th of August 2005

Place: Shanghai-Tunxi (Huang Shan), China
Climate: Mist, about 28 0C
Health: Anit in good condition and Henk has his nose completely blocked, so still a cold from the airco.
Thought of the day: It's time to leave Shanghai, but why so early? (Henk) Mountains, that's what I love (Anita)
Kukellekuuu, Kukellekuuuuuuu. Where did we here that before. Oh, shoot it was 05.00h, ready to get up to get the 06.30 bus to Huang Shan and Yellow Mountain.
Pfffff, again an early morning, but we were heading to a nice place with beautiful mountains.
We washed, grabbed our stuff and left Rob's place. Outside was a red taxi which are normally the worst, but luckily the guy had 3 stars and we showed him the address and the bus tickets and he immediately knew what to do and where to go. It was a 20 minutes drive (cost only 2 Euro) and we arrived perfect in time. The bus was of good quality (like in Europe for longer distance) and punctually as always we left at 06.30h for the 6 hour drive to Huang Shan. During the ride, we made several stops (no toilet onboard of this bus, but also to pickup more people and for the toll.
What is amazing is that the main roads between the cities are extremely good. Lot of highways and all the signs in Chinese and English.
Nicely in time we arrived in Tunxi (Huang Shan). A pushy taxi driver was already waiting to bring us to Tankou for….100 RMB. "No buses anymore today" he said hoping that we, the bloody tourists would believe him. "Are you crazy"; Anit said. We walked around at the bus station and there where buses leaving to Tankou every 20 minutes for as less as 10 RMB per person. The bus was old and the driver was crazy but there were the locals onboard so we thought nothing wrong could happen.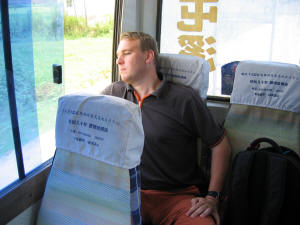 The nice thing of the bus was that the windows could be opened and you could stick your head out. Along the way (1.5 hours) we picked up and dropped of several people. Some with big bags and boxes. All went into the bus.
The good thing about starting early is that you arrive nicely in time at your destination which gave us the opportunity to look around for accommodation. We ended up at the Huyan Hotel, a quit new 3 star hotel with good bed and good shower and, the most important, no cockroaches.
While exploring the city of Tankou, Anit bumped into the famous Mr. Cheng from the Lonely Planet. He is really a nice good honest and helpful person. He helped booking a hotel on top of the Yellow Mountain and we spent the rest of the evening in his restaurant. He also recommended a nice walking route including the impressive 9 Dragons' Waterfall.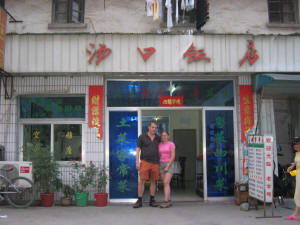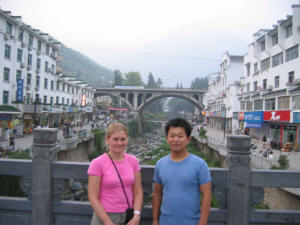 Friday 26th of August 2005

Place: Huang Shan (in English Yellow Mountains), China
Climate: Sun, about 30 0C, later this day rain and colder
Health: Both Henk & Anit in good condition
Thought of the day: Why do they build the stairs in the mountains? To make it easier for people to climb? I would prefer a normal walking path. The stairs are killing me. (Anita) This is it, stairs all over the place, you must do it! (Henk).
Climbing the Yellow Mountain you can choose the western steps or the eastern steps. You can take the steps, but can also go by cable car. The aim is to see the sun set and the sun rise in these extra ordinary mountain peaks.
We decided to go via the eastern steps, but before that as advised by Mr. Cheng, we took the steps of the 9 Dragons' Waterfall.
What we actually didn't know (and also Rob didn't tell us that) is that the steps are actually steps! Thousands and thousands of steps leading you through the mountain peaks.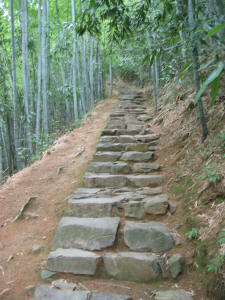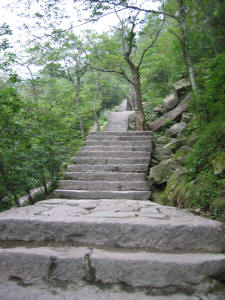 So, at 09.00 hour we met Simon Cheng again and he brought us to the start of the steps of the 9 Dragons' Waterfall. It's a walk up the mountain of 3 hours! This was really though and even our mountain girl Anit was not ready for this. Half way we saw the waterfall and could get close to it. There were multiple falls with some of them having a pond underneath with such clear water that it looked like a fantastic swimming pool. We took of our shirts and trousers and jumped in, swimming under the waterfall. Life is great!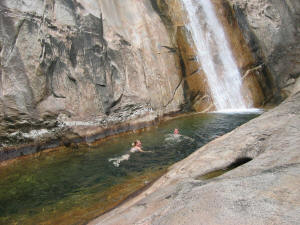 After the swim we were ready for the second half of these steps. During the climb you hear many noises of birds and insects, but suddenly we heard a weird kind of screaming! What was that? Suddenly we saw them. A group of monkeys were crossing our path. Most of them went away, but than 2 stayed on our path and where coming at us!?!?!?? What to do? We quickly turned back and went several meters further but they were following us. After a while we anxiously looked into direction of monkeys and they stand still. We stepped backwards again and Henk made some big sticks for defense. In fact, we where eye to eye with the monkeys completely unprepared for such situation! Their leader screamed and luckily they left our path. We almost decided to go back the whole way, but now with the sticks we were more confided to follow our path. Not far away from this place there was beginning of the eastern steps. We passed a hotel on our way, and here we go, our friend monkeys again…They where looking for some food from the kitchen.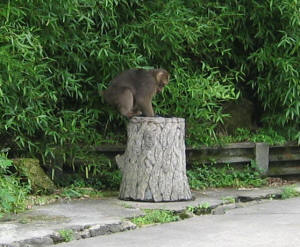 At the beginning of the eastern steps (and already after 3 hours climbing), we made up our minds, saved 130 RMB and did not take the cable car but the next climb of 7.5 km's! This was a long long way, but we made our stops, enjoyed the view and after 5 hours or so we reached our hotel where we had booked dorm beds (shared bathroom and 6 beds in one room, boys and girls separated).
At the hotel we met Amber and Ben a couple from the US (Los Angeles, CA) also traveling around the world for one year.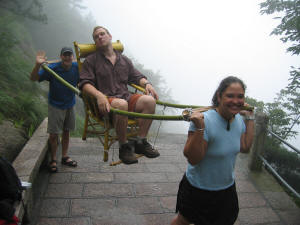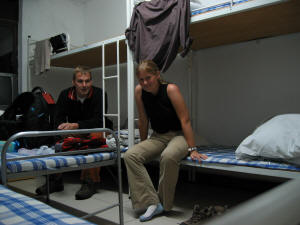 This was very nice, we could exchange our experience and thoughts. We decided to have dinner together which was also great, since Ben was like Anit vegetarian and Amber like Henk a Great Meat Eater. Guys, it was very nice meeting you and spending some great time together!
Since there was nobody else in Anit's dorm, Henk could move from his room to sleep together. Normally it is not allowed, dorms are separate and the law is strict. But again, we had some luck and nobody caught us red handed!

Saturday 27th of August 2005

Place: Yellow Mountains, China
Climate: Mist, some rain, about 23 0C
Health: Both Henk & Anit pain in the muscles
Thought of the day: Mountains ok, but not breathtaking, maybe because of the foggy weather (Anita); No sun-rise, though luck. Next time better (Henk)
To be in the Yellow Mountain and not try to see the sun rise is a sin (So, get up early is the word). It was cloudy and rainy but still we decided to get up at 5 am to see at least the mountains at dawn.
Together with Amber and Ben (by the way, they also broke the law and slept together, naughty foreigners) we climbed up the observation point, but we didn't see the sun rise, due to the too bad wheather.
We had a nice breakfast – western style this time, with jam, toasts and coffee. Great! A good start of the day. We walked from one peak to another following the western steps this time. It was a 7,5 km scenic route. The only problem was that it was not down as we expected. Especially the beginning is up and down making it a challenge for you legs.
On our way back we met not only (thousands of) tourists, but also men carrying different goods (like water, vegetables) on their shoulders. Carrying approximately 60 kilograms on the shoulders, they climbed the mountains, step by the step. A lot of respect for these guys…We heard that the more kilograms they carry the more money they get. And now imagine that there is a cable car along the steps bringing you to the top in about 15 minutes…
Henk as usual wanted to know the details of this job and tested a few steps. RESPECT guys!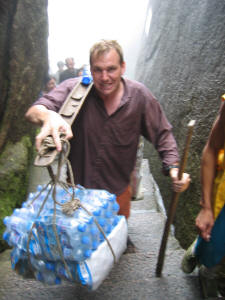 Sharing the traders' pain, we climbed up the mountains and also went down not using the cable car. We even learn how to descent reducing the effort of your muscles. We actually ran down like the guys, the small difference was only that they had the goods on the shoulders and we only a small bags.
After the climb we returned to our hotel, took a shower and let Amber and Ben also use our bathroom since they already checked out from their hotel. In the evening we met Mr Chang (He always seemed to be there when we needed, maybe that's why his name is Simon) and decided to eat at his restaurant. The food was delicious and the evening splendid! Amber and Henk shared to fresh chickens cooked with soya sauce.

Sunday 28th of August 2005

Place: Yellow Mountains, China
Climate: mostly sunny, but also some clouds, about 25 0C
Health: Both Henk & Anit pain in the muscles
Thought of the day: Enough of the steps, today we are going to fly, hurrrraaa!!! (Anita); Getting slowly but closer too....Tibet (Henk)
After a nice western style breakfast at Mr Cheng's restaurant we took a bus back to Tunxi. Worth mentioning is that Mr Cheng did everything to satisfy our needs and ran to the supermarket to buy a jam for us for the breakfast. We also got toasts and coffee. That's a good service!
In the bus we experienced the rip off situation (unfortunately very common in China) when we bought our tickets we didn't get the exact change but 6 Yuan less. The guy ignored us completely pointing out at another Chinese for whom we also paid according to him. "Well, that's not true my dear, give us our money back, we have nothing in common with this boy". We kept on pushing and very unwillingly the guy finally gave us our money back. As soon as we arrived at Tunxi we were approached by Taxis which wanted t take us to the airport for 30 Yuan (after negotiations, the starting price was 50 Yuan). We were however warned by Mr. Cheng that we should pay max 10 Yuan. Ok, nobody wanted to take us for this price so finally we found a kind of 3-wheel vehicle which took us there for 15 Yuan.
At the airport we decided to take out the medicines before checking in (Henk read somewhere that the low temperature in the plane's luggage compartment might not be good for some of the medicines). The thing was that we also had syringes with us which would certainly be taken out but the custom officers. We also had a bottle of wine which was not allowed on board (we didn't want to check it in because we were afraid that it might break in the backpack). Fortunately we got the already checked in luggage back and we put there the medicines again. The wine we checked in separately in a bag.
So off we went!
The flight with China Southern costs 110 Euro person. It took us 1.20 min to get to Guangzhou in the south. From the airport we took a bus to Hong Kong. During a 3 hour long trip you first cross the Chinese border and than the Hong Kong one. Crossing the border is more formality than the in-depth check. But still your passport is checked and you get a stamp in the passport.
On arriving to Hong Kong, we quickly found out that people could communicate in English (a good impact after the British occupation). Super! Instructed by a passer-by we took a metro and followed the Lonely planet recommendation, we went to the Wang Fat Hostel on Hong Kong Island. We got there a double room for 32 euro. That's quite expensive for China, but for Hong Kong the price was ok. It's 23.00. Goodnight.