Wednesday 26th of October 2005
Place: Mumbai, India to Dubai, United Arab Emirates
Climate: sunny and hot, 32 0C
Health: Both Henk and Anit feeling very good
Thought of the day: When entering the door of the Airbus of Emirates I all forgot about India for a moment (Henk); What a luxury, first time in my life with Emirates airlines and in business class (Anita)
The start of the day was really brilliant. We got ripped off for the last time. "Ok, take this money and go to hell". A taxi driver asked 200 rupees for a drive to the airport although we agreed only 160 when getting on the car. Ufff, so good we leave this country.
We flew with Emirates, in business class. Amazing! The plane, Airbus, was huge and we had a lot of space. We had two fully automatic chairs together, TV's with pilot and with touch screen with thousands of functions like: all kinds of films to choose, flight map, news, down and forward cameras, music, plays, etc. The live of budget travelers is not always bad!?!?!?!?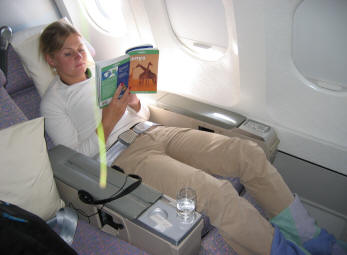 The flight to Dubai was around 2 hours. We first got our welcome drink, and than a tasty breakfast. The views were amazing, especially the turquoise sea when approaching Dubai. We were both fascinated by this flight and also curious to discover Dubai.
When we arrived at the airport, we first had to organize a visa for Anit. We had to pay 50 $ for our three day stay! For Henk it was gratis. At the airport there was a driver waiting for us (this is included in price when you flight business class). He took us to our hotel. The hotel, Crown Plaza, was gorgeous. It had nice swimming pool with the view on sky scrapers, a very nice Italian restaurant and a café. We got a very nice room.
First of all, we took a bath to clean the dirt from India. Two hours away, and we are in completely different world, isn't it amazing and shocking? Here in Dubai, it's clean and organized, there are perfect roads, a normal traffic, amazing flowers everywhere and people who deliver their service for the normal price. No more hassle about bargaining, everything is at fixed price and at a high standard. We both fell in love with Dubai at first sight.
Not to loose time (we only had 3 days in Dubai), we went to explore the city. Following the map, we first took a shuttle bus from hotel and then walked to get a first impression of the city.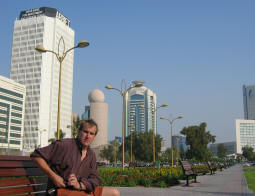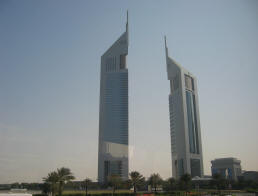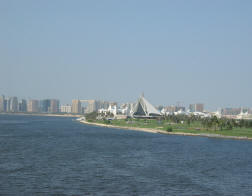 The distances were to big though, so we realized that we have to use taxi to see all interesting places in 3 days. There in Dubai we first experienced the Muslim Ramadan. Most of the shops and restaurants were closed until 6pm and you are not allowed to eat on the street. Great, we are hungry. We don't know the city yet, we don't know where to get some food and finally we saw the big yellow M. Yes, something for Henk. It was open but the problem was that there was only a Take Away service available… But where should we take it away if you are not allowed to eat or drink in public. We did buy some food and decided to consume it somewhere in a building or something. We entered a building, went to the first floor, sat on the ground and ate our meal. Well, you know, if you are hungry…you have to find a solution.
In the evening we went to the public beach. You have to pay there a small entry fee but the beach is very clean and the sea amazingly blue.
Later this day we found out that there is tour double decker bus which brings tourists to all interesting places in Dubai. It has two routes and you can jump off and on whenever you want. Great, we are going to do it tomorrow. In the evening we decided to try the Italian restaurant and it was a perfect choice.

Thursday 27th of October 2005
Place: Dubai
Climate: Hot, around 350C
Health: Both Henk and Anit in good condition
Thought of the day: Let's dive into the day (Henk) Wow, how clean and organized, how many flowers, what a harmony here (Anita)
We started the day very healthy. At 7pm we went to have a swim.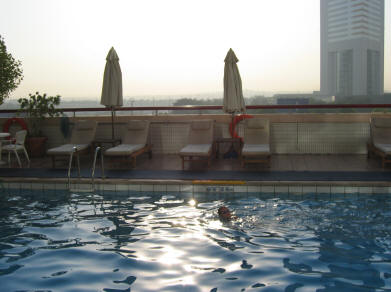 Afterwards we had a delicious breakfast, a super delicious breakfast. Today was a tour bus day. We wanted to do the 2 routes (blue- city tour, and red - beach tour). Our first jump off was at the Dubai Museum. We are not so museum freaks but the way they present their city there is really worth seeing. You can learn there about the history of the city, its culture, local customs and people's every day life. Highly recommended.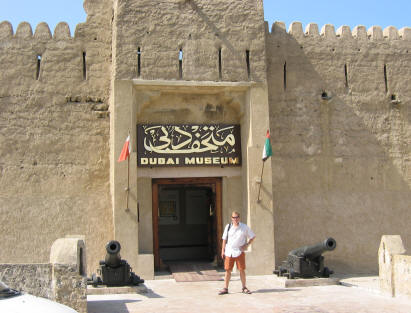 During the beach tour we saw the new 7 star Hotel called Burj Al Arab Hotel. It has its own landing platform for helicopters and the night there costs only 2,000 $. Well, if we get good jobs one day…why not?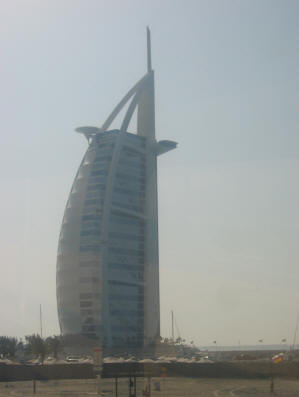 Afterwards we went to see the golden creek (where they sell amazing amounts of gold) and the fish market (interesting to see all kinds of fish, especially sharks).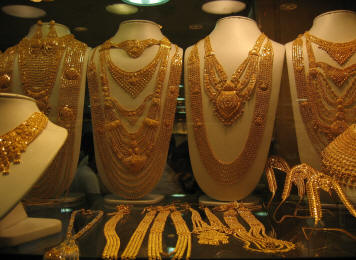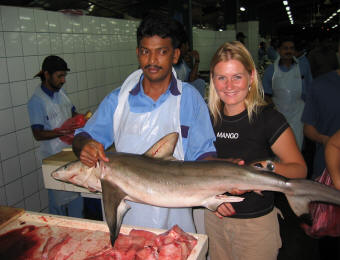 Just as if it was not enough for today, we decided to see the amusement park in the evening. It was quiet here, maybe because of the Ramadan? We took gondola to see Dubai from above and later a 4-persons bicycle and rode around like crazy. Great, great day! Dubai has a lot to offer. Having only 3 days, we had to make selections. We first wanted to do a desert safari, together with sand boarding (like snowboarding but on the sand). Well, we have to come back to Dubai, and we certainly will.

Friday 28th of October 2005
Place: Dubai
Climate: Very hot, around 330C
Health: Both Henk and Anit in good condition
Thought of the day: (Henk) Like this place more and more (Anita)
After en early swim and breakfast we took a shuttle bus to the hotel private beach. We got a special vouchers and had to drive for about 40 minutes to finally get to the ugly beach belonging to the Radisson Hotel. Due to the location in the city, our hotel shares the beach with Radisson. And this we can't understand because the beach is ugly, very close to the oil platform and closed in the bay so there are no waves any more. It's like a lake with ugly views. Well, we took a swim and decided to get back to hotel, take the towels and go the public beach again called Jumeirah.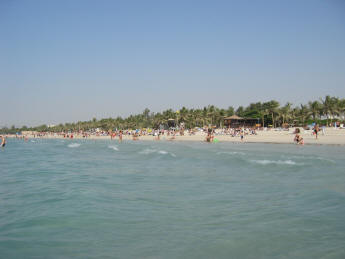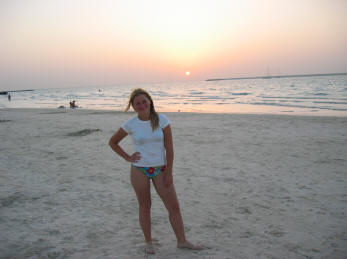 We already visited this beach the first day and although public, it was much cleaner and much nicer that the hotel beach. Water in the sea was so clean and so warm that we didn't want to get out. We swam and looked for small gray fish. We watched a beautiful sunset still from the water. When it got darker we decided to go back to the hotel. It was a last day in beautiful Dubai and we wished we could stay longer…In the evening, to close the beautiful stay in Dubai, we enjoyed the dinner in the Italian restaurant in our hotel. Anit couldn't resist the delicious Tiramisu and much limited her meal to make sure she could enjoy the large portion of this great cake.
Let's pack our stuff again, tomorrow we leave for Africa!