Fiji

Saturday 15th of April 2006

Place: Auckland, New Zealand to Nadi, Fiji
Climate: very sunny, both New Zealand and Fiji, around 300C
Health: Both Henk and Anit feeling excellent
Thought of the day: Exciting to fly to Fiji (Anit) Hey, we're going to Fiji, back to the Island (when reading have in mind the tune of 'going to Ibiza' from Vengaboys) (Henk)
Today we woke up around 8am. We first packed our backpacks and all stuff. Nicky had proposed to go a bit earlier to the airport. There is a nice restaurant were we would have our last meal together. So said, so done. We where all ready to go and then Joanne got a phone call. Something went wrong with a delivery from food she needed for her shop. The guy came to the shop and could not get in even though he has a key. And what he did was just drive back to headquarters. No he was on his way back and Joanne agreed to meet him at the shop. She would come just behind u she said. Okay.
Of we want with Dianne, martyr and Nicky to the airport. There was not so much traffic and within 40 minutes we were there. We checked in our stuff, all went smooth. Where was Joanne, no news yet.
We called her and she said it would take longer. Would she make it.............?

We went to the restaurant and had a light lunch. We thought Joanne wouldn't make it and made video messages on Marty's phone. Goodbye Joanne, we miss you. Please come to Europe one day and visit us! Then we received the good news, she would be there in 30 minutes.
We went back down again and yes, there she came. Now big hugs with everybody and bye bye. We had to go to Fiji! yes it's true Marty, we didn't want to go, but we simply had to go to Fiji.

See you all in Europe one day!!!!!!!

We went true customs and had to wait another 30 minutes, then it was time to board. We flew with Air Pacific which was much cheaper than Air New Zealand. They fly with a big Boeing 747-400. The plane was full. Yeah, who doesn't want to go to Fiji?
The pilot made the final announcements and we where ready to go. The plane left the gate and,...yeah and....The engines went down, actually the whole plane shut down. No airco, no engine, no lights, simply no electricity anymore. The pilot tried to start again. It went on, it went down, it went on!?!?! Then it went down and he could get the plane started anymore. Everybody was a bit tense. What's this? The pilot made the announcement. Yeah, no power and he needs help from the gate so we are going back to the gate.
At the gate it took quit a while to get the plane up and going again and everybody was sweating like hell. Then after 40 minutes or so, things were running again and we were ready to go.
The plane drove to the runaway, the engines screamed at full max and of we went. It's always amazing that such a large thing actually goes up in the air. Especially with a 747-400 you can see it needs thee full runaway to take off.
The flight itself was pleasant. Anit got her veggie meal and we watched some movies. Fiji is not that far from Auckland. We arrived at 5 PM in Nadi, Fiji.
At the airport we tried to find the tourist office recommended by Lonely Planet and somehow we ended up not where we wanted but at some other tourist agency. They welcomed us warmly and gave us nice Fijian necklaces but they couldn't gave us a proper information. That's the old story we have already got used to: they wanted to put us in the hotel where they get commission and they wanted to arrange for us as much as possible. On top of that they didn't have any idea of descent diving. It was difficult to get out of there but we said that we still have to think about it and bla bla bla....That was a bad beginning.
When we came down the shuttle bus to our hotel was already there. We met some other backpackers going there so it was already a good sign. The hotel was nice, full of young people, it had a restaurant, pool and a travel agency. First thing we did was to visit the travel agency. The lady who worked there was very professional and to the point what we really like. We booked with her the Yasawa Flyer boat and accommodation at Otto & Fenny's place on the Tavewa island. We chose this place after we had read the good review in Lonely Planet and because the dive shop was located next to this hotel. When everything was arranged we could have a relaxing drink.


Sunday 16th of April 2006

Place: Nadi to Tavewa island (Yasawas group), Fiji
Climate: Sunny, around 300C
Health: Both Henk and Anit feeling excellent
Thought of the day: Fiji is so peaceful... (Anit) Otto and Fanny's place it will be (Henk)
Early this morning we had a quick breakfast and at 8am there was a bus to take us to the ferry terminal. It was full. We thought well, it's going to be busy where we are going...When we arrived at the terminal we got our tickets and went on the boat. It was very good organized. People from the bus took our luggage and from this moment we didn't have to worry about it; it was delivered on the boat. The Yasawa Flyer is a big catamaran with a real Fijian music on which immediately put you in the good mood. BULA, welcome on board we heard. BULA!
The 5 hour trip was excellent. The boat stopped by different resorts to deliver or to pick up people. We saw many tiny bounty islands on the way. Our resort was at the last stop which gave us opportunity to see all other islands before. Good, isn't? See some views from the trip below: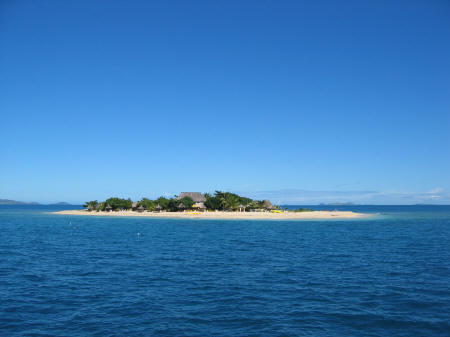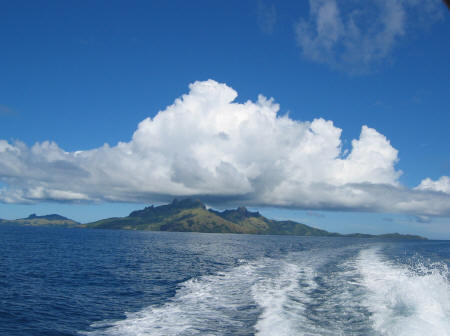 It was exciting because we didn't know what to expect from Otto & Fanny's place... Will it be nice? After 5 hour we arrived to our destination. Yasawa Flyer stops in the middle among four islands and small boats from different resorts came to deliver guest and pick up the new ones. Our boat was also there. There was one more guest going to Otto & Fanny; an Australian man called Mark. Other boats were all pretty full so it looked like our resort was not really popular??
The place was nice. There were 6 bures (bungalows) in a pleasant garden, a dining area, kitchen, one dorm building, little shop and some other houses where the family of Otto and Fanny live. It was very peaceful. We were welcomed by the staff; they gave us our bure and informed about meals, activities, etc. The biggest disappointment was to find out that the dive shop was not there any more!?!? According to Lonely Planet and what people in Nadi said, the dive shop should be close to Otto & Fanny, that was one of the reasons why we chose this place.
There is nothing to do about it now, we just have to take a boat to the other island where the dive shop had moved.
We took a boat across the turquoise water and on the other side we saw the dive shop: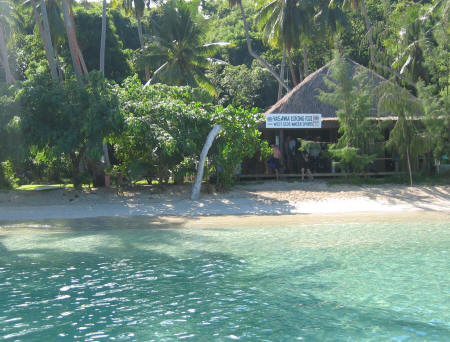 First person we met was Nicko who gave us information about diving and the advance open water course we were intended to do. It was not so busy at the moment since the real season starts in June. We arranged the course and fun dives, starting from the next day and we had a look at the resort here. It was somehow more lively here and the resort was nicer but of course the price was much hihger that what we pay at our resort. We found out that it was better to stay at Otto & Fanny which is cheaper and be picked up by the dive boat every morning free of charge. We could have lunch at the other resort and come back again after second dive to have dinner at Otto & Fanny. Perfect.
When we came back to the resort it was almost about the time for dinner. We heard one of the lady playing a wooden instrument which announces that the dinner is ready: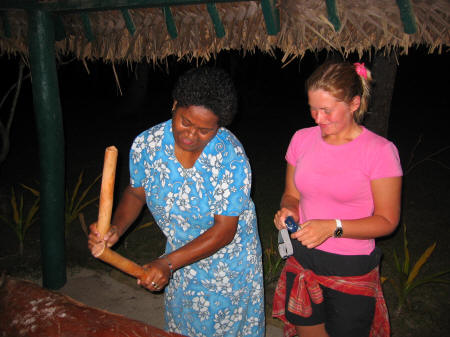 Anit also had a try to play it but we don't know weather the guest would understand that, hahahaha.
Food was lovely. Lonely Planet was right that the cook, Harry does a great job. We spent the evening chatting with other travelers and we went to bed excited about diving tomorrow.
Monday 17th of April 2006

Place: Taweva island (Yasawas group), Fiji
Climate: mostly sunny, around 300C
Health: Both Henk and Anit feeling excellent
Thought of the day: Excitement and stress, that's what I always feel when diving (Anit) Advance course, I think it's good we do that (Henk)
The gong for breakfast rung, we were already awake. Ready for the diving course. Anit was a bit stressed and also we didn't study all the materials yet. What to do? Well, since we had anyhow enough days, we decided to postpone the course for one day and first start with 2 fun dives. Hopefully the dive shop would accept our proposal. Probably yes.

At 9am the boat should pick us up, but no boat. We waited 10 minutes, 20 minutes and no boat. We saw a small boat passing by and going to the other island. Should they have not picked us up. Have they forgotten us?
At 09.30h the dive speedboat came to pick us up and yes, they had almost forgotten us?!?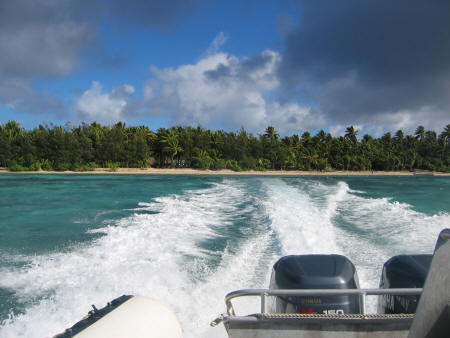 At the dive shop we met Manie who would be our instructor for the advance course. We discussed our new plans with him and no problem, first 2 fun dives today and then tomorrow we would start with Peak Performance Buoyancy and Navigation.

The fun dives were with Nicko. We were with about 8 people on the boat. The boat they have is absolute fast! 2 engines with 350 horsepower. It took us only 8 minutes to get to the dive sites. It was more or less on the outer reef. When we stopped we saw dolphins and they were getting closer. Would we have a chance to swim with them????
We quickly put on our gear, but they left us again. What a pity. Maybe they would come back later.
The first dive was at Wonderland. We saw some lobster, a batfish, lot's of coral. The visibility was not so excellent here, but the dive and the water were great.
Henk as usual ran out of air quicker than Anit and he went up with this Asian lady. The problem only was that the Asian lady could not control her buoyancy and just shot herself up more or less. Henk tried to slow her down, but no success. The main problem was that there was some confusion who should go up with who and air was running out before things were really settled. It was also unpleasant that we went deeper than expected. It was not an excellent start with the dive school.
After the dive we went back to the resort and had some lunch. The Asian couple decided not to dive again that afternoon. The lady was not feeling great. No problems, but maybe a bit shock.

Lunch was good here and actually it was nicer that dive school was at the other island. This simply gave us the opportunity to explore more and eat at different places. The good thing with Otto and Fanny is that you don't have to take any meals and you just pay per meal.

The second dive that day was much better and more relaxing. We went to Taweva Breakers, not so far away. Hold yourself, because when this boat moves, we go fast and you can easily fall out!
We saw a beautiful big shell down there. For Anit it was a less pleasant dive. She had problems with the mask.

After the dive they took us back to the resort. We had drink and then they took us with a smaller boat to Otto and Fanny.
Now some studying and before we knew they rang the gong for dinner. Again excellent. Harry, you are the best. There were some new guests. Most people travel around on Fiji since you have so many beautiful islands and you can buy a BULA-pass which gives you the possibility to-hop-on-and-off the Yasawa Flyer. We didn't do this since our aim was diving and getting the advanced open water.



Tuesday 18th of April 2006

Place: Tavewa island (Yasawas group), Fiji
Climate: Lots of clouds, little sun and at night heavy rains, around 270C
Health: Both Henk and Anit feeling excellent
Thought of the day: Can't eat, stress... (Anit) Today first day of Advanced, will be so big fun (Henk)
Bong, bong, breakfast is ready. We were also ready for the course. Today we would start. The boat was late again, but now they did not forget us, they were just late. It's a Fiji time, relax.

Before the dive, first some review of theory. We were prepared and actually it is all quite simple and clear. Now Manie went with us. The first test was Peak Performance Buoyancy. This is one of the most important things in diving, your ability to float in a proper way so to say or better to be excellent buoyant. This means that under water you do not go up and do not go down! You stay in one place, safe energy and only go forward by moving your fins gently.
With your breath in and out you can go a bit up and down and NO playing with your BCD.

The exercises went perfectly for both of us.

After these exercises we continued our dive and Manie showed us some interesting things under water. He is an excellent guy with great experience.
After the dive with high-speed back to the resort. For lunch a burger for Henk and Anit had a delicious salad. During the lunch we we still had to do some reviews: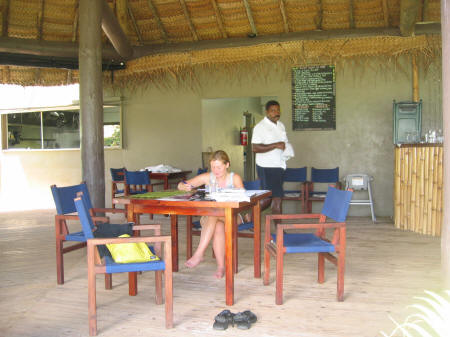 The second dive was Navigation. Before we went with the boat, first some exercises on land. At first it seems complicated with the compass. Do you now deduct 90 degrees or add 90 degrees and do we go left or right? Once your doing the exercise on land all gets clear and your are ready for underwater.

Underwater you must do 3 exercises; 1 go away in one line and come back, 2 make a quadrate and 3 natural navigation. With exercise 1 and 2 it is important to count your kicks. As mentioned before the visibility was not excellent here this time of year, so we had to do our exercise good, especially the quadrate to come back to the same place we left. Both went fine.

The most fun is the natural navigation exercise. Manie goes in front and we have to follow him and remember the way back by the things we see like coral, rock formations, bottom shape, etc. Never concentrate on the fish, since they move around, haha.
After a while we had to take the lead and swim back were we came from. Great fun and it went well.

After the dives they took us back to Otto and Fanny. New guest arrived and others had left. Always fun and interesting to exchange travel experiences. Harry prepared fantastic meal again.
That evening we studied a bit more to be prepared for the dives tomorrow.


Wednesday 19th of April 2006

Place: Tavewa island (Yasawas group), Fiji
Climate: Clouds, no sun, 270C
Health: Both Henk and Anit feeling excellent
Thought of the day: I feel more and more confident with diving (Anit) Deep dive today (30 meters), not so easy for a guy like me who's using his air so quickly (Henk)
The boat was there to pick us up. When we came to the dive shop, we had to prepare our equipment. The boat was full of divers today but we were only two students with Manie. There were some other guys doing Open Water but they went with Nicko. Everybody ready, here we go again. What a speed man, unbelievable, you really better hold to the ropes.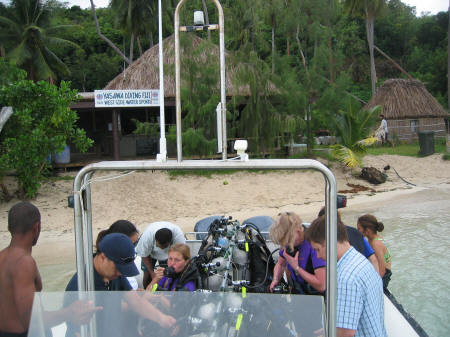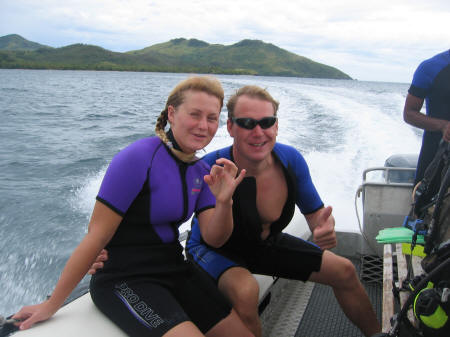 When we reached the dive site called Coral Garden, we put on our gear and Manie explained us some techniques when deep diving. Our assignment would be to write our names backwards when we are down there to see how much slower our brain acts down there. We went down, first time so deep, but there was not much difference really. It took us indeed longer to write our names backwards there that we would do at the surface. After these exercises we continued our dive among beautiful corals.
When we came back on the boat, most of the guys were already there and we headed back to the resort. We took a lunch again and had some rest before doing the Photography dive this afternoon.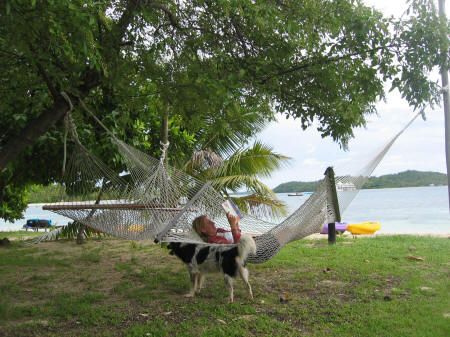 The photography dive took place at Lion's Den dive site. Unfortunately, the visibility was not so good, only max 10 meters, so for the pictures such conditions are not really nice. Anyway, Manie explained us how the camera works (it was a digital one so much easy to operate) and reviewed with us techniques of making pictures underwater.
The boat was already waiting for us when we came to the dive shop. The dive was nice and we tried to capture some fish but it's not that easy as it first looked. When you make sure your buoyancy is ok, you have enough light, your object is close enough, the fish is gone most of the time, hahaha. When you are quick and capture your fish, than the other factors are not good. Well, we need practice, that's it. At least we have some theoretical background now.
Henk was low on air 10 minutes earlier, so Manie sent him up to the surface. Anit continued together with Manie for another 10 minutes and when they saw a great lion fish at about 6 meters with good light and still (lion fish doesn't move much), the digital card was full. Great! Next time, better.
When we came back to the resort we rested a bit and took a dinner. Tonight we were having the night dive. And it was exciting if not scary! Something we didn't do before. We prepared our equipment still during the day light to make sure scuba is complete and working. When we came to the dive shop, it was already dark. The three scuba units were waiting for us: Anit's, Henk's and Manie's: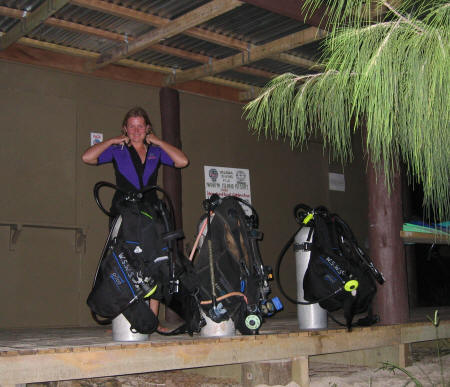 Manie briefed us about the night dive and Moses, the captain joined us with the boat. We didn't go far with the boat. The dive site was called Cabbage Patch due to loads of cabbage-like coral. We put on the gear, turned on the light of our torches and rolled back to the water all three at the same time. First amazing thing we saw were the fluorescent shrimps in the water. We went down to about 10-15 meters and after a while we felt more comfortable and not scared any more (Anit). No, maybe, just a little bit, especially when you turn back and there is complete darkness behind you...
We saw many fish sleeping on the bottom in the sand or somewhere hidden in the coral. We saw crabs and shrimps which we normally don't see during day dive. Amazing was that we could even touch the fish and they didn't swim away, they were sleeping. Especially, the puffer fish, a big one was nice, we could touch her and even hold for a while. What an experience.
The dive was excellent.
Manie and Moses brought us back home directly after the dive. It was already 9pm. At Otto and Fanny, the guests were still sitting in the dining area so we joined them and told them all the exciting stories from underwater. Wow, we fell so good, great achievement, we became Advanced Open Water divers.
Thursday 20th of April 2006

Place: Tavewa island (Yasawas group), Fiji
Climate: sunny, around 300C
Health: Both Henk and Anit feeling excellent
Thought of the day: Love diving, now I'm going to practise what I learnt the last few days (Anit) Last few days before we go to the US (Henk)
We woke up today with a good feeling: we will receive our certificates today and we are going to do 2 fun dives as well. Good. The boat was there as always to pick us up. We arrived at the other island and all the equipment was ready for us. Guys working for West Side Water Sport dive shop do really a good job. We were somehow more relaxed today ready for fun!
The first dive site was called Thom's Thumb. We went down with a few people. After 35 minutes of so Henk was almost at 50 and Moses, the guide decided to send also Anit to the surface. What the hell, I still have 90 bar, halo, do you hear me, Moses, halo...I screamed into my regulator...When we all came to the surface I said: Moses, how could you, such a beautiful dive and you send me up??? He promised next time to buddy me with somebody else if Henk runs out of air again (Anit)
We enjoyed diving very much. By this time we have met all people working here and met people who were diving with us these days. John, from America who was staying at Otto and Fanny also joined us for two days.
As always we took a lunch at the other resort and came to the dive shop before 2pm for the second dive. On the way we always had to be careful of.........falling coconuts: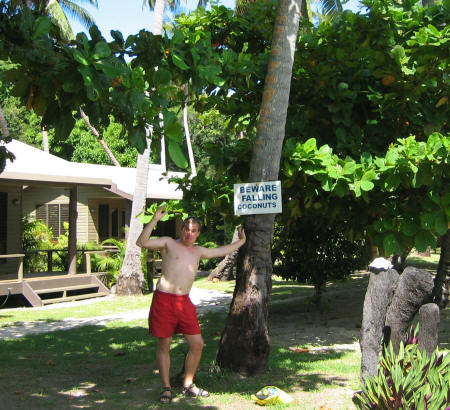 The second dive site today was called Simi's Maze. This time our dive master was Maggie. She took us to the beautiful site full of canyons and swim troughs. There were not many fish there but nice coral and impressive rock formations. A very good exercise for buoyancy by the way. We were only with four and that's just right. If you have a bigger group, it's too many people and you keep bumping into each other and the pleasure is gone.
When we came back to Otto and Fanny we still had some time before the dinner so we decided to explore Tavewa a little bit and we walked around. We visited David's place, another resort which was nice but ours had somehow more atmosphere. The evening we spent together with John and May who were also staying at Otto and Fanny. A very nice couple; they were having their Honey Moon.

Friday 21st of April 2006

Place: Taveva island (Yasawas group), Fiji
Climate: mostly sunny, around 300C
Health: Both Henk and Anit in good condition
Thought of the day: Last day diving; we definitely have to come back here (Anit) Yes, we should (Henk)
Today was our last day on Tavewa. Unfortunately, time is going too fast when you are having fun.
The Yasawa Flyer would pick us up today at 1.30pm so we still had time in the morning for one dive. The last dive site was called The zoo and is one of the famoust dives here in Yasawas. Its popularity is due to the present current which brings food for the fish. We were in a big group today which we don't like so much but what can you do? There was a very strong surface current. They warned us that as soon as we roll back into water we have to head to the rope and descent along the line. The risk was that if you stay on the surface the current could bring you miles away. We didn't believe it so much until we jumped in the water. The current was so strong that it was hard to get to the rope in front of the boat. Descending along the line was very difficult because of the current. That's why they said we had to descent as soon as possible. When we were down there, it was completely different. Relaxed and peaceful. We were with Moses again and this time he allowed Anit to stay longer. She didn't have to go up together with Henk. He got another buddy, a guy from America and Anit continued with his wife. After a while the wife had to go up and Anit got another buddy. Cool. During this dive we went to 34 meters, the deepest dive we ever had.
Anit ended up with her 3rd buddy and Moses. What is funny is communicating under water. It is very difficult and you want to tell each other what you see and feel. When you then go to the surface, everybody goes, hey what did you say? and everybody laughs. Great about diving is also the review after the dive directly in the boat.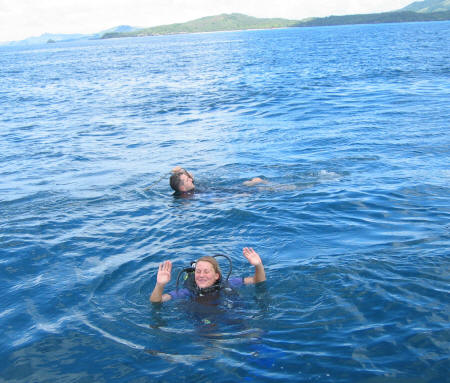 The boat brought us directly to Otto and Fanny's place. We said good bye to the dive guys from dive shop and other dive companions and went to pack our stuff. Later we had our last meal and said good bye to people at Otto and Fanny. It was a great place; quiet, friendly and personal.

The Yasawa Flyer was there as scheduled. The little boat took us there: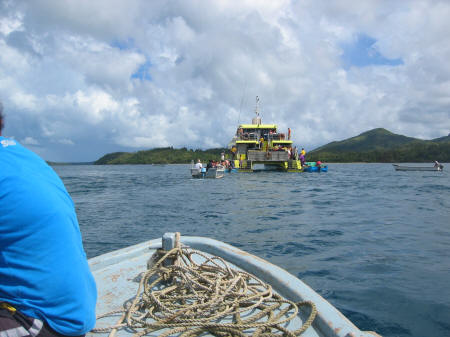 Good bye Tavewa, we had a wonderful time here.
The plan was to stay at Beachcomber island for one night. This is a tiny paradise-like island famous of its parties. We thought it would be a nice finish of our Fiji trip. When we came here we didn't have accommodation yet. It turned out to be almost completely full but we got two dorm beds in the 90-bed dormitory. Imagine, sleeping with 90 people in one big room?!?!?! We couldn't even get beds close to each other. No problem, it is a party island and we don't intend to sleep much anyway.
The dorm was half open so it was almost like sleeping under the sky: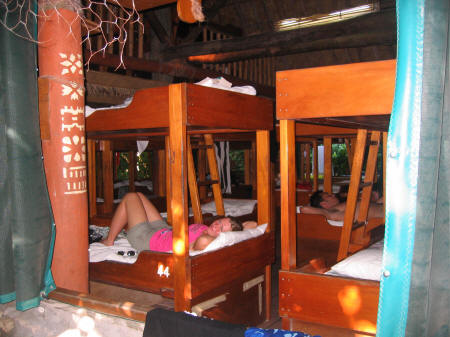 In the evening we took a walk around the island to check if it takes 10 minutes like they write in Lonely Planet. Yes, it does. The food was quite ok here but Harry's one was better. There were many young people here. They have a lovely beach bar and they also had Fijian dancers this evening. We enjoyed it very much although staying here longer than one day would be too much for us.

Saturday 22nd of April 2006

Place: Tavewa island (Yasawas group), Fiji to Los Angeles (USA)
Climate: very sunny, 320C
Health: Both Henk and Anit in good condition
Thought of the day: Nice to do water-skiing again (Anit) Not so easy as I thought this waterskiing and quit strong on the arms (Henk)
Sleeping like a rose Anit was woken up by a kiss from Henk. Henk was already awake and on the way to take a shower. He slept a few beds further than Anit. We both took a shower and went for breakfast. After that, it was time for water-skiing. It was actually Anit's idea because she had already done it before and she wanted to see if she still remembers. She also wanted Henk to try. We arranged the boat and skies and off we went . Anit was first. It went quite smoothly: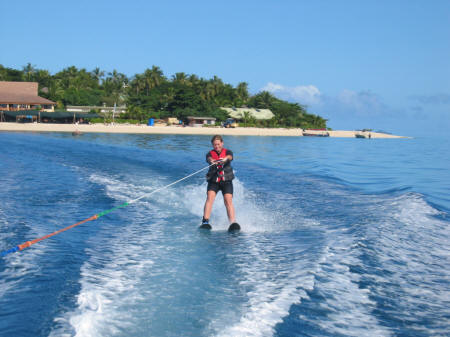 After 15 minutes, it was Henk's turn: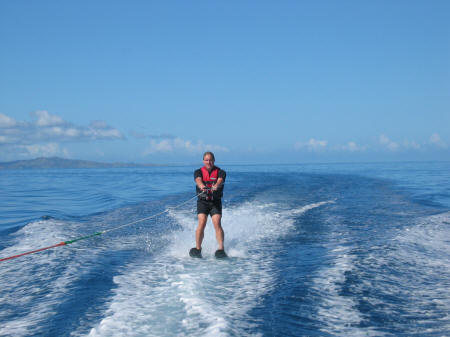 He did fine although he had some problems with getting up from the water, which is normal when you do it for the first time. We had great fun but it was not really Henk's sport as he said later.
The Beachcomber island offers its guests a lot of activities and we obviously took part. First there was a snorkeling trip to the nice coral. We didn't see anything new here but it is always nice to look. Later there was a similar trip but this time it was fish feeding. After the lunch we joined a small walk with a guide to see the turtles. They have 5 small turtles which are being protected and when they get older they will be brought into the ocean again.

At 4pm there was our boat to bring us back to Nadi. From the ferry terminal we were brought by bus to the airport. We had a couple of hours before the flight so we first changed the clothes, had something to eat and waited for the plane. We flew again with Air Pacific. It was a night flight. We crossed the date-line so we arrived in Los Angeles at the same day, 22nd of April. That's a bit weird, isn't?