Florida, USA
Tuesday 25th of July 2006

Place: Antigua to Miami, Florida, USA
Climate: sunny and hot, 300C
Health: Henk & Anit feeling all right
Thought of the day: Tears, sadness, memories… (Anit) The last week, really strange (Henk)
We didn't sleep much last night, maybe 3 hours. It was difficult to pack all the stuff we collected up till now. With two huge backpacks and small backs we were picked up by a minibus. When we came to the airport in Guatemala City we checked in and went to buy a bag which was necessity for all Anit's books. The plane from American Airlines was on time. The flight of 3 hour went fine and we landed in Miami something around 11am. When we left the airport we first went to the Avis car rental to pick up the car. Our plan was to visit our friend who leaves in Jacksonville, in the north of Florida on Friday evening and stay at his place until Monday morning. Since we had 3 and half day left we decided to go first to the south of Florida, to see Key West and maybe do some diving. And so we did. We drove whole way down to Key West, found a hotel there and walked around. It was a nice town but the beach was not nice and diving was not as good as in Key Largo, a town more to the north.
We were tired and didn't feel like visiting the city any more today so we bought some sweets and came back to the room.


Wednesday 26th of July 2006

Place: Key West to Key Largo, Florida, USA
Climate: very sunny and very hot, 320C
Health: Henk & Anit in good condition
Thought of the day: Now I know why they call it the sunshine state (Anit) Nice car, nice place, yes I love the US (Henk)


We woke up at 9 this morning and wanted to have breakfast first and then to check out. However, the woman from the hotel was bit stressed and wanted us to check out exactly at 11 and no later. Ok, we had to check out first, than we had breakfast in the beach bar and went to the city centre. It was a nice street full of shops and restaurants, typical tourist area. We visited some nice galleries and shops.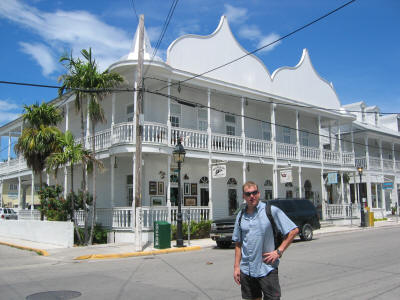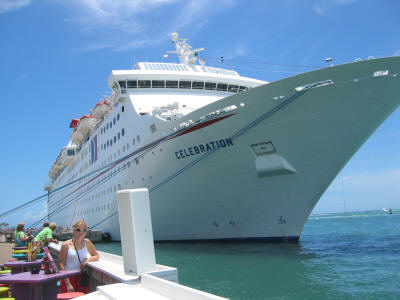 In the early afternoon we left for Key Largo where we wanted to stay overnight. We picked up the catalogs with discounted hotels which we used earlier in California and again thanks to it we found good places for sleeping. We also visited dive centre and talked with the guys there about possible diving. The funny thing was that they don't practice diving here with the guide. You just go alone, I mean with your buddy. We first wanted to do the wreck but when we heard that we would have to go without a guide, we decided to do the easier reef diving. When we settled all this we went to the Thai restaurant for the dinner and it was delicious.
Thursday 27th of July 2006

Place: Key Largo, Florida, USA
Climate: sunny and hot, 300C
Health: Henk & Anit in good condition
Thought of the day: Last diving during this trip (Anit) Diving without guide, hmmmmm?!?!?!(Henk)
We woke up at 7am and prepared ourselves for diving. We ate some breakfast in the room and went to the dive shop. We signed up, paid and received our equipment. On the boat we were with tree other guys. The captain gave us briefing about the dive site. The sea was rough and already some of our group got sick. Great. We put on the equipment and went for our first diving with only two of us using the natural navigation. It went quite well because after 45 minutes of diving we found back the boat. When we came back on the boat we saw that two guys were sick because the sea was terrible rough. It was actually better in water than on the boat. Our second dive site was at the small reef and there was also a small wreck to see. Hurrah, our first wreck. When we were on the boat for the surface interval we felt that we became more and more sick. To prevent it we decided to jump to the water as quickly as possible. Henk decided to put equipment in the water and Anit put it on when still on the boat. We did the buddy check in the water and started to descend. We saw the wreck of a boat but it was not very impressive. Than we joined a group of divers who were feeding a shark and a huge grouper. We were not allowed to touch and they sent us away because we were not from the group. We went to the other place and we saw a turtle which is always nice to see. This time, however, we lost orientation under water and when we finally ascended to the surface we saw our boat something like 100 meters away. Well, we still had some air so we decided to swim to the boat at the depth of about 3 meters. And so we reached the boat. It was a nice dive but far not so beautiful like on Borneo. Sipidan (Borneo) stays the most beautiful diving place we have ever seen.
Hungry enough, we stopped at Steak house for the late lunch. Than we visited on of the Diving Outlets to see the prices. After that we drove up along the Florida coast to reach the Kennedy Space Centre. We wanted to visit it on Friday so we needed to sleep somewhere close to this place. From the booklet we chose Best Western hotel which had really good prices and we stayed here for night.


Friday 28th of July 2006

Place: from Kennedy Space Centre to Jacksonville, Florida, USA
Climate: nice warm, 300C
Health: Henk & Anit in good condition
Thought of the day: I hoped to see the Discovery but it was closed in the building (Anit) (Henk)

This morning, after breakfast at the hotel, we went to the Kennedy Space Centre. It was interesting to see but we couldn't see the Discovery. We only could see the launching station from about 3 kilometers. Stupid, really a pity. But we watched some space films and learned new facts about space trips. We could see some other space ships: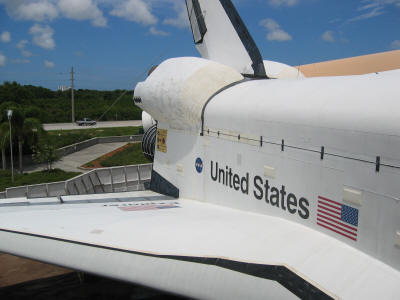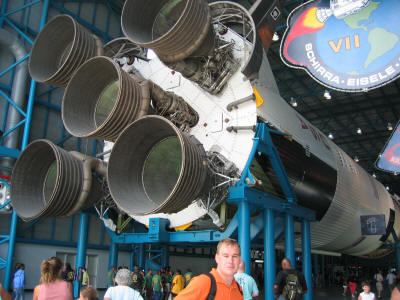 To see all what they have to offer you need one full day. But we saw what we wanted to see and around 4pm we left to Jacksonville.
Patrick, our friend from Tennant lives here. He visited us in Warsaw when we lived there. We agreed to meet at the parking place and from there we went to his apartment. It was really nice to see him again after 3 years. Because it was so hot, we took some drinks and went to the swimming pool which was available for all the people living in this residential area. After this great refreshment we went to the Thai restaurant and had a great dinner together.


Saturday 29th of July 2006

Place: Jacksonville, Florida, USA
Climate: sunny and hot, 230C
Health: Henk & Anit feeling very good
Thought of the day: Even though I am a diver, I am scared of wild water and waves (Anit) Good to spent some time with Patrick (Henk)
This morning, after good sleep, we first had nice breakfast and than we left to the beach. The weather was so good that it was a great idea to cool down in the ocean. The beach was nice but the waves were big and Anit didn't like to stay in deeper water. Henk and Patrick enjoyed it very much. It was nice to relax at the seaside. For us it was the last time on the beach during this trip. Everything was "the last time", yes, sad truth, this wonderful adventure was going to end soon…
After the beach we went home to take a shower and change clothes. Afterwards, we went to the Fedex shop where there was possible to use internet. We spent there 2 hours and went to the restaurant next door for a dinner. To keep up the tradition we went to the cinema and we bought the tickets for the Pirates of the Caribbean. Man, how terrible movie it was! So long and so stupid. When Patrick visited us in Warsaw we also went to the cinema (the movie was much better, though). When we came home it was 2 in the night and we went to bed.



Sunday 30th of July 2006

Place: Jacksonville, St. Augustine, Florida, USA
Climate: warm and sunny, 300C
Health: Henk & Anit feeling very good
Thought of the day: Florida is a place for older rich people – at least what I concluded when I saw all these houses here (Anit) Bloody dog owner! (Henk)

Today was a nice day full of sightseeing. Patrick first took us to St. Augustine, the town where the Spanish people first came when discovering America. We visited museum over Spanish discoveries and later we went to the city centre. It was a historic street full of historic buildings, including the oldest wooden school in America. Today this street is full of restaurants and shops. In the afternoon we found a pleasant open-air restaurant and we went there for dinner. After the dinner Patrick showed us some nice houses including places where he was considering to move in. We drove around and caught a glimpse of Florida residential areas. We also saw the company where Patrick works. After all these activities when we came home, Patrick immediately fell asleep and we packed our backpacks again (for the last time) because tomorrow we were going back to Miami.
Monday 31st of July 2006

Place Jacksonville to Miami, Florida, USA
Climate: sunny and hot, 300C
Health: Henk & Anit in good condition
Thought of the day: I want to be at home again (Anit) The last days (Henk)


This morning, after breakfast with Patrick, we said goodbye and invited Patrick to visit us in Europe wherever we would live. He went to work and we drove back to Miami. The road was ok, only close to Miami, the traffic increased significantly.
In Miami it took us some to find the hotel. We found Holiday Inn from the booklet and we recognized the building but we didn't know hot to get there from the flyovers. After searching the right road for a while we finally arrived at the hotel entrance. They had rooms and soon we were in a nice room. We were not really hungry and decided to get sandwiches from the Subway which was down the road. The rest of the evening we spent in hotel.


Tuesday 1st of August 2006

Place: Miami to New York, USA
Climate: sunny and hot, 300C
Health: Henk & Anit in good condition
Thought of the day: This is the end… (Anit) That's it, today we will fly back to Europe and then we start our new adventure (Henk)


The Holiday Inn in Miami is conveniently located, so no stress in the morning. We woke up around 7 in the morning, showered and had breakfast. It is by the way not so clean hotel. After breakfast we packed our backpacks for the last time in this trip. It went quick. Then put all in the car, checked out and off we went back to Avis to drop off the car. From there with the shuttle to got the Miami Airport.
At check-in, it was not clear were to go, but we found it. Then…yes Henk got for the second time in his life the famous 'SSSS' on his boarding card, which meant exclusive control. Take of everything, than we grab you in the ass and scan you on bombs and drugs and then you get a sticker with Bush on it which says "I am clean". Well it didn't go like this. We had to go to a separate line, which was not moving. Then a nice lady took us out and brought us to another line which went much faster, but yes Henk had the extensive check anyway. First into a glass box were he was auto-scanned. Then take off boots and belt and go through the normal scan. Then 2 people looked through all his hand luggage. They were friendly and all was fine.
We arrived 40 minutes before departure to the gate so we still had time for a quick toilet stop. The flight to New York JFK went smoothly. At the airport in New York we had to wait 6 hours. First we thought we would go to the city centre but because we had luggage with us and because it was terrible hot we decided to stay at the airport. We waited until it was possible to check in with the Singapore Airlines and than went to the lounge. There you have food and internet access so everything what we needed in this moment. The thing was that we stayed long there and forgot that we had to pass the scan control before boarding. It was terrible crowded, there were many people waiting for the scan and our plane was leaving in 20 minutes. Wow, we had stress. We had to ask people to let us in front, otherwise we wouldn't manage. When we finally got to the gate, it was just closed but they still allowed us to board. Thanks God.