Wednesday 12th of October 2005
Place: Varanasi to Agra, India
Climate: sunny, hot and humid, about 32 0C
Health: Both Henk & Anit in good condition
Thought of the day: We are moving from one touristic hotspot to the other (Henk); I can smell the smoke of burning bodies from Varanasi everywhere, it is following me… I smell it in my clothes and on my skin…disgusting! (Anita)
Today we took a train to Agra. Again we had to fight for reasonable price for auto rickshaw to bring us to the train station. The train was delayed, resulting in late arrival in Agra. That's not pleasant and absolutely not advised by Lonely Planet (tourists in India should not walk on the streets after it gets dark). But we didn't have any choice. We didn't want to follow the touts who attacked us immediately after our arrival, so we decided to go a bit further to take a normal (non-pushy) auto rickshaw. What then happened is hardly to describe. Every time we approached a rickshaw, the pushy touts changed a driver. They didn't want to allow that we took another rickshaw. That was like a mafia. The touts decided who would take us. The reason why we didn't want to take a rickshaw offered by a tout is, that they often take you to the different hotel, or simply somewhere else, rob you, and things like that. We were scared when we saw rickshaw touts yelling at us that we had to go with them. We were so scared that we decided to walk. Our hotel was "only" 3 km away. As we were to find out soon, this was mistake. We walked in the crowd of people (there was a festival close to the station and a lot of people came from the villages to Agra to celebrate the festival). There were hundreds of people, very loud music and we were continuously followed by a group of young Indians. The group was bigger and bigger. We decided to stop for a moment to get rid of them and found out that there were about 30 men around us. We asked them what they wanted but they only stared at us. We moved again. The Indian boys were jumping in front of us and behind us, touching our backpacks and us…We had impression they wanted to pickpocket us. Actually it was worse…They wanted to touch Anita and they did, everywhere were one wouldn't like to be touched… She was running and screaming but in the crowd it stayed unnoticed. This was a nightmare. Suddenly we saw two policemen and we rushed towards them to beg for help. Thanks God, they organized a rickshaw for us. Even when we already sat in this rickshaw, the Indian boys kept touching Anita. Nightmare!!!!!! When we arrived at hotel, we already wanted to leave Agra as soon as possible. The owner of the hotel told us that in time of festival a lot of village people come to the city, who never saw a white woman. We were a big attraction, they wanted to look and touch "the unknown". Great, we were happy to be in our room.

Thursday 13th of October 2005
Place: Agra, India
Climate: sunny, hot and humid, about 32 0C
Health: Both Henk & Anit in good condition
Thought of the day: Let's do our things here and move on quickly (Henk); I don't dare to go outside the hotel; if anyone even tries to touch me, I will hit as hard as I can (Anita)
We came to Agra to see the Taj Mahal. After a terrible breakfast (it happens often if you sleep in low budget hotels) we went to visit this world's wonder. And it was a wonder. As soon as we passed the entrance, we were in another world. Taj Mahal is an incredible monument made of white marble built by the emperor Shah Jahan as a mausoleum for his second wife, Mumtaz Mahal, who died in childbirth in 1631. It took 20 years to complete this masterpiece and the architects who constructed it had their hands cut to avoid copying.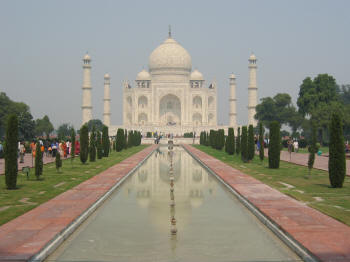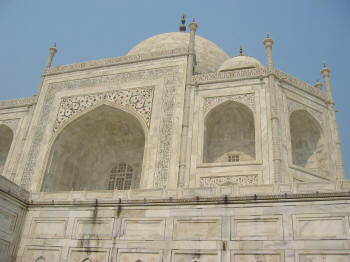 Also here a tout attacked us. This time when we entered the mausoleum, a man simply began to tell us story about this monument. Wait a minute, we asked him who he was and he simply answered "I am your worker". No, not again! We told him, we were not going to pay him anything! Then he disappeared. Uff…
Since we still had some time, we decided to see the Agra Fort. It was also amazing and worth seeing.
In the evening we had dinner at the Yoshi café. The place has a terrible view, but the Thali (food) was great.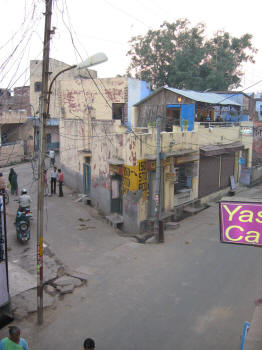 Friday 14th of October 2005
Place: Agra to Delhi, India
Climate: sunny, hot and humid, about 30 0C
Health: Both Henk & Anit in good condition
Thought of the day: We take a few days break here (Henk); I am happy to leave Agra. I will never come back here. (Anita)
After Agra, our next destination was Delhi. Since we didn't have any hotel booked yet, Henk suggested going to Sheraton to use Internet there. It was a good idea because in such places they normally have fast Internet and if you have to make any reservations by using credit card, such hotel is a safe option. Henk also wanted to check the walk-in rates, but, unfortunately, poor Henk, had to forget about sleeping here. The room was 350 US$ per night! You also have to understand that after this unpleasant adventure in Agra and Varanasi we wanted to escape from the Indian reality. Hotels like Sheraton are the perfect place to forget about India. But for us, budget travelers, the 350 US$ was a bit too expensive. We could do leave our backpacks with the porter and use their internet. As expected, they had very fast Internet so we could book via HRS quickly a cheaper hotel for 17 Euro a night with breakfast included. When we asked the concierge of the Sheraton how much a taxi would cost to this hotel, without hesitation he took our reservation and start calling them. He agreed with them, that some staff of this new hotel called Grand Godwin would pick us up within an hour from the Sheraton. Service at best. We decided to have a brunch in the restaurant of the Sheraton, which was very nice.
When the guys from the Grand Godwin picked us up and we arrived at the our hotel, we were nicely surprised. It was a new hotel, with clean rooms and friendly staff.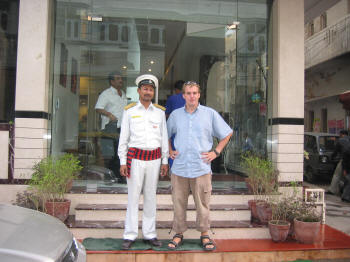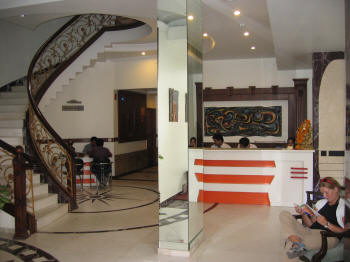 After check-in we took a rickshaw to the office of Emirates airlines to pick-up our tickets for the flight to Dubai and Nairobi and organize a visa for UAE for Anit. She could get it at the border, but the web-site of Emirates advices you to do it via them which will safe you 38 US$. After some waiting a gentleman helped us. First bad news, he could not help with the visa for Anit. Secondly he wanted a blank and signed payment slip of Henk's credit card. Only for security he said. No way hozee. Rule no 1: Paying with credit card in India is not advisable. Word is said that many frauds take place. People go to the back and make a second copy, etc. Rule no 2 in general and obvious: Never leave a blanc slip with your signature behind. Even if you think you work with a reliable company, like we think of Emirates.
Due to the fact that with the booking via Internet somebody of Emirates office in Mumbai made a mistake, the tickets where not issued yet and the money was not deducted. So, we could make it a normal payment. No problem you think. One one little one. The tax had changed and now they asked us to pay 10 Euro extra. This was getting interesting. Emirates did not issue the ticket after it was ordered via the internet (price was already at that time confirmed via e-mail) and now they wanted the customer to pay the extra due to tax changes. Henk informed them in a very fine way (which he I quit good at in such situations) that when the supplier makes a mistake he should also pay for this. After some phone calls between Delhi and Mumbai office and discussions with us, they finally agreed and the price stayed the same. Good. We made the payment, received the tickets and went back to our hotel for a dinner at their rooftop restaurant, which was not good.
Unfortunately back at the hotel Anita got sick, probably by food poisoning in Agra. Still, it is difficult to say, because in this country you can get sick by everything: water, food, dirty cups, dirty bottles, etc.
She spent the next two days fighting with the fever and diarrhea. Welcome to India!

Saturday 15th of October 2005
Place: Dehli, India
Climate: sunny and hot, about 32 0C
Health: Henk in good condition and Anit still some problems with the stomach
Thought of the day: HRS is a fine web-site to book your hotels with (Henk); I would preferably stay in this room till the end of our visit in India (Anita)
Due to the circumstances, we both decided to relax and update our website during our stay in Delhi. We even took one more day than planned to make sure Anita's stomach got well. Most of this day we watched movies on HBO and the Star movie channel. We also watched a film about Gandhi which we bought to get to know more about the Indian past, particularly about her fight for independence.

Sunday 16th of October 2005

Place: Dehli, India
Climate: sunny and hot, about 32 0C
Health: Henk in good condition, Anit's stomach gets better
Thought of the day: (Henk); Looks like I killed the bacteria! (Anita)
We are lazy. We stayed almost the whole day in the hotel. Maybe is not laziness. It's more that we both don't have this eagerness to discover India any more. India disappoints us. Everywhere is dirty and dusty, there is enormous pollution, noise on the streets kills your ears, people cheat on you whenever possible, every time you have to struggle to get a reasonable price and still you pay at least double than Indians. We tried to educate Indians. We tried to explain them that they are very short-sighted by treating us as one-time customer, taking as much money from us as possible and disappear. We told them they are destroying India, but this doesn't seem to have any meaning to them… Maybe we don't understand this culture.
Even this morning at the breakfast Henk first ordered Omelet, which was burned, hard and too vet. He had it send back and ordered boiled eggs. What could go wrong with boiled eggs you think? Well, when they brought the eggs, Henk noticed that the eggs where half warm and cold and the water in which they where served was hot. Strange, normally the egg should be hot and the water is to cool it down or shock the egg like Henk's mother always says. Also never before we received boiled eggs served in water, only in this hotel. Henk cut the egg and the inside of the egg was not nice yellow, but simply complete green. The egg must have been cooked for sure one day before. Maybe even more? Who knows. They say with food in India, when you are in doubt, expect the worse!
In the afternoon we went out to Pizza Hut to get some more or less decent (seemed to be the safe choice). We had to wait about 20 minutes to get in, at Pizahut. Can you believe it?!?!?
Henk ate so much that Anita couldn't believe her eyes. This was funny. Anita hardly ate tomato soup and Henk ate garlic bread, two pizzas and chicken wings and flushed it away with some Foster's. At least one of us is healthy!

Monday 17th of October 2005

Place: Delhi, India
Climate: sunny and hot, about 32 0C
Health: Henk a running nose from the airco & Anit some problems with stomach
Thought of the day: Delhi is noisy and dirty from dust and smog (Henk); (Anita)
We left the hotel without having breakfast to a place recommended by LP; Café Turtle. It was a place above a bookshop. They only served vegetarian and we had some delicious sandwiches. We also wanted to buy the Lonely Planet for Kenya, which was quit easy here, since close to each other where 4 good bookshops. In the second one we had success. Well that's about it for the highlights of that day. Let's move on to the 18th of October, our last day in Delhi.

Tuesday 18th of October 2005

Place: Delhi, India
Climate: sunny and hot, about 32 0C
Health: Henk a running nose & Anit feels better again
Thought of the day: Today some sightseeing of Delhi (Henk); Hungry! (Anita)
Being fed up with the bad food at our hotel, we decided to go to Grand Intercontinental Hotel for the breakfast. Anita could finally eat. We enjoyed a great buffet breakfast with fresh bread, fresh fruits, fresh eggs, simply everything fresh. Price was high for India (550 Rs), but not so bad for this place, considering we just wanted to have some descent, safe and healthy food. After breakfast it was time to discover more about Delhi and finally do some sightseeing here. We first visited the Bahai temple. Henk thought it was directly connected to India and Gandhi since it is open to all religions, but it is not. Bahai is a young form of religion which tries to take the best of all main religions. They have temples on each continent. The temple itself was amazing and beautiful in its simplicity.
Our next visit was to the Gate of India in Delhi. It looks like the Arc 'd Triumph in Paris and was built as a memory for all the soldiers who died during World War I and some other wars.
Next we decided not to go to the Red Fort, but do some shopping. There is here a shop run by the government with handworks from each state of India. From Silverwork to Silk, to wood works. The prices are a bit higher here, but nobody disturbs you and you can look around freely. We bought some souvenirs.
At about 16.00h we left to go back to our hotel, upload our last modifications to the web-site, picked up our bags, said good bye to the friendly staff and left to the railway station to get the train our next destination…..the city of kings and palaces, the city of fairytales, but also the city of James Bond, 007 Octopussy!