Wednesday 19th of October 2005
Place: Udaipur, India
Climate: sunny and hot, about 32 0C
Health: Anit still some problems with the stomach and Henk a small cold caught by the airco.
Thought of the day: Looking outside the train things look much nicer here, let's hope (Henk); (Anita)
This morning we got at about 08.00 AM out of our bed bunks from the train. The view outside looked nice, some trees, hills, small lakes and fields that have been worked on. Would we finally see a better side of India? At 08.30h we arrived at Udaipur station, also quit relaxed. Not crammed with people and nobody already even asking you before you leave the train if you would like an auto rickshaw. So far so good. Outside was a prepaid booth for auto rickshaw. Thanks God. We paid 37 Rps (0.70 Euro cent) got a ticket and a rickshaw. The driver was okay, although he did stop at his hotel and he also wanted to sell us an guided tour. Of course we refused both and he brought us to our hotel Amet Haveli. From outside the place didn't look good at all!?!?!? There was a lot of construction. Anyway when the manager showed us the room it was………….simply perfect. Like living in a palace. A nice big room with decorations, with a couch in the window so you could overlook the lake. When you look outside the water is simply next to your room. And the bathroom, with a big bath. This was the first thing we did, uhh, no the second, because we first had breakfast, which was very nice.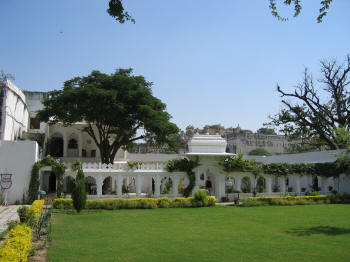 Thursday 20th of October 2005

Place: Udaipur, India
Climate: sunny and hot, about 32 0C
Health: Anit still some problems with the stomach and Henk a small cold caught by the airco.
Thought of the day: Never, no more guides!!! Simply never again guided tours , njema, NO, you understand me!(Henk & Anita)
Today we woke up at about 06.00 AM and had breakfast at 07.00h. We had to wake the owner of the hotel to get some breakfast, but okay. The breakfast we must say is lovely at this place. Sitting outside at the lake in the morning with a view on all the palaces and eating a nice pancake is wonderful.
After breakfast the usual rip-off from the auto rickshaw-driver who brought us to the place from where we would start the tour of Udaipur. The tour started amazing but nice. It was an extreme old bus we had and almost broke down immidiatly. Also we where the only foreigners on this tour, but that was actually nice since we now could talk to some Indian people who didn't want all our money. The guide went from okay to very bad and also during this tour we where taken to the shop! Can you believe it! Regarding his guiding was for us the limit when he only said during a visit to the Royal Palace: "This is the kitchen of the palace" while we where standing in front of it and you could see it was a kitchen and there was even a sign kitchen.
What was good about the tour is that we visited some places we would not directly visit by ourselves, but that's the only additional positive.
In the afternoon we bought our train tickets to Ahmedabad and bought some fruit during our ride back to the hotel.
Back in our room we made ourselves comfortable at the window seats overlooking the lake and prepared a fruit lunch with banana, orange, apple and delicious sweet pineapple. Soooooo good!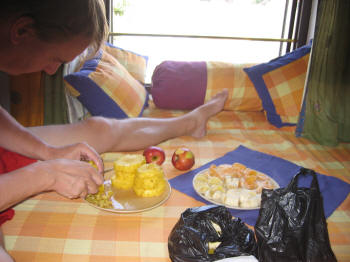 The evening came quickly (yes it happens when you fall a sleep after such a nice lunch) and we went for dinner at the restaurant at our hotel. Perfect scenery. The food was good prepared, but Indian food tempts to be a little too spicy for us.
It was now just a few meters back to our room…..Good night!

Friday 21th of October 2005

Place: Udaipur, India
Climate: sunny and hot, about 32 0C
Health: Anit and Henk in good condition.
Thought of the day: I liked Udaipur, was my best experience in India so far (Henk); (Anita)
Today was our last day in Udaipur. Since the train left in the evening and we had seen what we wanted, we had nothing special planned for today. We simply enjoyed our wonderful and romantic room. At 10.00 Am we had a lovely breakfast with view over the lake. Even in India life can be beautiful (of course you have to pay a few dollars more for that). After breakfast we packed our stuff. Funny is actually when we pack our bags, there is complete silence between us. We both are so focused to put all our things in our bags and not to forget anything, we are surrounded by a serene silence.
After all this we checked out, left our big bags and walked to the Internet café. On the ay there we saw the women washing the clothes again in the lake, by hand. One lady was carrying her laundry in a big basket on her head home. Anit simply couldn't resist and wanted to try the real Indian life. Pffffffffffffffff, quit heavy all this laundry.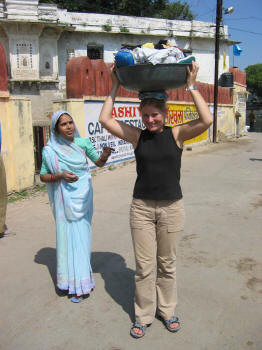 The rest of the afternoon we checked on the web for a last place to visit in India, before Mumbai. Ahh, not to forget, we had lunch at udai kothi. Ah, maybe better to forget, because it was really bad. We first wanted to stay at this place, but where happy we didn't.
At 19.30h we hopped on our train to Ahmedabad. Well, we did not hop on immediately. We had booked first class this time (normally we booked 2nd class with air-conditioning 2AC, but this was full) which is cheaper, because it has no AC, but you can close your compartment (good for safety). When we wanted to hop on we found out that A) This was a very, very, very old train and B) they forgot to attach a first class wagon. The conductor simply told us no problem we have a place in 2nd class sleeper (absolutely not so safe) and we would get a certificate which would refund the difference. No way for Henk. On the list he saw that some places where free in 2AC and told the conductor we would take place 10 and 12 in the 2AC wagon. He agreed. What we did not know was that more people had the same problem and he had put another couple on seat 10 and 12. This was a quit old couple. What now? We didn't want to take the place of this older couple (anyway I wonder how they would get up the upper-beds?) and Henk went back to the conductor. Since the guy was not really capable of organizing himself, Henk asked for and took the passenger list and saw place 25 and 27 where also still available. Henk agreed with the conductor that we would take those places and to be sure Henk put himself the names on the list, so it wouldn't go wrong again. We had now descend places, so far so good.
In our cabin was one more place and this was occupied by one Indian business man.
We all made our beds and tried to sleep. Try is good. The train was shaking from left to right the whole night. You had to hold on to your bed not to fall out. Anit made her prayers and thought the train had no brakes. We all closed our eyes and went into the night hoping to reach Ahmedabad safely next morning.
Saturday 22nd of October 2005

Place: Ahmedabad, India
Climate: sunny and hot, about 35 0C, in the morning quite chilly though
Health: Both Henk and Anit in good condition
Thought of the day: Pfffff, a few more days India. Just looking forward to our next destination, Dubai (Henk); (Anita)
This morning we arrived at 04.30 AM in the morning!!! It must not get more crazy. Anyhow we did not sleep that well last night, better to say not at all. We decided to wait a few hours until it would get light. Anyway the Gandhi museum would not open before 08.30h. We went to the upper class waiting room and, well and we just waited. Anit took a nap and Henk tried to finish his book about Jack Welch (very good book).
At about 07.00 hours we took an auto rickshaw (and as usual they tried to rip us off) to the Sabarmati Ashram. This is the place where M. Gandhi lived from 1915 until 1930. From here he planned many actions like the famous salt march to Dandi (Salt in that time was only allowed to be produced and sold by the British. Gandhi walked from Ahmedabad to Dandi (241 miles) to make sold at the sea and sell it. From then on all the people from India started to make salt and sell it. The British did not know what to do).
The house of Gandhi is now turned into a Museum and opposite the was a guesthouse where we took a delicious breakfast. We had coffee/tea with toast with jam/butter. We did not dear to order anything else. The place looked quit filthy.
After breakfast we headed for the museum. It was one of these places you simply must go. Considering you walk where M. Gandhi had walked and just soak up the atmosphere. It gives you a complete thrill. M. Gandhi, also called Bapu (Indian for Father) had enormous influence on the people of India and was crucial to the independence of India. When you wander around this place where he lived and you see in what simplicity he had lived and the things he thought where important for the life of human being. It's simply amazing, such a simple man with such and influence on the Indian nation and the British Empire.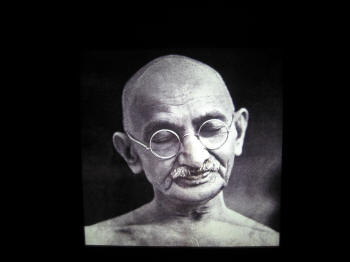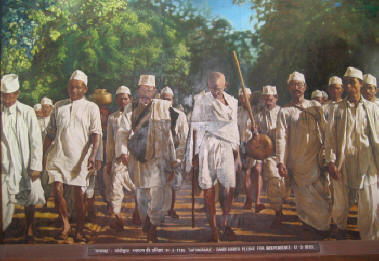 We first walked around in the museum and learned more about his life from the day he was borne till he was killed. After that we visited the actual place where he had spent most of his time during this period (see picture below). Also nice was the friendly and good tour we received from the public relations man at site. India can also be kind and nice. The place itself was also very peaceful and we wandered around for a few hours.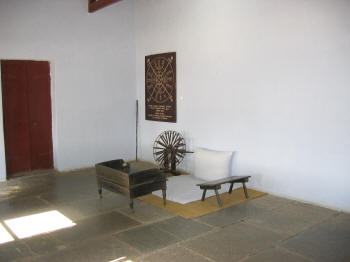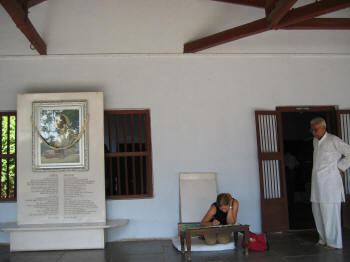 At noon we thought it was time for lunch and did the best we could do regarding food choice. We headed to the Le Meridian hotel and they served a superb buffet lunch (including tiramisu for Anit) for a very reasonable price of 300 Rs (6 Euro) per person.
Since there is not much more to see in Ahmedabad we headed to an internet café and worked on our web-site. As usual the days fly by quicker than you can put them on the Net. Bit funny or crazy rip-off again was, that the guy at the internet café informed us that it was double the price when we used our own computer instead of theirs. We asked him to explain the reason to this, but he couldn't. It was just like that. Also when Anit wanted to use the memory stick she had to pay extra???? Oh, not to forget, before we started we had to sign in and had to give our passport number, full address, telephone number, etc. Unbelievable but true.
At 21.05h our train left (with us) to Bombay/Mumbai where we would arrive next morning at 06.30h. Anit slept good this night, but Henk did not sleep much for the second night in a row.