Sunday 9th of October 2005

Place: Chitwan National park, Nepal to Gorakpur, India
Climate: sunny, hot and humid, about 32 0C
Health: Both Henk & Anit in good condition
Thought of the day: Sad news, we have to leave Nepal (Henk); After all bad stories I heard about India I'm now scared to go to this country, but maybe it won't be so bad …(Anita)
Welcome to India!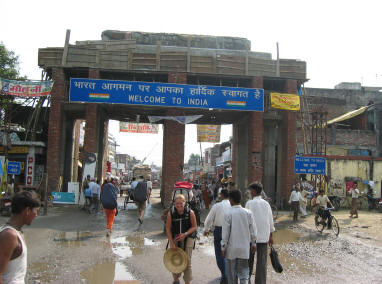 At Indian side we hopped on a jeep which would bring us to the train station in Gorakpur for our train connection to Varanasi. It is also possible to take a direct bus from the border to Varanasi, but A) we do not like buses and B) we would arrive in the middle of the night in Varansi (it is said that sometimes tourist disappear in this holy city, so better to arrive next day early in the morning.
The start in India was more or less the same as in Nepal. Chaotic traffic, many maniacs on the road (including us with12 people in a jeep for 2 hours ride!). One detail, the back door of the jeep did not lock and Henk simply had to hold it all the way. Again, welcome to India.
One big difference we noticed was that the people in India simply throw everything on the streets and you could see a complete mess of plastic, paper and food everywhere. Put on top that the holy cows are walking and shitting everywhere and put on top of that one, that also the Indians do it almost everywhere. Oh, let's not forget the goats and dogs that also shit and piss everywhere.
Well, the sand/dust which is everywhere in India, covers/mixes it nicely!?!?!??!
At the train station in Gorakpur it was even worse. Is all over India like this? We hope not. Henk had some empty plastic water bottles and had hard times finding a garbage bin for them. The side walk to the station was full of smell of human urine, yak. We think we are used to something, but this goes beyond many limits. You simply wonder how people can live in such a place. The pollution is so bad that you simply want to stop breathing…
As we arrived at the station we found out that we forgot to change some money and of course there was no ATM and at the station, they did not accept US$ or credit card. Anit guarded our stuff and Henk went out to hunt for Rupees. After 3 hotels he was directed to a travel agency. Henk first tried with 50 Euro, but the guy said Henk had to wait for half an hour. Then 100 US$. No problem. Henk could change directly. With the Rupees (3900) in his pocket he ran to Anit. We bought the tickets for the 22.45h train, which would arrive in Varanasi at 05.00h in the morning. A bit early, but it should be already getting light by then.
In the train we upgraded our ticket and got two sleeping bunks. The best class in Indian train you can compare with 3rd class on a Russian train. This means one open space with 46 bed bunks. Anit slept on top and Henk below. We slept a bit, but not that much, since with the entire luggage, we wanted to keep an eye on it.
Monday 10th of October 2005

Place: Gorakpur to Varanasi, India
Climate: sunny, hot and humid, about 33 0C
Health: Both Henk & Anit in good condition
Thought of the day: India for sure has beautiful places, but hit us hard in the face from the start (Henk); I thought they exaggerate in a guidebook with this pushy and dishonest Indians, but what we experienced today was even worse… (Anita)
Earlier than expected at around 04.00h we arrived in Varanasi and it was still completely dark. Not so good as you could read from the previous day.
Just as we set foot out of the train it started, touts wanting to take us in their auto rickshaws. We simply walked on, and outside the station went to one auto rickshaw a bit further and asked him to bring us to our hotel near the Assi Ghat. We agreed the price (50 Rupees), but then the other ones came who saw us first and who had tried to hassle us and blocked the rickshaw which we had chosen. It nearly turned into a fight. Welcome to Varanasi!
We managed to get away and the guy brought us swiftly to our hotel. Think about this… you enter a city and arrive immediately in a hostile atmosphere. Then you go with a guy whom you have never met before into the complete darkness hoping he delivers you to the place you want. Luckily he did, but we both felt not so comfortable. Actually this was the first time during our travel that Henk was not happy with the situation and Anita scared to death.

At the hotel we were lucky to be able to go into the room immediately, so we could get a shower and rest a bit. Our timing was really fantastic and after the shower we enjoyed a perfect sunrise at the Ganges River from our balcony. We stayed on the balcony a little more and observed how Varanasi was waking up.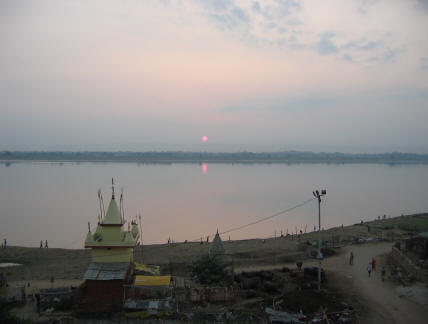 At about 07.00h we left the hotel to take a walk into the city. Again, sorry to say, but what an extremely dirty place! Sad to see. Maybe their system of thinking is different?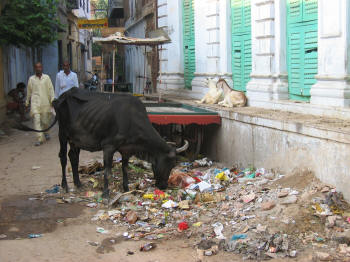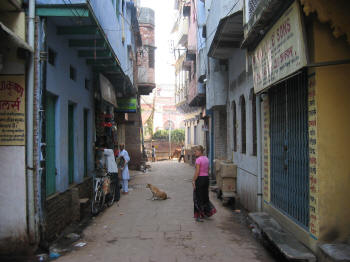 We checked one restaurant from the LP, but it did not open before 08.00am. We walked on and visited a few Ghats. A Ghat is a holy place at the bank of the river where people take a bath in the river. Every day thousands and thousands take a bath. In the same river 30 sewers of the city end. On top of this they also throw ashes and unburned body parts of the people to the river.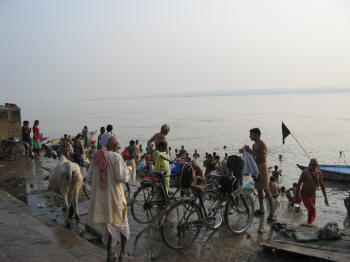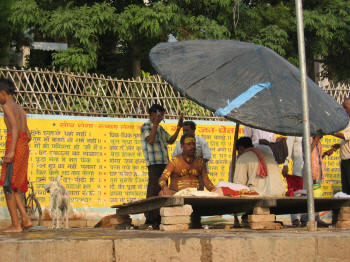 We went to one Ghat where cremations took place. Suddenly from nowhere a man popped up. A very friendly man saying he is responsible for this place to keep the holy fire burning, etc. He was nice and explained us all about the Ghat. Some years ago it was still a tradition that when a man died and was burned, the wife would jump into the fire after him. In case she didn't want to, the others would push her… In the time of British occupation however, they established a new law that gave women right to live after her spouse's death. Thanks God!
During cremation only men are allowed to watch the ceremony. Men do not allow women and children because they are too emotional and their laments and hysteria are not welcome.
Everybody living in a reasonable close distance of Varanasi will be taken to Varanasi to be cremated at the bank of Ganges River, and his/her ashes will be thrown into the river afterwards.
That's why many ill or elderly people move to Varanasi. Varanasi is one of the holiest places in India. According to this man we met by the Ghat, children, pregnant women and people bitten by a snake are not cremated. Instead, their bodies are transported to the middle of Ganges and let to sink there. Whether it is truth or not, we don't know, because it is hard to believe this man we just met. This nice gentleman offered us a tour to see the silk factory. Why not, we thought, it was interesting for us to see how the silk is being manufactured. Sadly enough, as we found out quickly, the guy lied to us about being responsible for keeping the fire by the Ghat. He simply worked on commission for this particular silk shop and that was the reason he took us there…His job was to "hunt" for tourists, tell them some stories as an incentive and lead them to the silk shop. We quickly realized that and simply told him that we were not going to buy anything. We were confused by the whole situation. We doubted whether the silk he sold was a genuine. As we were to found out later, they all were lies, because the real silk costs much more that the one he offered. Now you understand more, why we find it dangerous to trust people here…
Later this day, following the Lonely Planet we went to the Tourist Office to organize an official guide. Not surprisingly, we wanted to know more about the Hindu culture and their habits. Varanasi, the holy city, seemed perfect to us to explore the Indian culture. We agreed to meet the guide at 5.30am next day for a 6-hour city tour including a boat trip on the Ganges River.

Tuesday 11th of October 2005

Place: Varanasi , India
Climate: sunny, hot and humid, about 33 0C
Health: Both Henk & Anit in good condition
Thought of the day: Another disappointment (Anita) Do we simply need more time for India? (Henk)
Today was the day of our city tour. We were quite excited because the cremations we saw yesterday and the baths in Ganges by the locals evoke much interest in us.
We got up at 5.00am and soon discovered that our guide would not pick us up at 5.30 but at 7.30am. Super, he could have informed us yesterday… Ok, what to do at 5.30 in the morning in Varanasi without a guide?…We called him and expressed our annoyance…He couldn't really understand the reason of it. To make the matter worse, he didn't agree to reduce the price of this tour (it was 2 hour shorter and we were not informed on time about the changing). This was too much for this morning and we simply cancelled him. Than we asked the owner of the guest house if he could organize a guide for us. It was not a problem, and in the afternoon we were supposed to meet a new guide.
In meantime we sent some stuff home (winter clothes, guidebooks and some souvenirs). It took us almost 3 hours. See our parcel pictures below.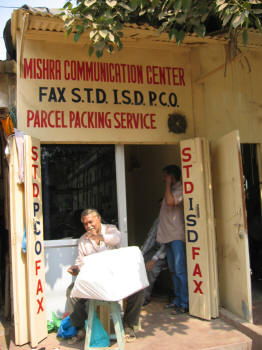 The new guide seemed to be ok. He took us to some temples, explained briefly the meaning of Hindu Gods and the habits. Afterwards, he suggested visiting a silk factory. Ok, we said we had already been there, but he would take us to the biggest one approved by the government or something like this… We told him the story of the guy from the Ghat and that he also took us to the silk shop. Don't worry, he said, I will not push you, you are absolutely not obliged to buy anything. Sounds good, we thought! And now you guess what happened? Since we didn't buy anything (we were on the city tour and not in mood of buying anything), our guide was hit by the owner of the shop! When they had this "fight" they thought we didn't look, but Anita saw the whole action… So, our guide was not a guide, he was just another Indian working on commission. After this incident, we asked whether we could go to the Ghat. We simply wanted to know more about the tradition of cremation. But our guide was not so talkative any more…He was annoyed we didn't buy anything, because for him it meant no commission. In the Ghat we came across the guy we met on the first day (who also took us to the silk shop). Of course, the two guys knew each other. When I asked our guide to explain something about the cremation, he said we already heard everything from the first guy. That was enough. We told him to bring us to our hotel because we wanted to get rid off him as soon as possible. So, that was a big disappointment, money is gone and the real Hindu religion is still to be discovered, probably by reading in our guidebook…