Malaysian Borneo

Monday 6th of February 2006

Place: Kuala Lumpur to Sepilok, Malaysia
Climate: hot, humid and sunny with some clouds, 320C
Health: Both in good condition
Thought of the day: Wow, many areas here are simply over flooded because of the monsoon (Anit) Not planned, but we did it, visit Malaysian Borneo (Henk)

Our flight was with AirAsia, a low-cost no frills carrier in this part of the world. They used a pretty old Boeing 737, but it was still okay. We like their slogan: "Now everybody can fly".
The flight was at 14.00h, so we first made a stop at the post office to send some stuff home (books, clothes and so). After this the taxi brought us to KL airport. All went smooth and we had time for some quick lunch. We already booked a place to sleep in Sepilok, so no worries.
The flight was all okay and in Sandakan we took a taxi to the Labuk B&B in Sepilok. It is a few miles from the Orang-Utan Rehabilitation Centre, but in the LP this B&B was described as nice and friendly. It was used mostly by wildlife researchers (bird watchers).
When we arrived we checked the room land it looked fine. The price was okay too. The owners Annie and Robert Chong were nice and there were a few more guest there.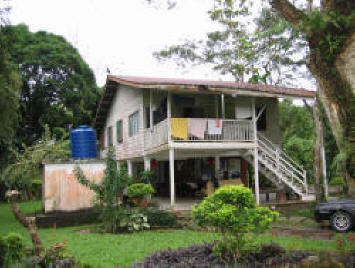 Our room was up the stairs.
It was close to the road, but quite in the middle of nowhere.
We had some dinner (Henk's chicken was fabulous) and after that we took a shower and went to bed.

Tuesday 7th of February 2006

Place: Sepilok, Malaysia
Climate: Rain, 290C
Health: Both in good condition
Thought of the day: The Orang-Utan Centre is disappointing, you would expect more for the high entry price you pay (Anit) What happened to the sun???(Henk)

We planned to go to the Orang-Utan centre in the morning, but due to the heavy rains this was impossible. Annie advised us to first explore Sandakan and go to the centre in the afternoon. Sounded good. In the mean time she would look into the possibilities to visit the Turtle Island where you can see turtles go up on the beach and lay their eggs. The price was quit steep and we hesitated a bit, but I would be amazing to see.
Anyway, we had time to make up our minds and we first took the bus to Sandakan.
In Sandakan we decided to check out the tourist offices. Maybe we could find a cheaper way to get to the Turtle Island. At the tourist office we met a very nice and helpful lady called Elvina. Elvina, thanks again for the good advice you gave us.
Since we had more ideas regarding our travel on Borneo, we discussed also diving possibilities. She recommended to go diving at Pulau Sipadan with a company named Scuba Junkie. Regarding the Turle Island, there were no cheaper alternatives and she told us, we would for sure see turtles while diving in Sipadan. So we changed our plans. We would only visit the Orang-Utans and then next morning we would take the bus to Semporna.

The weather was still bad (real rain season weather), but we decided to take the bus to the Orang-Utan center.
As we arrived at the center it was dry and we had to walk into the jungle on an elevated path. Then at a certain spot the Orang-Utans were fed.
It was nice to see them eating and climbing in the trees. It was, however, more like zoo, where you see them from 3-4 meters distance for a while and that's it. We were expecting more contact with them and maybe somebody who could tell us more about the life of Orang-Utans.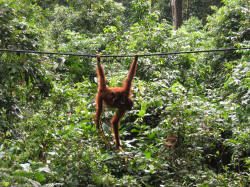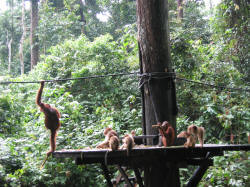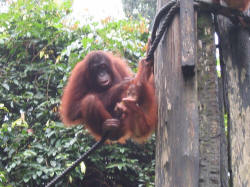 We staid for half an hour or so and then the rain started. Just like a bucked of water would fall on you. We made our way back to the center and tried to organize a bus or taxi back to our B&B. At the center we met some different kind of world travelers. There was a group which was traveling around the world in 28 days. They had with 70 people their own plane and own cooks. They mostly only traveled during the day and visited the most interesting places in the world. The costs of such a trip was about 50,000 US$. Anyone wants to go?

When we arrived back we told Annie about our plans and that we would leave next morning. No problem. When we went to bed that night Henk tried to find his adapter and could not find it. Strange. You know sometimes on a trip like this, things disappear even though you know you packed them. Anyway, he also looked under the bed and found that all the dirt and garbage of previous guests were simply put under the bed. Great! We wanted to make a picture, but then also the camera had a defect. Probably because of the rainy weather, nothing dries in this climate. Even our clothes were dirty and smelly.


Wednesday 8th of February 2006

Place: Sepilok to Semporna, Malaysia
Climate: cloudy and still rain in Sepilok, 280C
Health: Both in good condition
Thought of the day: Diving again, looking forward to it (Anit) Diving is the name of the game, yeah baby, yeah (Henk)

The bus stopped right in front of our guesthouse. We got in and met another Dutch couple who was also going diving with Scuba Junkie. 6 years ago they also started traveling around the world and liked it so much that they had adapted their live completely to the traveling. In the summer they were living in Sweden and would sell all kinds of stuff from India and China on different markets around Sweden. And then, when it got cold, they would travel for 6 months around. This type of life they have practiced now for 6 years and they loved it. Would the same happen to us? We don't think so, but who knows.
After a 5 hour bus ride we arrived in Semporna and were already awaited by staff of Scuba Junkie. Good service guys!
At the office we made our final plans for the diving. We decided to sleep the first night in the Scuba Junkie hostel and the next 2 nights on the Mabul Island with the locals. We would do 2 days of diving (4 dives in total) and 1 day of snorkeling. So said so done.
We checked in and went out for dinner together with the Dutch couple.


Thursday 9th of February 2006

Place: Mabul Island, Malaysia
Climate: sunny, around 300C
Health: Both feeling great
Thought of the day: I love turtles! (Anit) Just diving (Henk)

Today was THE day. Last night we already put toothpaste in our masks (good against fog in your mask) and we were ready to go.
Scuba Junkie had good equipment and a fast speed boat to get to Pulau Sipadan where the dive-sites would are located.
On our way we would make two stops, to drop of luggage at our and others peoples guesthouses. And then direct to the Island.
The diving at Pulau Sipadan is rated as one of the best divings in the world. Pulau Sipadan is a small island with beautiful corals and fish in relative (up to 10 meters) deep clear water. This is like a strip around the island. If you go a bit further there is all around the big drop-off where the depths range from 600 to 2000 meters. When you go down that wall, you look down in the big deep blue. It is awesome. You can have a look at the Sipadan Island's dive sites below: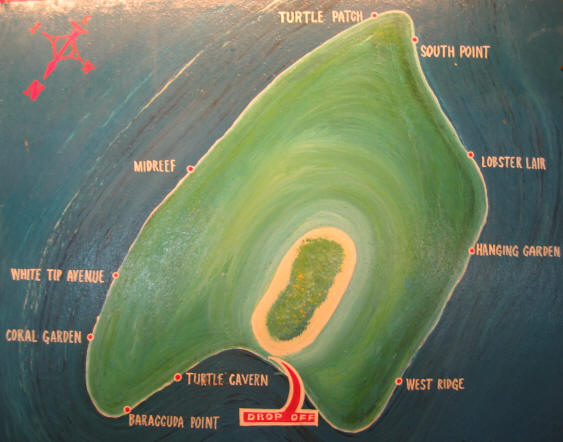 We did Hanging Garden and Drop Off the first day and Barracuda Point and the Lobster Lair the second day.

Today we made 2 dives. It was simply fantastic. As it was our 7th and 8th dive we were still careful, but already completely relaxed. We both went down head down and once we had our buoyancy under control, Henk would free-float upside down. Crazy boy.
Under the water we saw beautiful corals, lost of coral fish, some sharks and turtles. Of course Nemo was also there.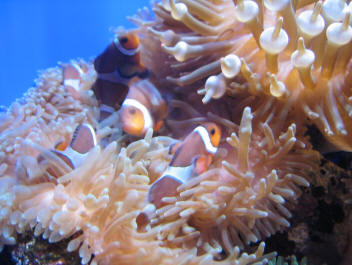 Between the dives we had 1 hour break to get the body back to a normal nitrogen level again. If you dive too long and/or too deep you can get decompression sickness. So always watch your depth, don't stay under too long and don't go up too quick.

After the dives we were dropped at our guest house on Mabul Island. We stayed there together with David from Germany. He only did snorkeling, but could dive very deep and long, only with the snorkel.
We had some local food together and enjoyed sitting on the veranda, drinking beer and see the sun going down.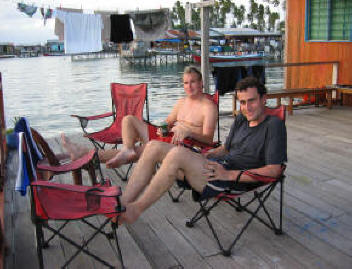 Friday 10th of February 2006

Place: Mabul Island, Malaysia
Climate: sunny with more and more clouds, 300C
Health: Both in good condition
Thought of the day: Barracuda Point is the best diving site for me up till now (Anit) Diving is an addiction (Henk)

Today the boat from Scuba Junkie picked us up at 09.30h. It is nice to see the same people who went diving with us yesterday and you also see new folks joining for the first time.
The weather in the beginning was okay, with some clouds however. The dives were again fantastic. See below some of the underwater pictures: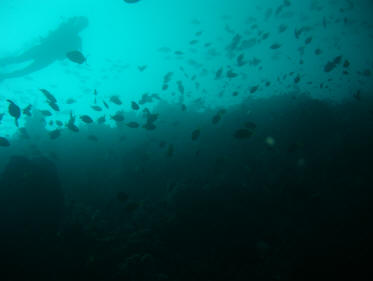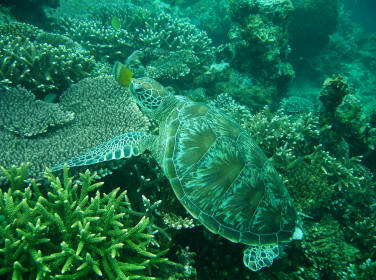 When we got in the second dive, man it started raining and getting cold. When we dived into the water, it was much better than on the boat. The water is then really nice and warm. A normal person can stay down for about 50 minutes, but Henk most of the times had to go up earlier, since by then he used most of his air and Anit, she simply doesn't use any air. When the whole group goes up she mostly ends with 70-80 bar left. Henk was always a heavy user, also with the alcohol.

After the second dive the weather didn't change for better and it was still raining heavily. The captain of the boat tried to go as fast as possible, to get home quick. Nobody was speaking and we all were shivering. The captain, when going really fast, tried to avoid the big waves, but at certain moment he missed and....kabooom, a big wave hit us. It broke one of the front windows and the water splashed all over the boat. We had to stop, to collect the pieces of window and pump out the water. Too much adventure for all of us. We were happy to be on land back and could take a nice hot shower.

Later that afternoon the weather cleared up and Anit & Henk made a walk around the island. We met two friendly, but a bit crazy English brothers who were diving together. We visited gorgeous holiday resort where we first wanted to stay but it was terrible expensive. During the walk we also noticed that locals don't care about waste and heavily pollute the island. Last but not least, we met a lovely group of children who loved pictures (see below):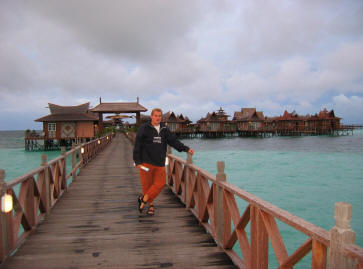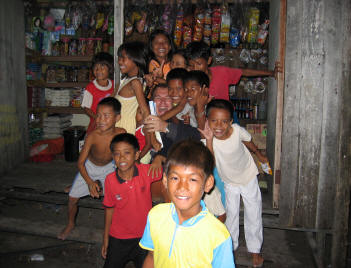 Now it was time for our beer on the veranda again and discussion with David and his roommate about the deeper thoughts of life.

Saturday 11th of February 2006

Place: Semporna, Malaysia
Climate: hot and sunny with some clouds, 320C
Health: Both in good condition
Thought of the day: Snorkeling is great but diving is just much more relaxing (Anit) The weather is good, so we go snorkeling (Henk)

No diving today. Today we will join the diving team, but only for snorkeling. To see the turtles it is even better, since they are not always that deep.
After you did your dive course, also the snorkeling is much better. You feel more relaxed and are not stressed even, the shore and boat are quite far away. Your control of breath is much better.
We saw so many turtles. We observed them and tried to swim with them. Henk even touched one, which of course he shouldn't do. If you stay calm, you can even swim close with them when they go up to get air. It is unbelievable. And they can swim really quickly.
What is also fun to see the divers below. Henk tried to go down to meet them there and one time he went down and was behind Jenny, the dive master. When she looked back she was shocked and screamed under water. It was funny to see her screaming under water. Bubbles going out. On the boat she told Henk he was actually 10 meters deep! And that without air.
Anit also got curious and started to dive under with the snorkel. It went good. She went like 4-5 meters down, swim around and went up again. We had great fun.

When we came back to the Mabul Island, we packed our stuff and went back to Semporna to stay one more night in the Scuba Junkie hostel.

Anyway, if you want to experience great diving at backpackers prices go to www.scuba-junkie.com
We definitely recommend them!
We had a great time and want thank Jenny, Steve and the rest of the team for the good organization and the great diving.


Sunday 12th of February 2006

Place: Semporna to Kota Kinabalu, Malaysia
Climate: rain and rain, 290C
Health: Both in good condition
Thought of the day: Still can't believe how rude and odd this woman was from the travel agency (Anit) I am happy we go to Singapore, because I am fed up with the rain (Henk)

Today we flew from Semporna to Kota Kinabalu. From there we wanted to climb the highest mountain in this region (Mt. Kinabalu @ 4200 meters) and check if we could do some wreck diving.
When we arrived in KK it was………………….raining and………………….raining. Not so good.
We first checked the tourist office. They weren't of much help, but revered us to some travel agencies that were open on Sunday. well, one company was open and the woman working there looked quite helpful at first sight but at the end she couldn't propose anything concrete and she got kind of angry and finally got herself totally out of control. well, there was nothing more than leave this place.
We both agreed that with this weather we would not climb the mountain. What about the diving? We talked to some agencies, but there was no more wreck diving. One possibility for diving was at Pulau Labuan-Labuan. We checked the prices, but 1000 US$ per person was a bit too much. It is too expensive, since you have to fly there and there is only one resort.

What to do? There was not much more to do here and the weather was terrible. So we changed our flight and decided to fly next day to Singapore.

Monday
13th of February 2006


Place: Kota Kinabalu, Malaysia to Singapore, Singapore
Climate: clouds, a bit sun and more rain, 300C
Health: Both in good condition
Thought of the day: I'm happy we left Malaysia, it's time for a new country (Anit) Singapore, here we come (Henk)


We booked an evening flight so we could spend the day in KK. There was not so much to see here, so we worked on the web-site, checked our mail and tried to get money back from AirAsia, since changing the flight on the internet cost us more than it should be according the rules. After we showed them the proof of the mistake, they agreed and were really helpful to return the money. Also we had to change the booking of our hotel in Singapore and the flight from Singapore to Sydney, since we did not want to spent too long in Singapore. It is a nice place, but too costly. The hostel we booked already cost 65 Singapore dollars (= 33 Euro) per night including a very basic (not really good) breakfast. A normal Holiday Inn would have cost more than 130 Euro per night.
To change the flight from Singapore to Sydney was easy and without additional costs. Additionally we organized an upgrade to business class which was very nice.
The day went by quickly and before we knew we were at the airport, waiting to get on the plane.
AirAsia actually does not fly to Singapore, but to Joho Bahru, place 30km from the border with Singapore.
From the airport we took a bus to the city centre and again a bus to the border. when we crossed the border, we caught the last bus to Singapore. We arrived around 2 in the night at our hostel.