Malaysian peninsula
Friday 27th of January 2006

Place: Alor Setar, Malaysia
Climate: hot and sunny, 340C
Health: Anit unfortunately again some infection in the eye (now the left eye) and Henk in good health
Thought of the day: Yes, finally problems with our website solved! We can update it again, that's a good feeling (Anit) Nice money they have in Malaysia, the Malaysian ringit is small and the rate is 4.5RM to 1 Euro (Henk)

Today was one of these technical days. What we mean by this is just time needed for updating our website, planning, developing photos from the underwater camera, etc. First of all we slept quite long to recover from the long trip from Thailand yesterday.
Later it went quite smoothly. We asked hotel reception to check out buses for us for tomorrow, than we took some money out of the wall (luckily we still have some), found a photo shop and had our underwater camera developed into digital pictures. Shortly you will see them on our website.
We found one internet café with quite fast internet.
Rest of the day we spent on updating our website and planning the journey in Malaysia. We already booked a hotel in Kuala Lumpur (KL) and a flight from KL to Sandakan on the east side of Malaysian Borneo. We plan to arrive in KL on the 3rd of February and fly on the 6th to Sandakan. This would give us 7 days to explore the Peninsula of Malaysia. We plan to take a scenic bus from west to east and then a scenic train from north to south.

In the evening when we came back to the hotel, the manager from the Regent hotel (a very friendly and helpful gentlemen) said: "I have bad news for you, there are no bus places to Khota Bharu" and Henk asked: "And the good news?". Then he thought a few seconds and said: "sorry, no good news, only bad". Anyway as we didn't want to stay in Alor Setar anymore we decided to just go to the main bus station and just see what our possibilities were to get to the east.


Saturday 28th of January 2006

Place: Alor Setar to Tanah Merah, Malaysia
Climate: hot and sunny, 340C
Health: Anit has still infected eye and Henk in good health
Thought of the day: India-like dirty (Anit) Malaysia is not so clean as I expected (Henk)
So, all the busses to the east were full. What to do. We simply headed to the main bus station and asked around what our options were. Well at least the guy from the hotel was right, no more express busses to the east. We took the first local bus to Balink. A small place just south of the Thailand. The bus was perfect. Better seats than you get on a charter plane flying to your holiday destination. The bus left Alor Setar at 11.15h and arrived at 13.30h in Balink.
Our next bus in eastern direction, to Gerik, was already waiting (very good), but was not so nice as the previous one. Our backpacks had to be put into the luggage compartment, which was full of dust. One advice when you go on a long trip; invest in a good, strong and durable backpack. Don't save on such an item. Good backpacks cost about 350 - 450 Euro, but it is worth it considering you will use it every day and don't want to have the hassle during a trip that it breaks or tears or doesn't fit well on your back.

We arrived at about 15.00h in Gerik and then? Well, no more buses going east. The next was was going next day at 14.00h? We didn't want to stay here. Then what about a taxi? yeah. The price was not so bad. Only 112 RM (= 25 Euro) for 200 km through the mountains. The problem was that not many taxi drivers wanted to go this far. Even more people were waiting. What to do? Well we first had some Malaysian lunch and we waited. Due to our lunch (which was delicious by the way) we missed the first car since all the others who were waiting there were a bit quicker. We stayed with one other gentlemen. One more gentlemen arrived and we planned to go all together in one taxi, which is anyway normal in Malaysia. Unfortunately for one of the waiting guys, we convinced a taxi driver with and old Nissan to take us, but he wanted maximum 3 people. He was afraid the car would break down. The road was beautiful but long. At about 19.00h we arrived in Tanah Merah.

The taxi driver dropped us at the train station where we bought tickets for the next day and asked for a hotel. He gave us directions to a good hotel not far from the railway station, but it was full. Then the next one. Hotel Tanah Merah..............What a place. They showed us a room 3x2 meters with no shower or toilet and no window. It was simply a dirty box. And not even cheap with comparison to hotels in Thailand. It was 29 RM (+6.5 Euro). What to do? Well, it was late and the hotel was more or less it clean (relatively) and the chance to find an Ibis or Holiday Inn was less than 0. We took it. Henk doesn't look so happy there, does he?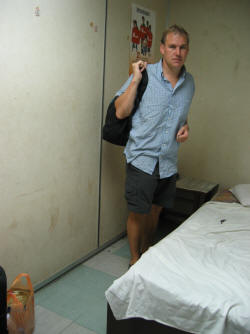 We ended our day with a superb dinner at the night market on the street. Especially Henk liked it. He had lot's of sate chicken and rice with egg and sauce.

Sunday 29th of January 2006

Place: Tanah Merah to Temerloh, Malaysia
Climate: hot and sunny, 330C
Health: Anit's eye is healing and Henk feeling good (even after the big meal at the night market)
Thought of the day: India-like dirty (Anit) After this hotel, I really look forward to our hotel in Kuala Lumpur (Henk)

This morning it was an early rise and shine. Yesterday we bought tickets for the train from North to South, so called jungle-train and it was scheduled to leave at 07.05h. After leaving our 5* ramshackle box hotel (the worst we slept according to Anit) we arrived at the train station at 06.45h, so nicely in time. It was still dark and we waited and waited, and of course as usual 1 hour delay. Hakuna...............Matata (no problem).
Our Lonely Planet says 2 things about this train. 1) Never take the day train, since it is extremely slow and stops at every place and 2) Specifically this route from north to south is one of the technical marvels with some superb views. We had the time, so let's go for it!
The train has only three carriages and after boarding it started already good. It looked like we were leaving and we did, but after 5 minutes we stopped and went back. Then we waited for 15 minutes, another train passed and we could get moving. Within half an hour we made already 3 stops. well, we will be on this train for the next 10 hours or so?!!?!? Maybe we are a bit crazy (can happen after so many months of traveling, but the train is an excellent way to explore the countryside and meet new people.
We took place in the restaurant wagon. This seemed the most comfortable since you had a table and we could put the backpacks on the opposite chairs.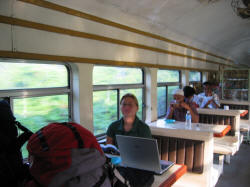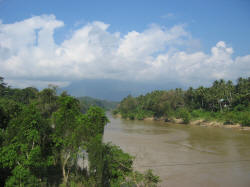 It was an excellent ride. The train took us straight into the Malaysian jungle. We passed rivers and also palm tree plantations and rubber tree plantations. Sometimes the jungle was so dense that the leaves of banana trees were hitting the train.
Sometimes when the train stopped there was absolutely nothing or just a few houses or a village. After each stop we went back through the jungle again and the scenery kept changing from dense to flat to great views on rocky hills.
What is also nice about going with the train is that you can do something, so we did. We worked on the web-site, we planned our trip for the coming 2 months. Yeah, we have to plan a bit more in advance now since we will be flying and planes tend to be full if you don't book in time.

In the afternoon there was a time for a small nap.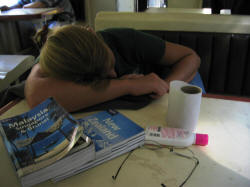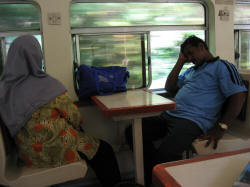 Then around 17.00h we arrived in Temerloh. From there we took a taxi to our hotel which we had already booked, avoiding the same situation as yesterday. The hotel was fine, nothing special, but rooms were ok.

Monday 30th of January 2006

Place: Temerloh to Melaka, Malaysia
Climate: hot, a bit cloudy, 320C
Health: Both in good condition
Thought of the day: I am happy we changed the plans and decided to get away from monsoon (Anit) 11 hours on the bus is quite much, isn't it? (Henk)

At 07.30h the taxi was waiting to pick us up and brought us to the bus station. We already had tickets booked; so far so good. And we were both looking forward to go diving on Pulau Tioman. The first bus went from Temerloh to Kuantan; a trip of about 2 hours. Again very spacious seats. After we arrived in Kuantan at 10.00h we went straight to the ticket counter. Bad luck;first bus to Mersing was at 14.30h. We checked some other bus companies, but all the same story. Then back to the first one and this time luck was on our side. The lady had 2 tickets left for the 10.30 bus. Now we had to rush to get it. The bus left in time and we arrived in Mersing about 13.30h. From here we would plan our trip to the island called Pulau Tioman. The first boat was at 18.00h and you know why? There was simply no water in the bay due to low tide. Can you believe it? We bought tickets and had some lunch. After lunch we started to investigate about the possibilities for diving. Everywhere we got the news that the time now was not good for diving. Low visibility and strong currents. When we checked how we could get back from Tioman and found out that there was no good connection with Kuala Lumpur (about 7 hours waiting) we made up our minds. No good diving, no good travel connection...we changed our plans. We returned the boat tickets, which was possible without any problems and bought bus tickets to Melaka. For you information Mersing is at the east coast and Melaka is at the west coast. In between there is a bus ride of about 5 -6 hours.
After making all the changes there was some time left for a few small beers, some ice cream and some sandwiches. During this intermezzo we tried to book a hotel/guesthouse in Melaka. Difficult, difficult. Due to Chinese New Year all hotels we tried were full. After we got on the bus we found one guesthouse which had one room available. The price was good, 25 RM (=5.5 Euro). Hopefully the quality was better than the other place from 2 days ago!
Henk slept most of the time during this last bus ride and around 11pm we arrived in Melaka. The lady of the guesthouse was very helpful and friendly and the room was pleasant and clean with a beautiful sea view (on the wall ha,ha)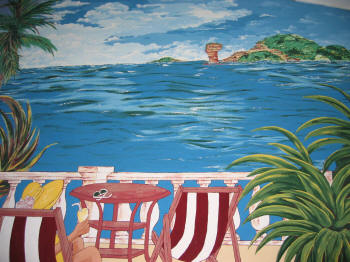 Shared bathroom and toilet this time, but it all looked clean. So this would be our home away from home for the coming 3 nights.

Tuesday 31st of January 2006

Place: Melaka, Malaysia
Climate: hot and sunny, 320C
Health: Both feeling very well
Thought of the day: Welcome back in civilized world (Anit) The Dutch were here, the VOC (Henk)

Melaka is a nice city with a lot of history. We new it already from the guide book so we were looking forward to discover it ourselves. Today, however, we slept very long because yesterday we arrived late and we went to sleep around 3am.
No worries, this day we just began with a delicious brunch and later we went shopping in the huge shopping centre. By shopping we mean mainly looking around and buying some supplies like toothpaste and shampoo. When we returned to hotel around 7pm we took a shower and watched the series "Jonge Leu en Oale Groand" (Young people and old grounds). This is a great film made in Twente (the east province of NL) so Henk could almost feel like at home and Anit could catch up a bit with the Twents accent (basically is not an accent, it's completely different language!).

Wednesday 1st of February 2006

Place: Melaka, Malaysia
Climate: hot and sunny, 350C
Health: Both feeling very well
Thought of the day: Today it was for me like coming back to my Dutch history classes at university where we learned all about the Golden Century and the Dutch colonies (Anit) Light and sound show, I would say more sound and a little light (Henk)

Today we woke up early to have a full day for sightseeing. Since the shopping mall was on our way, we decided to have a quick breakfast there and then went towards the Melaka fortress, our first sightseeing spot.
It was quite impressive especially because of graves of Dutch people who died here. You could see the Dutch and Portuguese influences all around the city centre.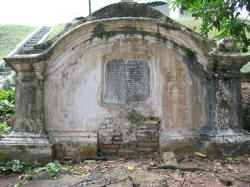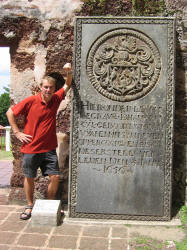 Later we went down the hill to visit the "Stadthuys", city hall from the time of Dutch presence with a lot of exhibitions from the time of Portuguese, British and Dutch conquers.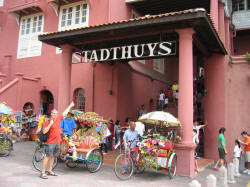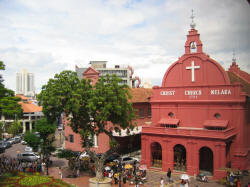 We also visited the Catholic Church on the man plain and the wooden ship from the XVII century now converted to museum. We couldn't resist these beautiful decorated rickshaws and we decided to make a city tour through the China town of Melaka. It took only half an hour but it was worth it. Melaka has its hart.
It was already getting dark but we still had one attraction left in our sightseeing program. After sushi dinner at the shopping mall (again) we went to see the Sound and Light show with the history on Melaka. It was bad. It was boring. It looked like they didn't use the full capacity of the sound and light facilities they could have there…although the scenery with the ruins of the fortress in the background at night was great. Goodnight.


Thursday 2nd of February 2006

Place: Melaka, Malaysia
Climate: hot and sunny with some clouds, 350C
Health: Both in good condition
Thought of the day: Take it easy and relax (Anit & Henk)

Under the motto "take it easy and relax" we slept long and didn't plan much for today. It looks like we really miss the western culture and it also looked like we found it back in our famous shopping mall. Yeh, yeh, let's go for some western breakfast there. Bad travelers! On the way we checked up e-mails and than went for a bite.
It was funny, for the first time we saw the Chinese New Year celebrations, here in the shopping centre. It was still the period of New Year celebrations so we were actually lucky to see how they celebrate it.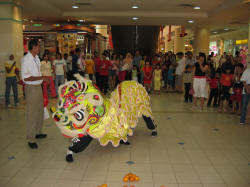 By the way: Happy New Year to all our Chinese friends!!!

When it was finished, we walked around, visited shops and just relaxed. On the way back to the hotel we went to the Internet café to check up some things, book the flights, write e-mails and so on.
As part of the Chinese New Year, there was a fancy fair nearby our guesthouse. We were curious how it looked like and how Malaysian people spend the time there so we decided to have a look. It was really crowded and although intended for kids we still found some attractions for us.
First of all, shooting. Henk, the hunter, loves it. Anit tried as well and although every time we were very close we didn't win anything. You know what prizes they had? The mobile phones! Crazy people.
Ok, next thing was the Ghost House. O, we are so stupid. We were sitting in the small train with all kids around (we were the only adults there and almost too big for the seats). But anyway, let's give it a try! The train was just making circles, into the house and outside. After the first round we though, God, that's boring, you go into the house for a minute and you see the Ghosts on the right and left and that's it. We made the first circle, than a second one and all the same. Boring. But than on the third one, you know what happened??? The boring ghosts began to move! Yes and following Anit who was already screaming like a hell! And the grabbed Henk by his neck!
It was fantastic and scary. A very simple concept but a great idea.
The last attraction we did this evening was a wheel with seats around it. It was moving around and up and down and around. Looked like great fun in the beginning but when we sat there and saw that the whole machine was cowered by rust and looked really old, we wished we had been down back. Anyway, thanks God, we survived.


Friday 3rd of February 2006

Place: Melaka to Kuala Lumpur, Malaysia
Climate: very hot, more than 300C
Health: Both feeling ok
Thought of the day: Looking forward to discover Malaysian capital city (Anit) The Petronas towers (Henk)

The checked out time at our guesthouse was at 12pm. Since we wanted to organize some things today, we decided to check out and leave our bags at reception. We would pick them at around 2pm. After late breakfast and visit to the internet café we picked up the bags and took a taxi to the bus terminal. From there we took a bus to Kuala Lumpur. It took only 2 hours to get there.
From the bus stop it was only a walking distance to our hotel. As always, when we sleep in a hotel belonging to the Inter Continental hotel group, we get a nice room with all the facilities which a backpacker would only dream of.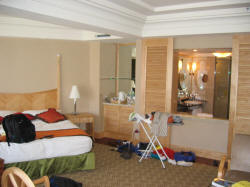 It was already quite late. The rest of the evening we spent in front of TV which we miss (honestly speaking) and we ate some snacks bought at Seven Eleven shop nearby.

Saturday 4th of February 2006

Place: Kuala Lumpur, Malaysia
Climate: hot and sunny, more than 300C
Health: Both in good condition
Thought of the day: I feel like doing nothing...is it because of hot weather or am I becoming very lazy? (Anit) Stupid travel agencies (Henk)

The most important thing today was to check out the flight options for Los Angeles. Basically we thought about flying the route Singapore, Sydney, Auckland, Fiji and LA. It took us almost whole day to check out this option and also visit New Zealand Airlines and Singapore Airlines for their offers. At the end of the day we still didn't have any concrete option. Air New Zealand was too expensive, Singapore didn't have any good deals, the quotations form Lonely Planet website was also not attractive. Planning takes much time as you can see, especially when you want to travel as cheap as possible but still have a good value for money.
It was a hot day. After walking around in the city we felt so tired and literally "cooked" we only dreamt about the swimming pool. So the first thing we did when we came back to the hotel, we took a swim. The view from the pool was quit nice by the way.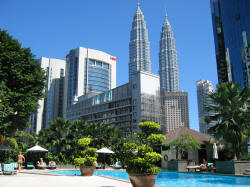 After we cooled down a bit we went out for some bite. We followed the LP recommendations of Tapas restaurant in the food court under the Marriott hotel. After some time of finding this place we had a delicious dinner. Definitely good recommendation.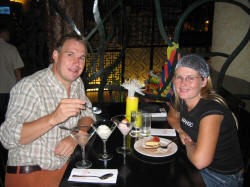 Sunday 5th of February 2006


Place: Kuala Lumpur, Malaysia
Climate: very hot and sunny,
340C

Health: Henk and Anit in good condition
Thought of the day: I like when we go sightseeing (Anit & Henk)

Today we had a sightseeing day. The biggest attraction in KL is of course the Petronas Towers. Our hotel was only 15 minutes from this place so we walked there. You cannot go up the towers; you can only walked on the Sky Bridge, which connects the two towers.
When we arrived there we were told that the next visit was over 2 hours. This was of course not so convenient for us because we planned more things for today and we needed the time. Quickly, quickly, let's find a reason why we have to visit now. OK, we told them we were leaving today and asked if we could join the group that has just entered. It worked. 15 minutes later we were at the bridge. Impressive construction and architecture, have a look: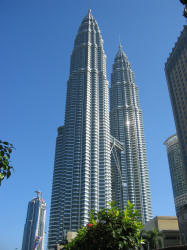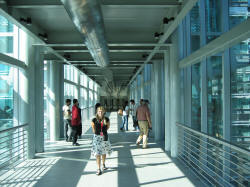 It's a nice view from there but even nicer is from the Television Tower, which we visited later. We walked there because it seemed not to be that far, but it was. Finally we arrived at the gate where there was a free shuttle bus bringing us up at the Tower entrance. That was a good thing after all this walking… in this hot and humid climate.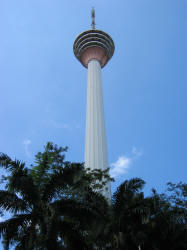 Our first idea was to have a dinner at restaurant located in the tower. That would be great to watch the sunset over KL from there. Well, it's not for free. You have to pay for this, and the food prices were so crazy that we decided not to eat there. Instead we went up, took an audio guide, walked around the observation deck and found out more about this city. Audio guide is a great invention!
When we came back to the hotel, we came up with the idea to do some work out. If we can use fitness room for free, why not to try?
We had a lot of fun using different machines. When we made sure we lost enough calories, we went out for dinner to catch up with the lost weight. Bad, bad…But the Italian dinner was delicious…. This was the last day in Kuala Lumpur. Tomorrow we were flying to Malaysian Borneo.