North Island Part II; New Zealand
Friday 24th of March 2006

Place: Picton to Levin, New Zealand
Climate: sunny with some clouds, 190C
Health: Both in good condition
Thought of the day: Another family visit; Henk has a big family here; hardly to remember all these names (Anit) Kupper family, here we come (Henk)

When we got up this morning there was still nobody to pick up the money. Well, we didn't mind really. We had ferry to catch at 12.30 back to the North Island. On the way to Picton we made a stop at the lovely picnic spot and had our breakfast. We saw the earlier ferry passing by with big delay.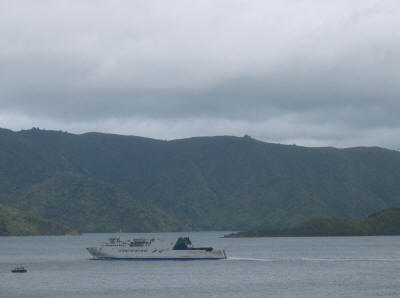 It was terrible windy so we were afraid that our ferry might have been cancelled. When we arrived in Picton we checked out first the ferry situation and fortunately it was going as scheduled. It was sunny here, just as it was when we arrived here from the North Island 3,5 weeks before.
Still having some time we decided to drink coffee and check out the e-mails. First we couldn't find any place where we could connect our laptop. They were afraid that we might bring a virus or disconnect their network or something similar. Well, it looks like they are not so advanced with computers here yet. Finally, at the dive shop they allowed us to use our laptop. And than the time went really quick. We had to rush to the ferry.
When we arrived at the ferry, we had to wait long. Yes, as we expected because of the strong wind, the boat was delayed. There was nothing else to do but wait. After 2 hours we were allowed to board. It was a huge boat which even takes trains on!
As long as we were in the Sounds the trip was ok, but when we went out to the open sea the boast started to hit the big waves and many people got sick. The sea was terrible rough and we moved as far to the end as possible. The end of the boat doesn't move so much as the front does. It was a long trip.
Finally, with 2 hours delay, we arrived in Wellington. We planned to go up to Levin where Henk has his relatives: uncle Gerrit and aunt Ria. It was busy on the road which further delayed our arrival in Levin. However, when we came there, they were already waiting for us and greeted us very warmly. We had a late dinner and talked till the late night.


Saturday 25th of March 2006

Place: Levin to New Plymouth, New Zealand
Climate: sunny and quite warm, 250C
Health: Henk and Anit in good condition
Thought of the day: Nice day both at the Kupper family and with our friends in Palmerston North (Henk & Anit)

After a good night sleep, in a nice bed again we woke up for breakfast. Ria was already working in the kitchen to make us some breakfast. After breakfast we had a tour around the house. Lovely house they have.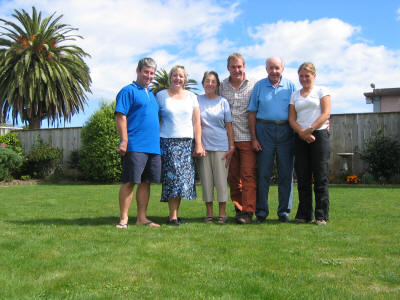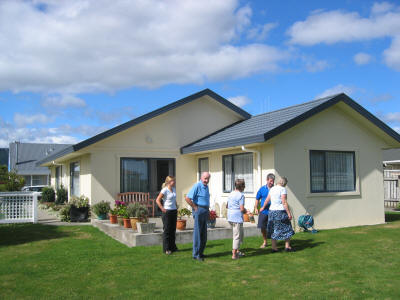 Also their daughter Dianne with her partner Mark came along. We had some nice talks about both families, shared some pictures.
We wanted to go to new Plymouth to climb mount Taranaki, but first to Palmerston North to visit some friends we have met on the Doubtful Sound cruise. Uncle Gerrit helped us out with taking the right route.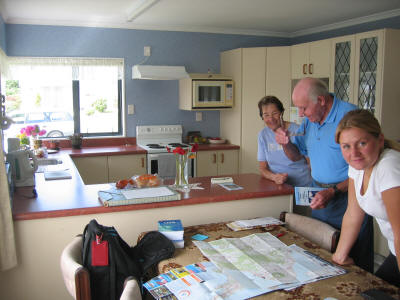 We left again around noon. At 13.00 we arrived in Palmerston North at the house of John and Sue. Unfortunately Sue had to leave us, but we would meet her again later that afternoon. John showed us his factory. He produces lawnmowers and stainless steel kitchen and is general importer of Miele and an American producer of lawn mowers. It was impressive to see. On the way back we made a stop for a nice coffee. When we got back Sue was already at home. We agreed to meet again in Köln (they would come to a trade-fair) in September.

After the nice afternoon we went off to our next adventure: Mount Taranaki!



Sunday 26th of March 2006

Place: Mt Taranaki, New Zealand
Climate: sunny with few clouds, but snow on the mountain, 200C
Health: Both Henk and Anit a big exhausted after the climb
Thought of the day: Sometimes risks are bigger and closer than you think (Henk); Rule no 1 in the mountains: never ever leave the track (Anit)

The top 10 park we stayed at was really nice. The lady told us to go early to Mount Taranaki to climb it. We got there at about 09.00h. The weather looked fine. There were some clouds around the top of the mountain, but it looked they would be disappearing. Mount Taranaki is a volcanic mountain 2,518 meters high. It does not look so dangerous, but it is pretty steep to climb and you can get caught by the bad weather. Actually more than 60 people died climbing this mountain in the past
We started to go up. The first part was an easy one. It was like a road used by cars. It took us 1 hour to the lodge. From there it should be 3 hours more. We moved further in steady pace. Now there were some wooden steps. After half an hour or so, no more steps, only a rocky path, mostly sand and rocks. Sometimes you made one step forward and slide down two. Quit tricky. We now came closer into the clouds.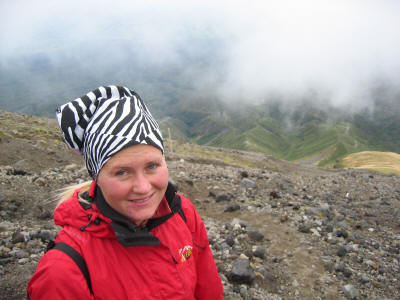 One guy whom we met down a bit earlier joined us. Half way we made a stop for sandwich we made ourselves. Then after 3 hours (visibility was down to 10 meters) we met a guy coming from the top. He told us we were close to the top and he knew an easier path. He explained us how we should go. After his advised we decided to leave the track. So stupid. By know the temperature dropped to below zero! It was windy and it started to snow. We got lost!!!!
We should have never listened to this guy and for sure never leave the path. We discussed, what to do. While discussing, one guy came from below and joined us. We agreed to go up for another 30 minutes. If we haven't reached the top by then, we would go down. It was really freezing, there was hail and snow and a strong wind. Actually very unpleasant.
Finally after 20 minutes we reached the crater and were standing in the middle of it in the snow! It was a good achievement. Luckily we also met 2 locals at the top. They took us down, so we were all save. Going down was actually like skiing because of the volcanic stones which make you glide down. When we came down further it was just following the stairs. The last part was killing for the legs but we made it. When we finally reached the car we drove back to our camping and celebrated our adventure!!!
We took a deep dive in the spa and soaked, had some nice wine, got tipsy and sleepy. Then we hit the sauna. After this we just hit the bed and fell in a deep deep sleep...............

Monday 27th of March 2006

Place: New Plymounth to lake Taupo, New Zealand
Climate: Rain, 220C
Health: Both Henk and Anit weak in the legs
Thought of the day: Soon..........sky diving (Henk) We should have come here earlier; now we get so much rain (Anit)
We slept a bit longer this morning. When we got up we first did the laundry. We felt our legs, pfffff what a climb. We washed and cleaned our car. What a difference. Yes, now you can see it's white. From here we headed to Taupo where we slept wild at a picnic spot. Due to bad weather we skipped the trek at Tangariro crossing. Would have been nice if the weather was better. They used this part of New Zealand as set for the movie Lord of the Rings (Mordor). It was already dark when we arrived at lake Taupo. On the way up we chose one of these picnic spots for our overnight camping. There were already other cars there.


Tuesday 28th of March 2006

Place: Lake Taupo, New Zealand
Climate: sunny and warm, 240C
Health: Both Henk and Anit feeling ok
Thought of the day: Today is our anniversary, or was it yesterday, or is it tomorrow and which time you actually count, New Zealand or European time? (Henk) Lake Taupo is one of my favorite spots in NZ (Anit)
When we woke up we had breakfast and drove to the Taupo top 10 park. We booked for 2 nights. Our plans for the coming days were to visit 'Craters of the moon', Huka falls, the prawn farm, Jet boat and....jump out of a perfect safe plane. Yes, we planned to do it.......SKYDIVING. Why in Taupo, because everybody says here is the cheapest. Only they don't guarantee you get a parachute.
Well, first thing first. We went and visited the Craters of the Moon. It is a park where you can see a lot of volcanic activity. Steam is coming our of the earth everywhere. It's a nice please. Very impressive when you see it for the first time, but not less impressive when when you compare to the park in Rotorua.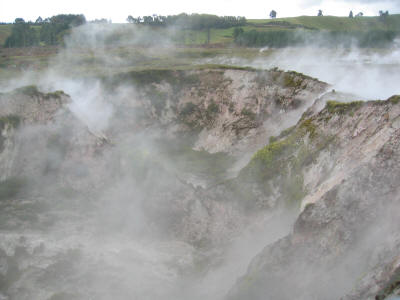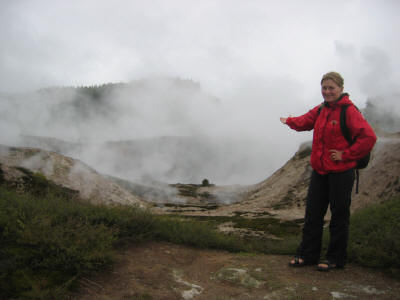 After this visit we went to the prawn farm. We had a delicious prawn lunch. Henk had a nice white wine (he forgot the name). After lunch we took the tour at the farm. It was disappointing. We mean, they show you the farm, but actually there is not much to see and the lady was not very professional in her job. At the prawn farm you could also do the Huka jet boat, but we heard that further down the river was a much more thrilling boat ride. We decided to check it out.

Our next stop was the Huka Falls. The Huka is the biggest river in New Zealand. Actually New Zealand gets 15% of their electricity supply from this river. Not bad at all. Keep in mind there are only 4,000,000 people in New Zealand and no hard winter on the North island where most people life.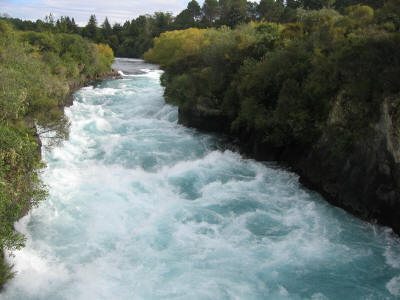 later, we went by car further down the river to check out the Rapids Jet. It was a small company, not so busy as the Huka Jet but it looked more adventurous. We booked a boat ride for next day at 12.00h.
What next? Ahh, the skydiving. We headed to the airport to check out the 3 different companies and their prices. Suddenly, at the lake Henk stopped and parked the car. What's going on???? He spotted some golf activity and had to stop to see it from closer by. Golf here? Yes. They had a little island 70 meters from the shore with 3 holes. If you hit from shore in the middle hole, you would get 5,000 NZD. And of course Henk had to try this. 25 balls for 20 NZD. Crazy, but nothing would stop his desire...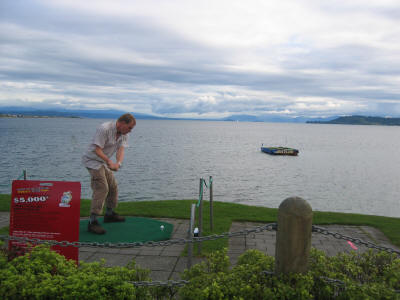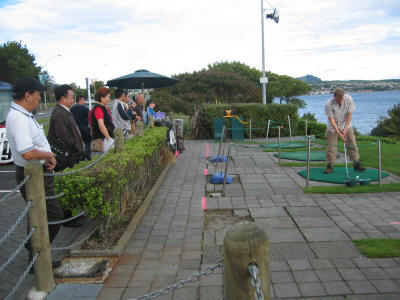 Funny was, that a bus of Chinese tourists stopped and watched Henk hitting the balls.......in the water. Henk even tried to get them clap for him. Ha ha.
Henk did not win, but actually did not bad. He hit the Island 5 times and as you can see his swing was good, not like the one of Marco Bremer (sorry Marco).

While hitting, another truck stopped. "Bay of Plenty brush supplies" it said. It was Jerry who was visiting his customers in this area and spotted our car. What a surprise! We had beer together and because he was also staying in Taupo, we invited him to our 4 year being together anniversary. We have never spent this day with three...ha,ha
We agreed to pick him up at 19.30 and went to a nice Thai restaurant. Hmmmmmmmmmmm,...it was delicious.


Wednesday 29th of March 2006

Place: Taupo, New Zealand
Climate: sunny and warm with some clouds, 270C
Health: Both Henk and Anit in good condition
Thought of the day: To sky dive or not to skydive (Henk) Rapid jet is fun but nothing in comparison to rafting in Nepal (Anit)

Around 11.00 we drove down to Rapids Jet. The ride was hilarious. It was a 35 minute ride through rapids, up and down the river. Additionally, our driver/guide told us some facts about the area.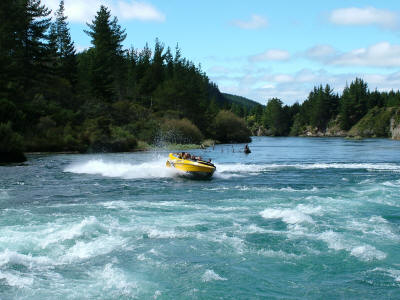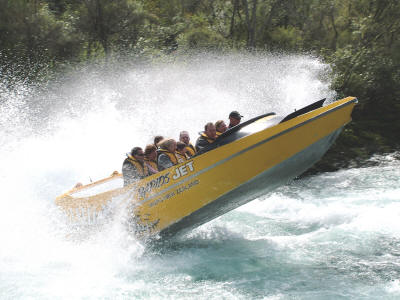 The jet boat was a warm-up for our next adventure. Now we finally drove to the Taupo airport. Stress was in our blood. Should we do it or not. Once we were at the airport it actually did not look so bad. You see so many people falling out of the air. We checked 2 companies and decided to go with the biggest; Taupo Tandem Skydive (TTS). We booked for the next day for 15,000 Feet (=4.5 kilometer), which gives you 1 minute free-fall plus we booked video and photos. The jump itself is not so expensive 229 NZD, but with the video and photos it comes to 378 NZD per person. So, one more night before the jump. What to do now. In order to relax we went to play golf. But actually it wasn't relaxing. There were some older gentlemen playing some kind of tournament (not official) and suddenly Henk was not allowed to tee-off anymore, because one gentlemen got upset and confused. Well no fun for us. We claimed our money back and took off. Next stop, the hot pools. This should really give relaxation. And yes it did. So nice and warm. We soaked for a few hours.
Now it was time to really celebrate with only two of us. We saw a nice restaurant last night and tried it out. It was nice. Good service, nice wine and good food. We love nice restaurants. The guy from the restaurant wished us luck with the jump next morning and we told him we would come back to let him know how it was.

That night the stress was increasing. Why did we book this jump, why?



Thursday 30th of March 2006

Place: Taupo to Wai-o-Tapu Wonderland near Rotorua, New Zealand
Climate: sunny and a clear blue sky, 270C
Health: Both Henk and Anit in excellent condition
Thought of the day: Perfect day for a jump (Henk) God, what a feeling to fall down (Anit)

8 o'clock, rise and shine. Time to get up. The sky was perfect blue. No clouds at all. We had our breakfast, checked out and drove to the Taupo airport.
At the airport we already saw many people falling down from the sky. It gave us courage. At the check in desk, the lady told us: here are the toilets, there the jump suites, there the lockers, put all your belongings inside. Then we hook you up with a dive master, put you in a plane (perfectly safe) and after 25 minutes we drop you off the plane. That's it. Any questions? Gosh, that was it?
We did as we were told. Henk's dive master was Albert from Germany and he was pleased by that (Germans still have the name to be precise and so was Albert). Anit was jumping with Justin, a Kiwi (from New Zealand).
We got dressed and had a 5 minute ONLY!!! video instruction. The dive masters put on our jump gear and now it was only waiting for the plane. Once we were heading to the plane, we were at the point of no return. It was a small plane and we were jumping with 15 people. 6 customers (including us), 6 dive masters (all jumps are tandem) and 3 people for filming 3 jumps, Anit's jump, Henk's jump and Tracey's jump. One guy who jumped with us was.....83 years old!!!! Probably not much to loose when you are 83, hey.
The flight took 25 minutes which was a combination of fear and beauty. The scenery of lake Taupo and surroundings was beautiful and at maximum height we could see both oceans on each side of New Zealand.
2 people jumped at 12,000 feet and then we had another 5 minutes up to 15,000 feet.
The most terrifying (for Henk) was sitting on the edge of the plane just before the jump. For Anit, surprisingly, it was not so scary as it was while diving course. From the moment you jumped it was simply GREAT. We have never experienced a feeling like this before. You're........flying/falling with 200 km/h down. You make a freefall for 1 minute from 4,5 km down to 1,5 km. Then the dive-master pulls the parachute and......it looks like you go up. Then you glide down gently for 5 more minutes or so and you can enjoy the scenery.
The landing is easy, you just put your legs forward and land softly on the ground.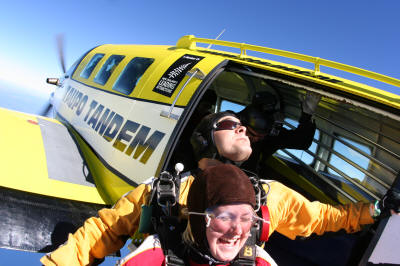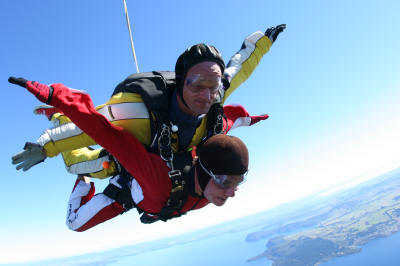 After the jump we felt fantastic and wanted to do it again. After the landing we went to the video room and we could watch our jump. It was like doing it again. Great souvenir. You can all have a look at some of the scenes from our jump in the "Video Report".

Now it was time for lunch and a nice beer. We couldn't stop talking about the skydive. And we were so proud we did it that we wanted to tell everybody about it. We got 2 nice T-shirts and obviously wore them to show the world WE DID IT.
In the afternoon we drove to the Thermal Valley park and slept at the parking place that night in order not to be too late for the explosions of the geyser which takes place at 10am.


Friday 31th of March 2006

Place: Wai-o-Tapu to Tauranga, New Zealand
Climate: sunny and warm, 240C
Health: Both Henk and Anit feeling ok
Thought of the day: Trademe.co.nz (Henk) What a foggy day today (Anit)

When we woke up, nobody was at the park yet. We got dressed, had some breakfast. Then, while Henk was preparing coffee, the first guest drove on to the parking where we slept. Only in the morning did we realize that the security camera was watching us the whole night. Well, at least we were secure.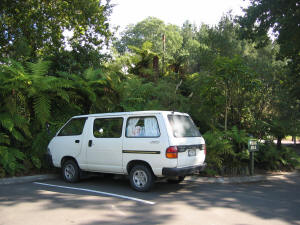 We also walked to the park entrance. Thermal Wonderland is the main park in New Zealand regarding Thermal and volcanic activity. You can make a walk of about 2 hours to see all the beauty of thermal activity and so we did. The lady did advise use to split it up and come back to see the eruption of the Lady Knox geyser.
The walk was beautiful. Especially, we liked the champagne pool (2nd picture) with all its colors and Henk wanted to have a picture at the Bridal Cloth (1st picture). He had a picture at the same place 22 years ago: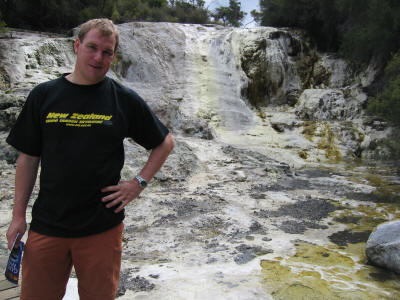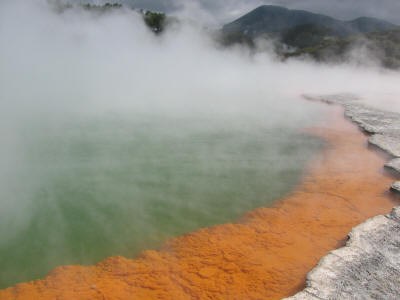 After 50 minutes we came back and went by car to the Lady Knox geyser. To erupt the geyser they put soap into the geyser's mouth. Then the hot and cold water start to clash and the geyser spits out water up to 12 meters high: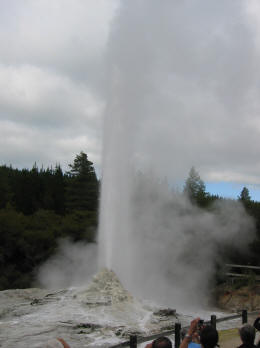 Our next plan was to make a stop in Te Puke to say goodbye to Uncle Jerry and Aunt Dinny and to pick up our ticket to Fiji. So said, so done. We surprised Diny with some nice flowers as a gift to thank for their help and hospitality. We shared our NZ-experiences with them. Diane had the tickets, so we had to wait a bit till see got home from work. No problem. Jose already called when we would be coming and we informed her that it would be a bit later than planned. When Diane came we packed our stuff and said goodbye. Thanks Aunt Dinny and uncle Jerry for the nice time we had with you!

After our visit we drove to Tauranga to visit Jose, Kevin and their children. We would sleep at Jerry and Ans's place who also live in Tauranga. We had a fun evening. Jose and Kevin took us to a local restaurant for dinner and afterwards we went to their home to review the 'Henkie Penkie' issue. Kevin who is good with computers put some movies which Jose made during her stay in the Netherlands in 1985 on a DVD. Finally after all these years Henk saw the movie made about him: Hank Shit-shoveller no. 1!
Later that evening we drove to Jerry and Ans. When we came there we had a nice chat and Jerry invited us to share a nice bottle of Shiraz.



Saturday 1st of April 2006

Place: Tauranga to Maraetai, New Zealand
Climate: sunny and warm, 220C
Health: Both Henk and Anit feeling good
Thought of the day: Did anyone already make a bit on the car (Henk) Now we really have to start thinking of selling the car (Anit)

Today was April's fools day and Anton, the youngest son of Jerry and Ans, helped us remind. When we wanted to open our bedroom door, it was covered with newspapers. HAHAHAHAHA, April's fools day.

Of course we would get even. What we did (and by now Anton must have found out) was tear the newspapers in tiny little pieces and put it all over in his bed. In his pillow, under the mattress sheet, under the sheets, everywhere. HAHAAHAHA! By the way Anton, Maria already new all about it from the start, but we asked her to keep it a secret and she did.
We had a lovely morning at Jerry and Ans's place. Ah, not to forget, we had just put the car on a New Zealand trading website like e-bay (www.trademe.co.nz) and we could use Jerry's phone number as a contact. Additionally, we would now also put poster on the window of our car. It was time to start selling it! In any case if all went wrong and we didn't sell the car, uncle Jerry would buy it from us. Well, we had a look at the internet and already many people had a look at it, but put no bids yet. We used the auction method, where people could make a bid. It's actually very exciting. The closer you get to the end date of your auction, the more movements.

In the early afternoon we left Jerry and Ans house and drove up north via Coromandel. We didn't like the drive so much (too many curves and we had seen enough of them), so we decided to shortcut the way and drove up to the Sea birds coast just before Auckland. Here we found a camping spot, which was officially marked, close to the sea and full of sheep. Great spot.
It was a nice spot, but because it rained, we did not look around so much, just went to sleep in our cozy van.


Sunday 2nd of April 2006

Place: Maraetai to Orewa, New Zealand
Climate: sunny and warm, 240C
Health: Both Henk and Anit in good condition
Thought of the day: Betje Twents is ait goat (Henk) Today for the first I got the feeling that the NZ adventure is going to end soon (Anit)
Beee, Beeeee, BEEEEEE. The sheep woke us up! We had quick breakfast and drove on to Auckland. On the way we made a stop at the backpackers market to see how it works here to sell a car. It's a small market (25 cars). You pay 80 NZD and you can park your car on the market for 3 days. We would keep it in mind as a good option. Unfortunately we are now in off season so there are not many backpackers coming to NZ. In December we probably could sell it immediately and for better price.

After a nice drive we stopped at the top 10 park in Orewa. Here we watched the new series of 'Jonghe Leu en Oale Groand'. We were so curious how the story goes that we watched all 10 sequels in one afternoon/evening. After this long movie section we decided to make use of the Waiwera Thermal Resort. The lady from our top 10 park recommended this to us and with our top 10 card we even got a nice discount (2 for 1 package).
The thermal resort has many different pools with different temperatures. From warm to really hot. One pool had even a big screen with...football...oh, no, nothing for me (Anit). Anyway, these hot pools are so relaxing. It's a great feeling to finish a day like that. And also when you continuously use showers, it's nice to sit in a bath for a while.



Monday 3rd of April 2006

Place: Orewa to Tutukaka, New Zealand
Climate: sunny and warm, 220C
Health: Both Henk and Anit feeling very good
Thought of the day: Good to see Fritz and Suse again (Henk & Anit)
Late, late, late. Not like we planned. It was around 4pm when we finally left Orewa. Reasons? Laundry, website, cleaning the van, etc. Anyway, the distance from Orewa to Tutukaka was only like 200km. Easily we can make it in 3 hours assuming we don't get lost. But we did, ha ha. Well, the reason was that we didn't have exact address of Fritz and Suse but only this description: on the way to Tutukaka, left side. When we were close by we called them and Suse told us they would wait at the road and we couldn't miss them. Now what? We didn't see them and in result we drove much too far. On top of this, there was no mobile reach there and it was dark and a heavy rain. At certain moment we realized that we were too far, so we turned back. Finally we reached Fritz and he came to pick us up from Tutukaka.
This was a real warm welcome. We met Fritz and Suse in Thailand, remember? They had been traveling by their yacht for 6 years and now they build a house in NZ. They have quite a big land, a shed where they temporarily live and some beef cattle. The surroundings are gorgeous: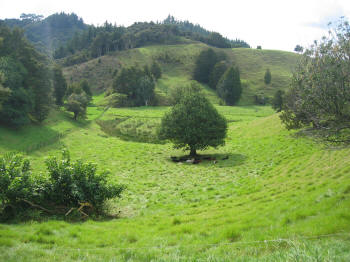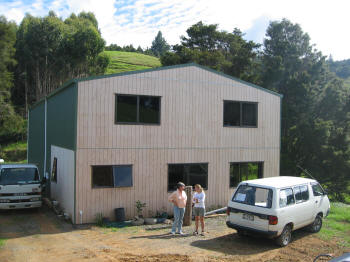 Fritz and Suse waited for us with the dinner. We had a lot to tell them and we chatted till late in the night. In Thailand Fritz told us about diving at Poor Knights Islands in NZ. Tomorrow we were going to book a dive.
This night we slept in the van. It was easier because the shed Fritz and Suse are living in at the moment, is only temporarily and not furnitured completely.

Tuesday 4th of April 2006

Place: Tutukaka, New Zealand
Climate: sunny and warm, 230C
Health: Both Henk and Anit feeling ok
Thought of the day: Fritz and Suse are really nice people (Anit)
This morning when we opened the door of our van we saw Suse and Fritz already in the kitchen preparing the breakfast. Today we wanted to organize the diving. First after breakfast we went to see the Whangarei falls. At the parking place we could use the public toilet which was good too (Fritz and Susie don't have the toilet yet). Later on, we tanked the car and went back to Tutukaka to visit the dive shop. We decided to dive with Dive Tutukaka company. They were recommended by Lonely Planet and also Fritz told us they are good. We booked two dives for the next day. Diving in colder water in 7mm wetsuit would be a new experience for us.
It was already the lunch time so we decided to have a bite at the local restaurant Snappa. We had fish (snapper) and chips which was very good. After the lunch, as recommended by Fritz and Susie we made a walk to the Tutukaka light house which is on the small island and is only reachable at the low tide. It was a nice walk and the view from the top on the ocean and Poor Knight Islands was amazing: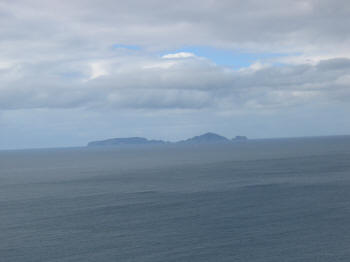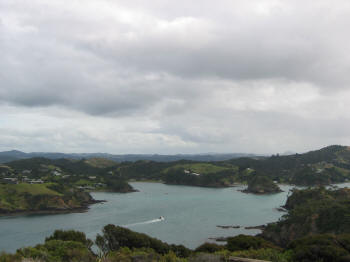 View on the Poor Knight Islands View on the Tutukaka bay
The evening we spent with Fritz and Suse. They cooked delicious meal again, we talked and talked till late in the night. They have so much to tell (like we do) about the world and their travel experiences. Their sweet dog, Bouncy accompanied us the whole time: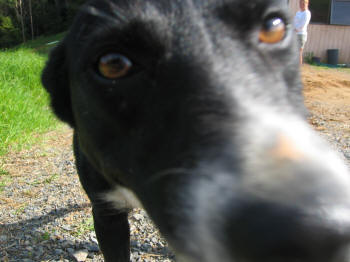 Wednesday 5th of April 2006

Place: Tutukaka to Poor Knights Islands, New Zealand
Climate: sunny, some clouds, a bit of rain, 220C
Health: Both Henk and Anit in good condition
Thought of the day: Diving again, cool! (Anit) I hope it will not be too cold (Henk)
We got up early this morning because of the diving. We had to be at the dive shop at 8am. When we came there, there were already many divers. Some of them were picked up in Whangarei and brought by bus to Tutukaka. The organization was really professional. When we filled the papers and paid, we got the equipment and went to the boat. The boat was really good. We were all together with 17 people + staff. The weather was quite good but still cloudy. It was cold for us because before we only dived in the warm sea. On board they served hot chocolate, coffee, tea and soup. Good for warming up. When we arrived at the Poor Knights Island we first had a sightseeing tour around the beautiful rock arches and caves. The guide told us the history of that place. The islands are not inhabited, they form the national reserve. This place is famous for diving because of the tropical current present which attracts many tropical fish. The water temperature was around 190C.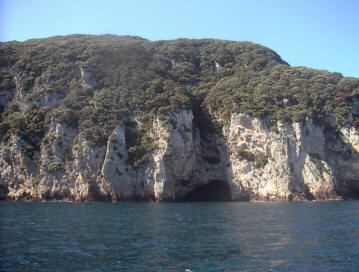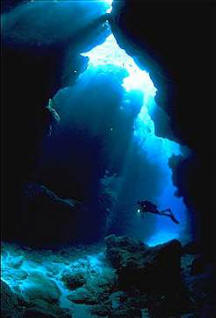 At the first dive sight in the calm bay we first got the briefing, then we geared up and jumped into the cold water. And, surprisingly, it was not so cold. We had 7mm 2-piece wet suit with cap and boots which kept us warm enough. The site was very nice with caves and dark swim troughs. Sometimes we had to use torches. The most amazing were the huge algae. We also saw big rays. Beautiful.
When we finished the dive, we were offered the hot drinks, so no way to get cold.
The next dive site was also very nice. It was different to what we know from Thailand or Malaysia. The equipment they have here is really good. They even had Suunto's as a standard gear. Because of the wet suit we got 12 kg weight! Amazing! And very heavy when you get out of the water. Normally we use around 3-4kg.
After the second dive we made our way back to Tutukaka bay. We arrived at Fritz and Susie at 5pm. They invited friends for the dinner tonight. All together we had a great evening.
Thursday 6th of April 2006

Place: Tutukaka to Waipapakauri, New Zealand
Climate: sunny with later some rain, 200C
Health: Both Henk and Anit feeling good
Thought of the day: Hope to see Fritz and Susie again in Berlin (Henk) Last part of our trip in New Zealand (Anit)

In the morning after breakfast with Fritz and Susie we prepared to leave. Susie had go earlier but the car wouldn't start. We tried to push but because the house is situated on a hill, we could not move it in the direction we wanted. No problem. Fritz started up his digger. We connected the car to the digger and he pulled it up the hill.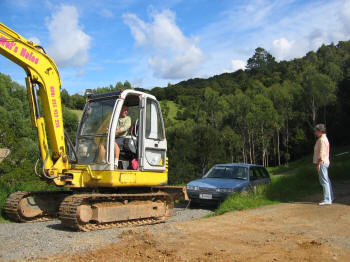 Now downwards was a piece of cake. Henk was behind the wheel and rolled it down and put it into gear, vroom the engine started.
We said goodbye to Susie, to Fritz and not to forget Bouncy and left Tutukaka on our way to 90-mile beach.
Before getting to the 90-mile beach we first headed to the West coast to see the biggest trees in New Zealand named Kaouri trees. It was again a very windy road with lots of curves and up and down.
In the forest area with the big trees we went to the outlook point but it was not so impressive. Along the way we saw some really big trees.
In the evening we arrived in the Top 10 holiday park at Waipapakauri, just at the beginning of the 90-mile beach. Rain was pouring down!


Friday 7th of April 2006

Place: 90 mile beach up to Cape Reinga and back to Russell (Bay of Islands), New Zealand
Climate: sunny and warm, windy up north, 240C
Health: Both Henk and Anit feeling ok
Thought of the day: North of northern island is just as beautiful as the south of the southern island (Anit) Things to do for our next visit to New Zealand, dive Rainbow Warrior (Henk)

We woke up at 7am today in order to have enough time to reach Cape Reinga and go back to the Bay of Island. We considered to drive on the beach but at the end we thought it was too risky. We didn't want to risk the car because within 2 weeks we would have to sell it. Some people got stuck because they didn't know precisely when the high tide was or they missed the exit point. Instead we took a normal asphalt road which brought us to the very end of the northern island, The Cape Reinga. There was a light house there and the signboards informing how many kilometers are to Tokyo, Paris, London, Singapore, etc.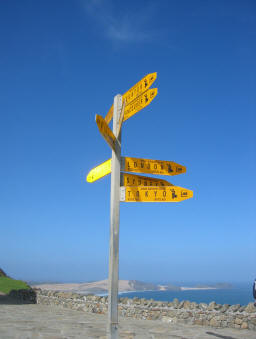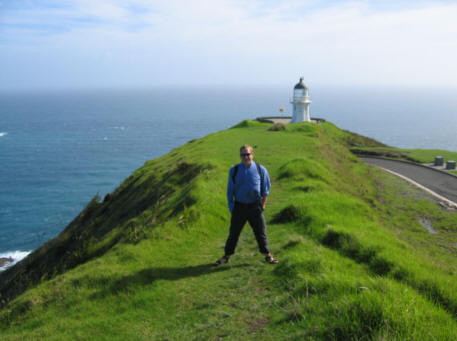 Cape Reinga is a place where two oceans meet. Believe it or not, you can really see how the waves of two oceans hit each other, see below: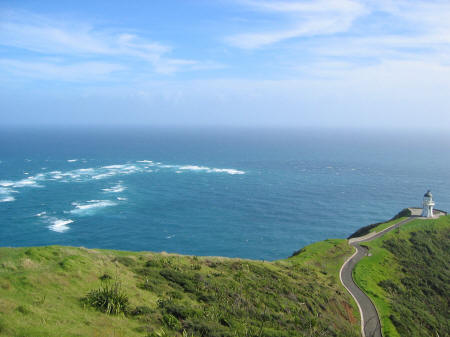 Cape Reinga is also the place where New Zealand begins: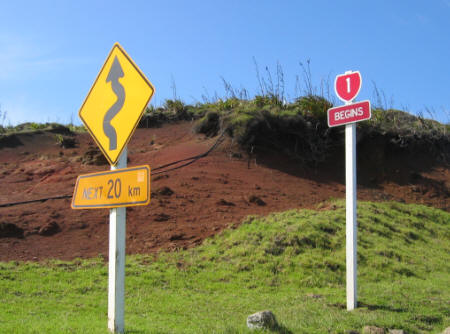 On the way we made a stop at the Te Paki river. It is a quite big stream where the ones that drive on the beach can enter/exit the 90 mile beach. We parked the car and walked a bit down the stream. Some car passes us but most of them big 4WD jeeps. We saw three buses with tourists who were sliding down the dunes on surfboards. We watched them for a while and headed back to our car. From here we continued down and in the direction of Bay of Islands. Just before reaching our destination we got a flat tire. Luckily it was left rear tire so we had no problem to control the car and bring it to parking position. This is the first problem we had with the car. No worries. We had all the tools and Henk quickly changed the tire.
When we arrived in Paihia (Bay of Islands), we stopped at the garage and a friendly guy helped us out. He had all the necessary equipment and we were impressed how quick and smoothly he repaired the tire. He even didn't want to have money for this but we paid him anyway because he gave a good service.
Later this day we checked diving possibilities and here we had a big disappointment. Due to bad weather diving to Rainbow Warrior was cancelled. On top of that Anit had an additional big disappointment, swimming with dolphins was very expensive and like following the crowds, so not so nice here.
After gathering this unpleasant info we went to a restaurant to have some pizza. Hmmmmmmmmmmmmmmm, good, good.
Well, what to do, no diving in the coming days and swimming with dolphins was also not so interesting. We drove on and took the Ferry to Russell since there was a Top 10 Holiday park there.
We had had already pizza, so no dinner and just sleep.
Goodnight!
Saturday 8th of April 2006

Place: Russell to Henderson, New Zealand
Climate: sunny and warm, 240C
Health: Both Henk and Anit in good condition
Thought of the day: Joanne and Marty, here we come (Henk) Can we sell the car or not??? (Anit)

This morning, after breakfast we drove down our last miles of this trip. We wanted to arrive in Henderson early to have enough time to clean the car and prepare it for the Ellerslie car market in case we wouldn't sell it via TradeMe. Our action on TradeMe was to finish and 8pm today so it was exciting day for us. We didn't stop much on the way besides a short stop at McDonalds for lunch. We also had some stress with the road mileage of the car. It is like a road tax and you must buy miles if you want to drive on New Zealand roads. Our miles were running out. We were in Whangarei and it was Saturday so the post office was just closed when we arrived here. Actually we were like 3 minutes too late! Well, we still could reach Henderson but on Sunday everything is closed and it would be not smart to arrive at the car market without valid mileage. Luckily, later on the way we saw a small post office which was still open. We parked the car, ran in, and yes......we could buy some miles. Actually, they only sell you 1000 miles which for us was not necessary but ok, what can you do.

With all this hassle we arrived in Henderson later than planned. We met Joanne and Marty, had a small chat and had to clean the car. In meantime we checked the TradeMe auction for the bids. There was some movement, but not enough yet. We had a few bids and were now at 2,850 NZD. Our minimum was 3,200 NZD. Below that we were not obliged to sell the car.
In the meantime also cleaning. Well no problem at Marty and Joanne's place. They had enough space and the tools to do the job properly.
It was getting already pretty dark when we finalized the cleaning job.

We were now in the last hour of our auction. Tension was rising. Who would bid and how much???
Joanne had prepared a delicious dinner. They had invited some business friends ( a couple who would buy the business of Marty). Also their son Peter was there.

19.50h, the last 10 minutes of the Audtion. We now looked every minute if something had changed and than in the last 5 minutes 2 bids followed each other quickly and then.......nothing happened. The price stopped at 3,000 NZD. We had mixed feelings. On one hand 3,000 was pretty good, but on the other we had expected more. The good thing was that after the auction we received e-mails from a few persons who followed the auction, that they wanted to buy the car.

Later that evening we joined Joanne to pick up Nicky, their daughter. She works as a cook at a big hotel in Auckland.

We had some talks and then it was time to sleep, think over our strategy and take action tomorrow.
Sunday 9th of April 2006

Place: Auckland, New Zealand
Climate: sunny and warm with later big rains, 240C
Health: Both Henk and Anit in good condition
Thought of the day: It's time to sell the car (Henk & Anit)
We left early for the Ellerslie car market. When we arrived it looked all positive. More vans were coming and competition was fierce, but our price was not so bad comparing to the rest. We actually received some people's interest, but during the morning interest faded away. Actually not many cars got sold at this market. It was disappointing, but no stress, we still had a few contacts from TradeMe and one person named Ross had the most interest from the beginning and he also made the highest bid. We tried to call Ross, during the day but had problems to reach him. We tried several numbers, but no Ross.
With Joanne and Marty we agreed to meet at the McDonald's near the car market. By now the rain was pouring out of the air.
The MC Donald's in New Zealand have attached a restaurant called McCafe, which serves good coffee, nice sandwiches and some other things. We had lunch here. After lunch Anit joined Joanne and Henk went with Marty for a scenic drive and to buy some tomatoes.

That evening we spent together at their home. Joanne prepared again a nice dinner and we watched some TV. We also established contact with Ross, and yes we sold the car. We agreed he would come to Auckland to pick it up.

Monday 10th of April 2006

Place: Henderson, New Zealand
Climate: sunny and warm, 240C
Health: Both Henk and Anit feeling good
Thought of the day: It's nice to stay here (Henk) Yes, yes, yes, we sold the car! (Anit)
Today we slept a bit longer. We got Nicky's room and she has a nice big bed. We almost couldn't find each other in the morning. After breakfast it was time to work on the Web-site. As usual we had some delay and wanted to fix this before we would leave to Fiji. Also we had to prepare for the visit to the US. Find a good hotel in LA, rental car, etc.

The day went by quickly.



Tuesday 11th of April 2006

Place: Henderson, New Zealand
Climate: sunny and warm, 230C
Health: Both Henk and Anit in good health
Thought of the day: Can't wait to go to Fiji (Anit) Yes, today we transferred the car to Ross (Henk)
Today we would meet Ross, to sell the car. We went with our van and Joanne's car to the Rainbow amusement center to meet him there. When we arrived, he was already there so, so far so good.
He checked the car and took it for a test drive. He liked it, so the deal could be done. No, not....oooooops, the mileage card we had was wrong. We had the old one with us and the new one was still at the Joanne's place. No problem, we checked in the post office and the lady just printed a new one. It happens so often according to her.

Good. Ross had the money. We went again to the post office to transfer the car and all was settled and everybody was happy!!!!
When we arrived in Henderson we came back to the computers and worked on the website. We also had to organize accommodation on Fiji. The day went by quickly. In the evening we had again a nice dinner together.


Wednesday 12th of April 2006

Place: Henderson, New Zealand
Climate: sunny, around 250C
Health: Both Henk and Anit feeling very good
Thought of the day: Hey Joe, lalalalalalalalala (Henk & Anit)
As agreed yesterday, we went today to Joanne's bar. Nicky was also there helping. Joanne runs a lunch bar and also has a mobile bar, see the pictures: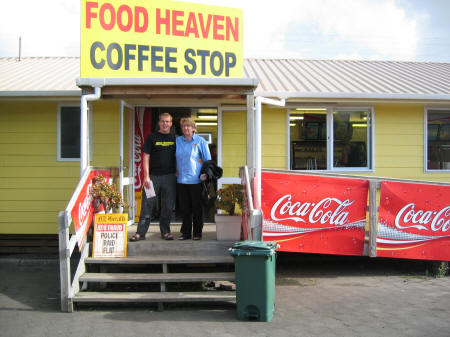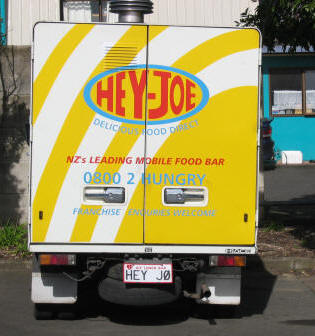 The mobile bar she uses when we she goes to the companies for breakfast and lunch. It is a good business. When Joanne was ready with the work, we went to the supermarket for some supplies. Later we drove home, and spent nice evening together.
Thursday 13th of April 2006

Place: Henderson, New Zealand
Climate: sunny, 240C
Health: Both Henk and Anit feeling good
Thought of the day: Auckland is beautiful by night (Anit) USA, USA (Henk)
We spent most of the day working on the website and booking accommodation on Fiji. Actually we were not sure where we go, which hotel we take and which dive shop we will be diving with. We wanted to go to the Yasawa Islands which are part of Fiji and cater to younger/budget travelers. Since our plane landed in Nadi at 5pm we had to stay in Nadi the first night and the next day we would go on the boat to Yasawa Islands. We spent some time to figure it out.
When Joanne, Marty and Nicky came back from work, they took us downtown Auckland for sightseeing and dinner.
First stop was at the television tower. Quit scary. The lift has a glass bottom and also at the top some places where with glass bottom. The view was excellent! We were there at the right time. After this nice visit we went to the restaurant. It was a Brazilian style restaurant, where green light means "bring the meat" and a red one is "hold your horses". Peter joined us at the restaurant. We had good fun all together and the evening went too quick.

That evening Marty had a great plan to invite Henk to join him tomorrow to his work. It meant for Henk getting up before 5am! Hahaha!
Friday 14th of April 2006

Place: Henderson, New Zealand
Climate: sunny and very warm, 300C
Health: Both Henk and Anit feeling very well
Thought of the day: Very early start today (Henk) Great idea to do this sightseeing trip (Anit)
Henk and Marty got up early this morning. Marty's job is to provide diesel to different machines like diggers and other road construction machines early in the morning before the machines start to work. He has like a small tanker truck which he drives around to all the construction sites and fills up the machines.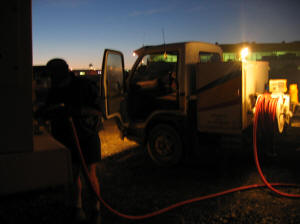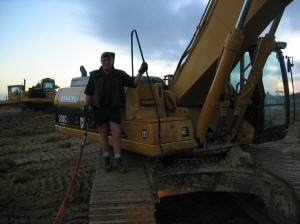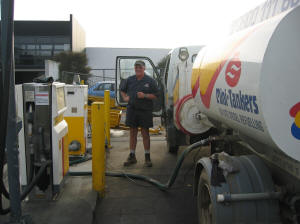 Henk also did some filling (just for the picture). Marty did this already for a few years. The business was successful, but he wanted to change and so he sold it.

Around 9am Henk and Marty got back home and at 10 am Dianne (Joanne's sister) arrived from Te Puke. Today was Good Friday and a holiday so we planned to go for a sightseeing tour. After breakfast we packed our things including picnic stuff and Marty, Joanne, Dianne, Henk and Anita went for the trip. The weather was great and we first went to the Maori history museum where Anit saw her first kiwi: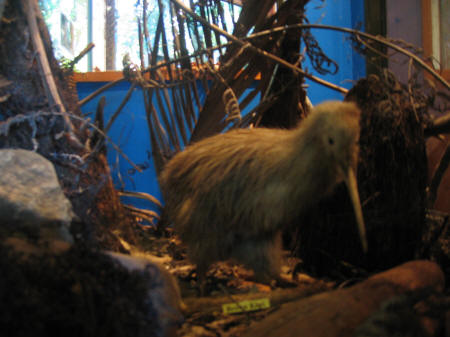 Afterwards we went to a beautiful picnic spot where we had lunch: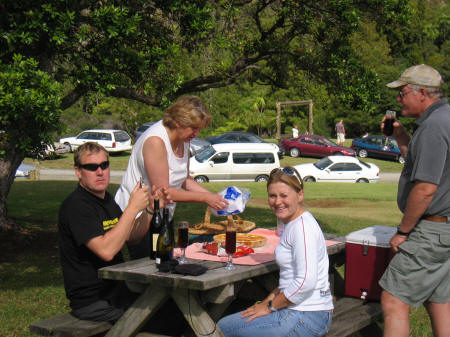 Close to this place there was a big Kaori tree, one of these large specimens in New Zealand: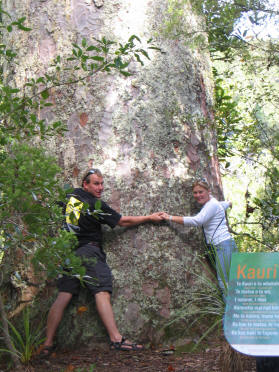 We had a lot of fun together. The next destination was a seaside. We had a stroll along the beach. It was full of people IN LOVE due to the holiday: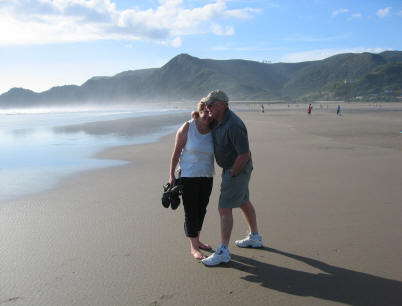 When we came back home Nicky was already busy with cooking. She made a great dinner and even better was the dessert. Mmmmmmmmmmmmmmmmmmmm!
After the dinner we played Blackjack as a training for Las Vegas. A lot was lost and and a lot was win but...good that they money were not real...The last game was the Donkey card game. It was the same we played in Mongolia. It's very easy. Each player gets 4 cards and has to try to get 4 of the same, so 4 kings or four tens. Every time you have to pass one card on to the left and get one from the right person. When you then have 4 the same, you put your thumb on the table. The last with the thumb, lost the round. Every time you loose, you get a letter of the word "donkey". When you have all the letters, you are the looser and end up running around, holding 2 fingers behind your head and screaming Iha, Iha, Iha, Iha!!!!
Nicky was the lucky one this night to run around. We made a nice picture of it: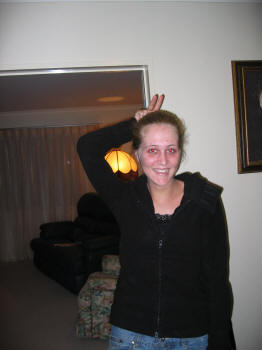 We spent a lovely week at Henderson. Joanne, Marty, Nicky and Peter, thanks for the great hospitality!