Singapore

Tuesday 14th of February 2006

Place: Singapore, Singapore
Climate: hot and sunny with some clouds, 320C
Health: Both in good condition
Thought of the day: Love is all around us...(Anit) Let's check if Singapore is cleaner than Dubai? (Henk)

The hostel smelled bad, it was muff, but the room was clean and big with bathroom in the room. The breakfast we skipped the first day and we first had to get our camera fixed and recover some of the photos, which were corrupt. Where can we find a photo shop which could help us?
Well, when we walked around, we saw a little shop called the camera hospital. The camera hospital? Yes. We went in. The guy looked and behaved a bit strange.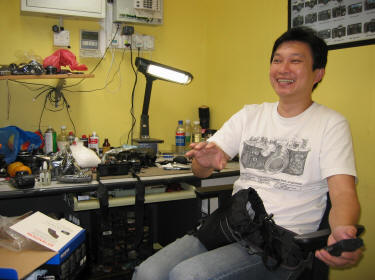 He only asked what camera we had and said; "Don't say anything, I already know the problem". Then he did (according to him) a little magic and the problem was solved. But not for long he said. According to him the card reader broke down and it was a standard problem of Canon Ixus cameras. To get it all fixed he had to put in a new card reader, which would cost us a 100 Euro. What to do? We agreed to do it and additionally received a spare camera from him, so we could also make pictures while we were in Singapore. The repair would take about 2 days.
After our visit to the camera hospital we had lunch at Subway. They make quite nice and healthy sandwiches.
After lunch we went to the Hippo-bus station (Hop on and hop tourist bus).
We decided to take the bus tour for tomorrow and would go this afternoon by cable car to Sentosa Island.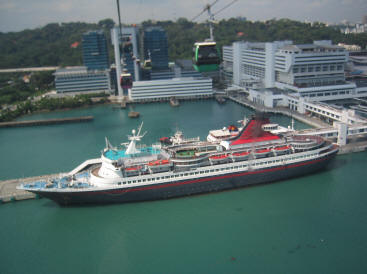 Sentosa is a little island, 500m from Singapore. You can get there by boat, bus/car or cable car and in the future also by mono-rail. On the island there are many different attractions. Actually going by cable car is already an attraction.
The weather was nice and we walked around to see the beaches and we visited the underwater world and the dolphin show. It all was very nice, but the best attraction was in the evening, the Sentosa Magic musical fountain show. It was great. A mix of light, water, laser, music and fire. See below some pictures.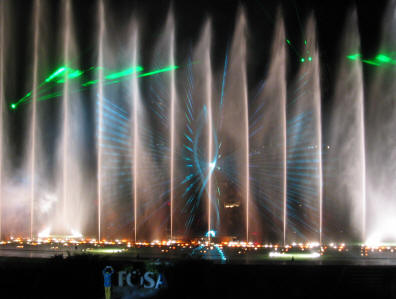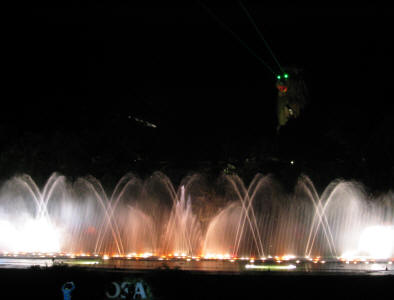 After the show we already booked a dinner at the beach to celebrate the Valentine's Day, but since Henk had some stomach problems and Anit was still full of Ben & Jerry's ice cream, we cancelled it.
We took the cable car back, which gave us some great views of Singapore by night. At the station on the mainland we took some light snacks and a good bottle of wine. C'est la vie.


Wednesday 15th of February 2006

Place: Singapore, Singapore
Climate: hot and sunny with some clouds, 320C
Health: Both in good condition
Thought of the day: It's my birthday today, let's celebrate (Anit) It's my misiu's birthday (Henk)

To explore a big the city in a quick and convenient way, we think best is to take these scenic bus tours which drive you around all the nice places, and you can then decide to hop on and off at each of these places. Make sure you take one with a guide, so he/she can tell you more about the city.
The guides on these tours knew the city and they shared with us their knowledge about Singapore. They also gave us some ideas about what else is worth visiting in Singapore. The Hippo tour includes 5 different tours, 2 of them are in the night. We chose two city tours and the one night one to Sentosa to see this magical fountain show again.
For dinner today we had Burger King. It's okay, as long as you don't do it too often. The tour bus was full of tourist. The whole night tour lasted for 4 hours.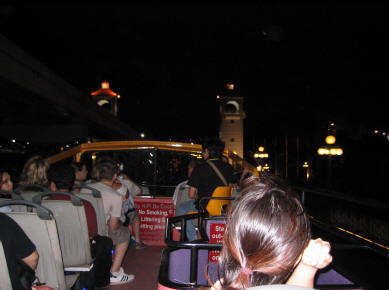 Thursday 16th of February 2006

Place: Singapore, Singapore
Climate: hot and sunny with some clouds, 320C
Health: Both in good condition
Thought of the day: If it wasn't so expensive, we would stay in Singapore longer (Anit) Time to leave,time to fly, YES (Henk)

Today we first picked up our camera. It was working fine and at the camera hospital Henk also found a way to get the corrupt pictures back. So that was good. We paid the guy and left for the bird park. It was quit a bit out of the city center so we took a taxi. Not too expensive, quick and convenient. The bird park was nice to stroll around and we watched some bird shows.

After this visit 2 more things to do before going to the airport: 1 Buggies street to do some shopping and 2. Visit the computer mall, to check if we could buy an underwater case. Unfortunatelly, we couldn't find it for our model camera and it was also too expensive. At the Buggies street we bought some nice tops, still at Asian prices. Since we were leaving Asia now, it was the last chance.
Around 8 o'clock we took a taxi to the airport for our flight to Sydney.
We had dinner at the airport and already started with some wine. Not good. Time goes quick when your having fun. And before we knew it was time for boarding.
Friday 17th of February 2006

Place: Singapore, Singapore to Wollongong, Australia
Climate: sunny, 320C
Health: Both feeling very good
Thought of the day: My dream comes true; flying with Singapore airlines in a Boeing 747-400 Mega top in Business class on the upper-deck (Henk) It would be nice to earn much money in the future to afford flying in business Class (Anit)

Just after midnight we entered the plane. Not just a plane, a Boeing 747-400 Mega top. The biggest plane Anit had ever flown with. We went up the little stairs to the upper-deck. We were welcomed by 2 stewardesses (and yes it is true, they look beautiful) and one steward. The chairs were amazing. You could put it down and make it like a bed: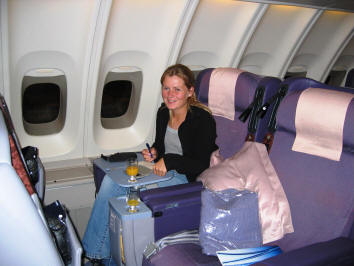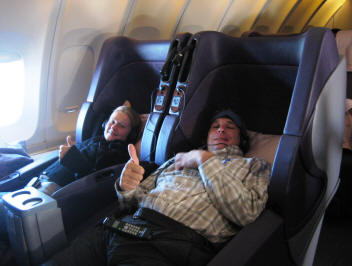 We didn't sleep though. We just wanted to experience the flight, drink some wine and play with the video system. Now they even offered wireless Internet on board. We would say, this is the best budget traveling experience we ever had on a plane.
When you take off, you feel the weight of this huge plane and it needs more runaway to take off than a 737.
The flight was excellent, and only Anit slept for one hour or so. You leave in the middle of the night, but you fly with the time, so within 4 to 5 hours there is already light. In the morning we had a breakfast and we saw the first glimpse of Australia. At about 11 o'clock we landed in Sydney. For goodbye, we had our last picture with the crew (see below) and left the plane.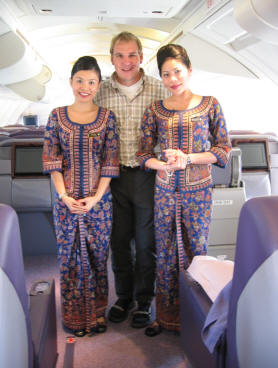 At the airport things went quick. At the passport control the guy asked us where our visa was and when we told him it was electronic, he didn't even look, placed his stamp and we could move on.
After we got our luggage Henk told Anit look out for a guy with a moustache and yes there was Tony and yes even though a bit gray, he still had the moustache.
We went to the parking and head for Wollongong, the place where Tony and his family live.
When everybody got back from work we met the whole family, Tony, Janet, Amanda and Karl. It was a nice welcome.
That evening we had a nice BBQ in the garden and we talked about the first time Tony was in Holland, about the time when Henk visited New Zealand and met Tony and Janet for the first time. And of course we shared our travel adventures with them. It was a very nice evening. Well, welcome in Australia.