South Island Part I; New Zealand


Monday 6th of March 2006

Place: Lower Hutt (near Wellington) to Richmond, New Zealand
Climate: sunny and windy, 230C
Health: Both Henk and Anit in good condition
Thought of the day: Going South, New territory to explore (Henk) Spac (=Sleep) (Anit)

Kukelekuuuuuuu, 06.30h and the alarm went off. Time to get up. This night we slept much better than last night in our van/home. We might not even need an extra mattress. Maybe also because there was not so much wind here.
At 07.30h we left the park on our way to the ferry harbor. Well, it's Monday morning and you can feel it also here, in Wellington. We faced a bit traffic jam, but nothing like in Europe.
Around 08.00h we arrived at the ferry and checked in. We didn't have breakfast yet and planned to do this on the boat.
The ferry was already there: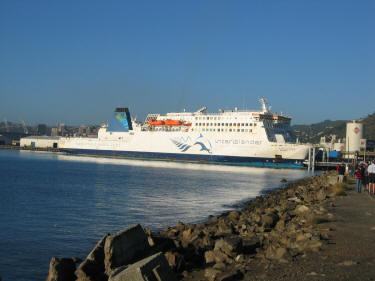 After 1 hour waiting we received the message that ferry would not leave before 10, so we decided to prepare our home-sweet home breakfast; Henk some sandwiches and Anit cereals with milk. Mmmmmmmmmmmmmm.
Finally around 10.30h, after 2 hours delay we could board. Well, no problem for us. The weather was nice and we had some decent breakfast.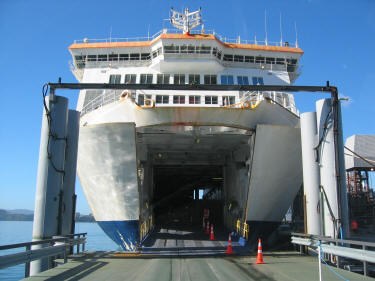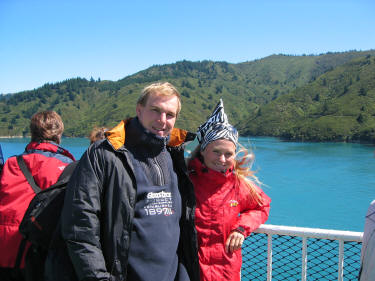 The trip was gorgeous, especially the part when you enter into the South Island. Anit even saw a seal!

At 01.30h we arrived in Picton on the South Island. It was time to get organized. First lunch; Fush and Chups as they say here. Second Henk badly needed a haircut, so we went to the hairdresser in Picton. The lady did a good job and we even had the opportunity to pick up on some town gossip. One girl in the shop had last night an affair with a guy who rides motor bikes and lives on his own farm. They didn't do anything, although she admitted she stayed with him for the night. Anyway, the haircut was good and Henk looked 10 years younger again. Then some shopping. We needed some food supplies like cereals, bread, some salad, ham, etc.
Last but not least, we still tried to find a mattress. Not an easy task as it seems to be. It seems that all the other travelers had already taken all the mattresses.
After al the duties we left Picton and hit the road to Nelson. Of course we took the scenic road. It was beautiful, especially for Henk. Anit didn't have much time to look, since she driving and the road was full of S-curves, went up and down the mountains for about 2 hours.
When we got closer to Nelson, we agreed to stay in a 10 Top Holiday Park again. We now had the card which we bought in Picton and would receive 10% discount. The park was a little further than Nelson, in Richmond. A lovely park with all facilities on board like showers, kitchen, TV-room and even Internet.
We slept very good that night.

Tuesday 7th of March 2006

Place: Richmond to Farewell Spit, New Zealand
Climate: sunny and windy, 220C
Health: Both Henk and Anit feeling very well
Thought of the day: Again we found a very nice camping spot (Henk) Where are the seals??? (Anit)

08.30h, time to get up. Time to get a shower and have some breakfast. The sun was shining and we had a nice breakfast outside. After breakfast we packed our things together and hit the road again. The plan was to reach Farewell Spit at the far end up Northwest of the South Island. Along the road we stopped a few times to look for a mattress, but without success. The road was great again. New Zealand has simply so many gorgeous views.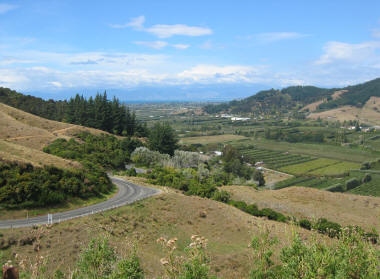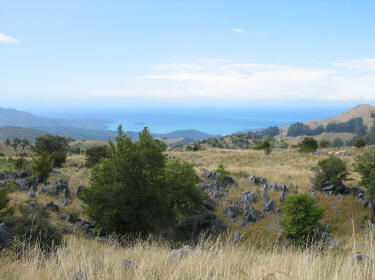 At the Farewell Spit we made a walk to try to reach the end. Impossible, as it was a 26 kilometres walk. We just walked along the beach for one hour and then crossed over through fabulous sand dunes! It was like we were on the moon.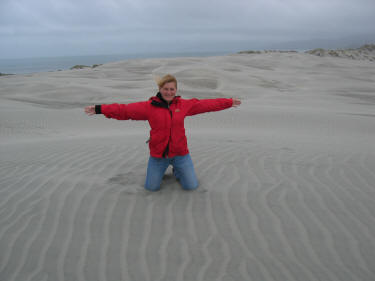 And then on the other side the rough open sea. From there we walked back and tried to cross again. Not so easy this time. No more dunes, but bush all over and very dense. It was a good but not easy hike, but we made it. After 2 hours or so we came back to the visitors center. It was already closed. Now, what about camping tonight? Since we had enough supplies, we agreed to find a wild spot. Not so easy this time because or the little roads ended at a house or we ended in a to dense bush or at a place where they dig rocks and sand. Not so good.
After some driving we found a small road next to a small bridge. It went up, steeper and steeper. The van was sliding. No problem, it was time to test the 4 wheel drive and yes, it worked perfect. On top of this path we found a spot for parking with lookout over the big ocean. It couldn't be better...
Now there was a time for home made dinner and sleep!! What else can you do if you are alone in such a remote place???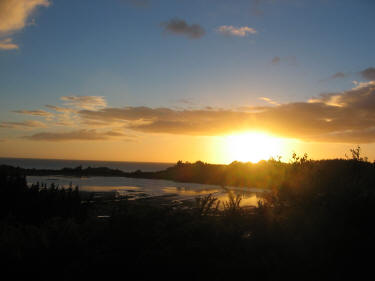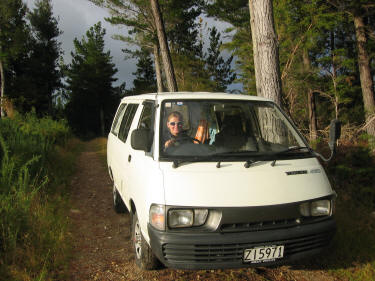 This is what we saw when we opened our eyes next morning... and this is where we camped....
Wednesday 8th of March 2006

Place: From Collingwood and Onekaka to Westport, New Zealand
Climate: sunny and windy, some showers, 220C
Health: Both Henk and Anit in good condition
Thought of the day: The top 10 parks, our base for this tour (Henk) They say west coast is wild, let's see if it really is (Anit)

The sunrise woke us up at about 7.30am. We decided to move on and have a breakfast somewhere on the way. Here in New Zealand you have many of these picnic spots with tables and bunches where you can have your meal.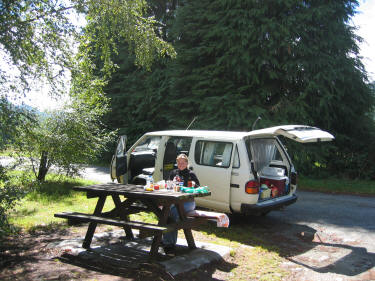 We drove all the way down to Westport today. On the way we made a stop by the longest Swing bridge in New Zealand. Don't imagine too much please, it might be the longest one in NZ but the ones we saw in Nepal were much longer...anyway we visited the bridge and made a loop walk around a small island where you could see how the land fell into two parts after the last earthquake.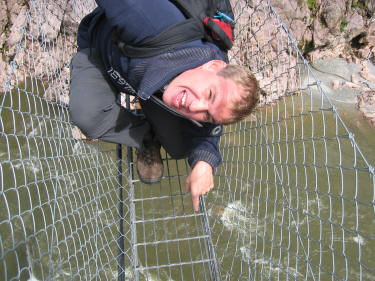 The most important thing in Westport (especially for Anit) was to see the seals. According to Lonely Planet there is a seal colony 5km away from Westport. When we arrived in Westport we first checked in at Top Ten Holiday park to assure a place at the camping and then we went to the town centre to do some shopping. There was still time to go and to see the seals. We went to the place where they supposed to be and yes, we saw them: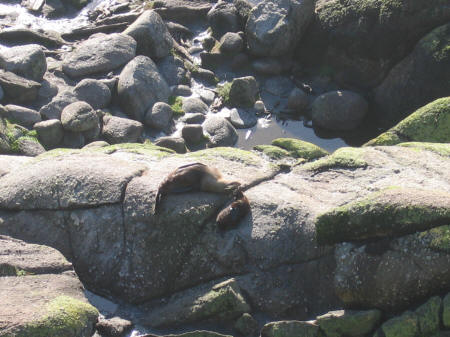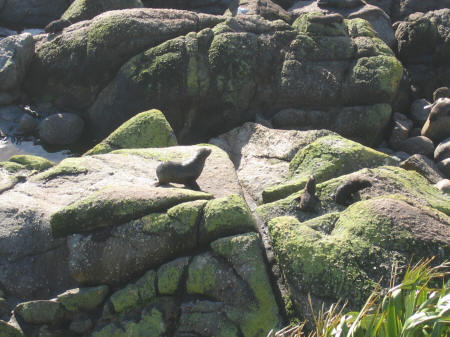 There were about 100 of them. You can see them from two viewing platforms from bout 20 meters. This is actually a good solution since the seals can enjoy their natural environment and people don't interfere with them.
When we arrived back at the camping place we prepared our evening meal and finished the day by a nice bottle of New Zealand wine. Drinking wine has also a practical reason: in the evening there is cold in the van so it's hard to fall a sleep; wine solves the problem!

Thursday 9th of March 2006

Place: Westport to Franz Jozef Glacier, New Zealand
Climate: cloudy, 220C
Health: Both Henk and Anit in good condition
Thought of the day: Driving here is watching a big nature movie (Henk) On the street only the campervans (Anit)
Today we woke up at 8 am. We had the breakfast at the camping place. Our destination target today was Franz Jozef Glacier, around 250km south. Because the seal colony was on the way, we decided to visit them again. When we came there, they were still there. In the morning it was even better to observe them because the sun was behind us.
Really, they are lovely. It was already noon when we finally departured into direction of the glaciers. It's good we can both drove because we can exchange whenever the other fills tired. The one that is not driving at, is in the role of navigator. We have with us a whole bunch of maps, leaflets and brochures so we can't miss anything on the way. Naturally, Lonely Planet is the Bible. Along the way we stopped at the Pancake Rocks, rock formation at the sea side that resembles stapled pancakes: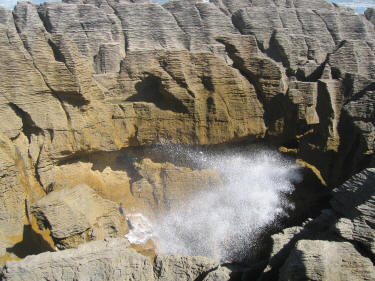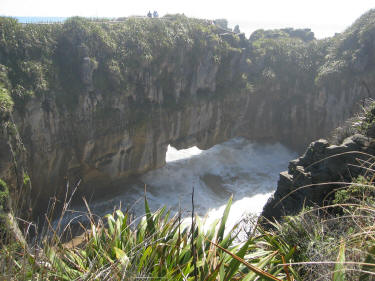 It is nice to see it when the tide is high because of water playing among the rocks. It's like the geyser when the water blows out of the rocks with enormous power.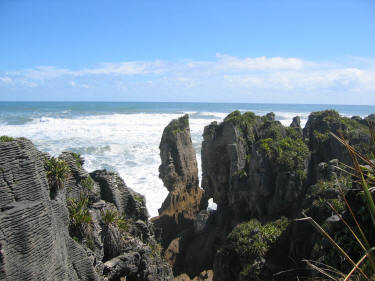 Our next stop was at the gold mine museum. We read about it in Lonely Planet. It was not big and not very famous but very authentic. The owner was a child of a Scottish man who settled here and built the mine. He told us some interesting stories about his relatives and their work in the mine. Afterwards we took a 15min walk to see how the gold mine looked like. We saw tunnels, railway, wooden wheel and many tools used in gold mining. Very interesting.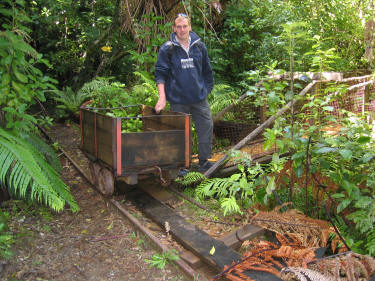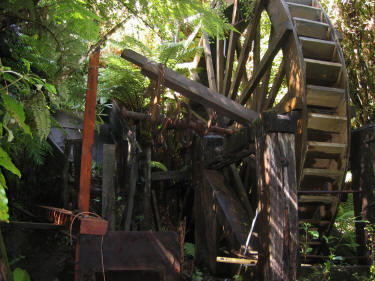 The way along the west coast is scenic with some breathtaking sea views. Very often you have these lookout (observation points) with information boards about the flora and fauna. It makes traveling around New Zealand very pleasant. Look, what we also found along the way: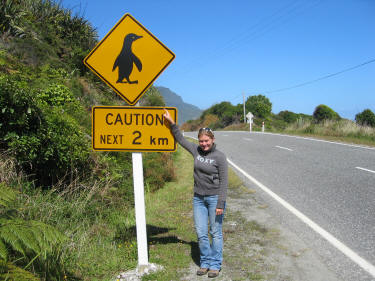 Not kangaroos, not koalas, but penguins!
Unfortunately, we didn't spot any of them. Probably because there is not a season for them at the moment or we just were not lucky.
At 7.30pm we arrived at Franz Jozef. We went to find a place at Top Ten Holiday Park but there was no place any more. Two reasons for that: we were already quite late and without booking and it was a very touristy place so it was easy to foresee that there will be no accommodation available. Since there were another parks in the neighborhood, we checked them out. Also there everything was taken. There was however one double room free and we decided to take it for that one night. After all these nights in the van, it was night to sleep in a normal bed again. This evening we were supposed to book a glacier walk for tomorrow. we hesitated between a heli-hike which is a combination of helicopter flight up the glacier, landing and a 2 hour walk on the glacier; and a full day walk on the glacier starting form the terminal face. We first thought about the heli-hike but it was too expensive for what you get and the flight was only 12 minutes. The walk was not cheap either but it was a much better value for money. Now, there is still one factor to consider: the weather. It was raining and the forecast for the next day was not promising. Taking this into account, we decided to wait and decide tomorrow in the morning what we do.

At 11am or so it was time to put our van on the parking place and go to sleep. We were not the only wild campers here, even though we it had signs everywhere of "No camping". We counted 10 other campervans.


Friday 10th of March 2006

Place: Franz Josef Glacier, New Zealand
Climate: Rain, rain and rain, 170C
Health: Both Henk and Anit ok
Thought of the day: Thank God, we didn't go climbing today (Henk) Let's pray for the better weather for tomorrow (Anit)

Anit got up first and looked through the window: it was raining. Ok, we don't go today. Fortunately for us it's not a problem to postpone something a day or two. After we checked out, we went immediately to the Top Ten Park to book a place for tonight. This time we were on time and they had a place for us. Now was the time to organize the walk. There are two companies, which organize walks on the glaciers. We checked them both carefully and basically they offer the same activities for the same price. We also found out that we can get discount with the Top Ten Holiday Park card. We booked the full day glacier walk for the next day. The weather forecast was a bit better, at least they showers would be rather occasional. We thought as long as it doesn't rain is fine.

Today it was raining like a hell. In one of these companies we visited today, you could watch a movie "Flowing West" over New Zealand's glaciers and rain forests. It's quite nice alternative for the helicopter flight because you fell as you were in a helicopter. What to do in a small town of Franz Josef when it rains the whole day? We first had a cappuccino in a café and decided to make a short walk into the Glacier viewpoint. It took us 10 minutes to get there but there was so foggy that we couldn't see the glacier anyway. No worries, we still have a chance tomorrow.
Let's have some lunch. We decided to prepare our own meal since we still had some food left. The rest we bought in the supermarket. The Top Ten Holiday Park has very good kitchen facilities so why not use them? In the communal kitchen were more of these people who didn't know what to do in such a rainy day. We enjoyed the lunch and worked on the website for a couple of hours.
Then in the evening when we dried the clothes and shoes, we drove back to the town for the dinner. We chose a restaurant from Lonely Planet, the Blue Ice Cafe. It was cozy and warm inside. The food was excellent and the people friendly. We met other travelers and exchanged thoughts with them. It was raining and raining. When we left the restaurant around 10.30pm it was clearing up. We even saw some stars! That was a good sign for the weather tomorrow.
Saturday 11th of March 2006

Place: Franz Josef Glacier, New Zealand
Climate: sunny and windy, 240C
Health: Both Henk and Anit feeling very well
Thought of the day: Walking on a glacier is extreme gorgeous (Henk) We chose the most advanced climbing group and we found out that we were the most fit in there (Anit)
The alarm went off at 6.30. To cold to get out of the bed! Let's enjoy 15 min longer, 10 min longer, 5 min longer…shit…we're too late!!! Quickly, Anit shower, Henk making a car, Henk shower, Anit preparing lunch, Henk back, preparing breakfast, Anit packing the stuff. We arrived at the Franz Josef Glacier Guides 15 min later but they were still there, good. We got our shoes, spikes, socks, raincoats, gloves and huts. There were about 50 people all together. Nothing strange taking into account that this company is the biggest and the famous one. We first ware taken by bus to the parking place from where our walk started. We walked up to the terminal face: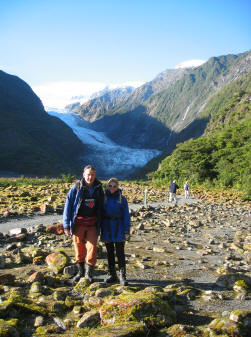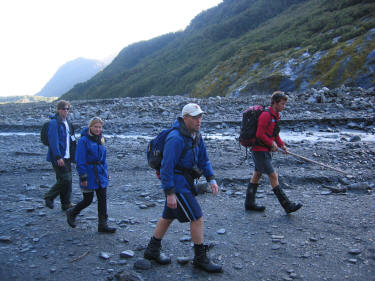 As you can see the weather was good. Now showers and sun! Great. When we richer the terminal face we were told that we could split into 5 groups. 2 groups were the quick ones and the rest 3 would a bit slower, less advance. Henk suggested we took the first group and so we did. Nothing worse if you have to wait for others. On the other hand, if you run up and you can't catch up with others, it's not nice either. But ok, no risk, no fun. Our guide's name was Toddy. We were a group of 10 people, 9 boys and 1 girl – Anit - He, he. As the most advanced group, we left first. The first part was steep; we had to hold on to rope. The ice was mixed with rocks. The climbing was easier that we thought because there were already stairs in the ice. Additionally, Toddy made stairs with his axe if needed. We even quickly found out that the level of fitness of the other walkers was let's say same of worse that ours. So no stress at all. At certain moment we also got axes to help to hold into ice. The ice forms were incredible. We had to pass tunnels, caves, and holes. No way to do it without spikes on our shoes.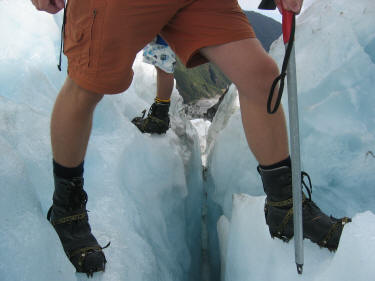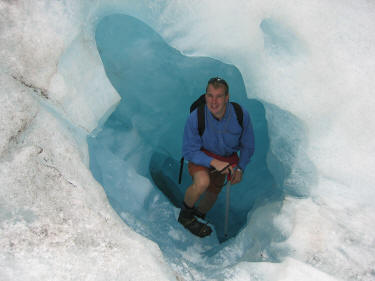 During the full day walk you go quite high. It costs quit ea lot but it's indeed the best value for money. At certain moment we had a break for lunch. That it stared raining for a while but the sun was still there. Anyway, when you climb you get warm. When you're not careful, this might happen: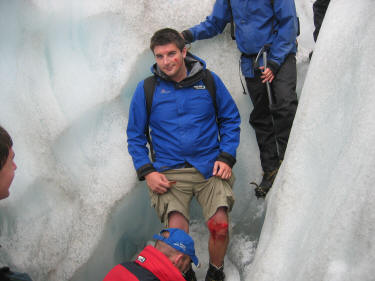 The guy fell down and didn't really hurt himself but the ice was so sharp that you get the wounds and blood like a hell. The views from the glacier were amazing. The nicest thing about this walk is that the guide chooses a different way every time depending on the ice formation which here moves a 45 cm a day. When you climb you discover all these beautiful blue ice formations, it's truly awesome.
We stared to descent about 2pm. When we reached the terminal face, we put off the spikes and continued the walk to the car parking. From there we were taken back to the company. It was about 4pm when we arrived back in the town. This evening we decided to cook again at the camping. We had a delicious diner and watched the pictures from today. It was a great experience.
Sunday 12th of March 2006

Place: Franz Josef Glacier to Jacksons bay, New Zealand
Climate: sunny and windy, 230C
Health: Both Henk and Anit in good condition
Thought of the day: With our 4WD racing on the beach (Henk) Jacksons bay is the place to spot penguins (Anit)


When we woke up this morning we had a nice souvenirs from the walk: the hurting muscles. We had a breakfast and left in direction of Fox Glacier. This is also a nice ice formation but we decided to see it, not climb. We drove 23km south and parked the car at the car park close to the glacier. From there we walked half an hour to reach the terminal face. It was pretty much the same as Franz Josef. The weather was good.
Further on we decided to drive on along the coast to Jacksons bay. According to LP it was the place to see the penguins. On the way we stopped at Haast for lunch and drove further south, to the last town before the fiord land.
We saw nice beaches along the way and though it could be a perfect place for wild camping. When we arrived in Jacksons bay we were told that penguins were not there yet…they would come up ashore later, not in March. Never mind, the little town was nice and we made a forest walk to the ocean beach. On the way back we started looking for a nice camping spot. Apparently we were not the only wild campers because all nice places were already occupied. In Haast Beach we finally found a nice spot where there were some cars but not the campervans. These were the cars from the people walking on the beach and they would leave for night. We first tested the 4 wheel drive on the beach: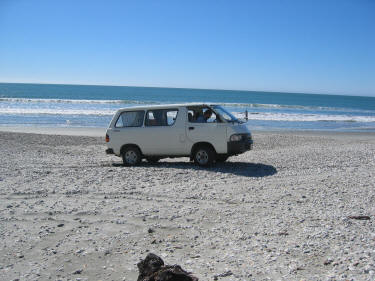 We parked the car a bit in the high grass but we still could see the ocean: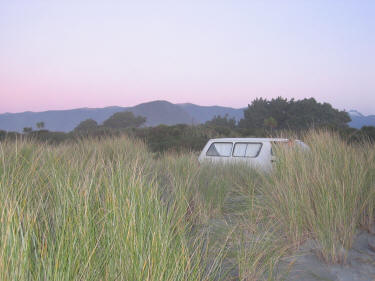 Before sleep we made walk along the beautiful beach. When we returned to car we made sandwiches, drank the rest of wine form yesterday and watched the sunset. We said goodbye to the sun and were wondering if you guys in Europe already saw it rising…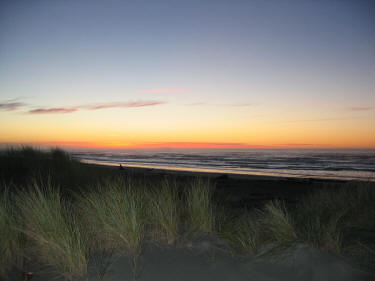 Monday 13th of March 2006

Place: Jacksons bay to Queenstown, New Zealand
Climate: sunny with a few clouds, 230C
Health: Both Henk and Anit in good condition
Thought of the day: We should do here something exciting, or shouldn't we? (Henk)

Today was a great driving day. At first we skipped breakfast at our beach place and decided to do it later on a nice spot somewhere inland. Once you step out of the bus, these bastards, midges (pardon our English) try to get you. We drove for a while and that we saw a very nice picnic spot. It was actually the camping place with some tables. Having breakfast with such a view makes your day perfect: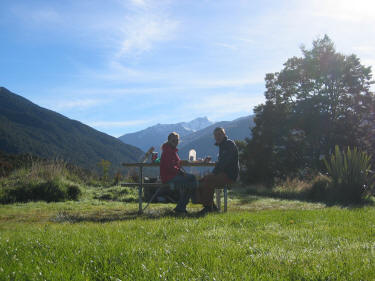 The route along the lakes was gorgeous. We stopped at lookouts to see the beautiful NZ nature. At one of such spots we met a Dutch couple traveling also by car. We had a nice chat with them and moved on again. Somewhere along the way we made a stop for lunch, again with a awesome view on the snowy mountains. In the early afternoon we arrived in Queenstown. We stayed again at Top Ten Park situated close to the city centre. Basically we wanted to do a cruise on the Doubtful Sounds as this was recommend by Henk's uncle. To do this we first went to the office of Real Journeys, the company that organizes such trips. They had some places left and even we were very lucky to enjoy the special rate! It was like 75 dollars per person less than a normal fare and only valid for 14 and 15 of March. Without much hesitation we booked this overnight cruise in a 4 bunks cabin. We would leave on the 15th. We thought also about the jet boat cruise close to Queenstown but it was 99 dollars for only half an hour. Much too expensive.
Queenstown is a lovely town with many shops and restaurants. It's very touristy and indeed you meat here only tourists. It's also the capital city of bungee jumping and other extreme sports. There are plenty of companies offering different kinds of crazy sports. If you want some adrenaline, this is the place to be.
Tuesday 14th of March 2006

Place: Queenstown to Milford Sound, New Zealand
Climate: lots of clouds and terrible rain as we came towards Milford sound, 180C
Health: Both Henk and Anit in good condition
Thought of the day: Our hero of the day: Jan from Denmark!! (Henk & Anit)

Today we woke up at 08.30. It was still a bit dark and cloudy. Henk took a shower first and started to prepare breakfast. As it was not so cold, we decided to have breakfast outside. Now, what to do in Queenstown, the city of pumping up your adrenaline? Well we agreed not to do the shot-over river, which is with a jet speedboat on a narrow river between the rocks. Other alternatives were, skydive, paragliding or bungee jumping. Nahh, we would only be spectators this time. We went to the bungee-bridge were the first commercial bungee jumping in the world started! It was awesome. Actually it didn't look that high, but still people where jumping off an altitude of 45 meters! It was good fun to see everybody jumping. The nicest were two girls jumping together: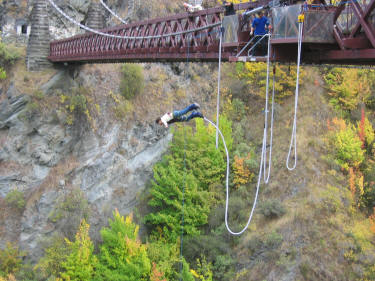 Might be something for us? Nahh, we would do something else later this trip, from a higher altitude.
Then there was our hero of the day: Jan from Denmark. He stood next to us watching the people jumping and we felt he was a bit nervous. Of course everybody is teasing everybody about when would you jump. And than, suddenly, Jan said: "I have to go in 15 minutes". Wow, he is brave. Jan got more and more nervous! Then he went to the bridge. We waved and cheered at him. Go Jan, Go!
He was standing on the edge and you could see the fear. The guides started to count: 3...,2....1.....,GO.....and...Jan didn't go. Then second turn. 3...,2...,1....., GO. Poor baby, they pushed him, otherwise he would never do this one step. It was an excellent jump. Well done, Jan!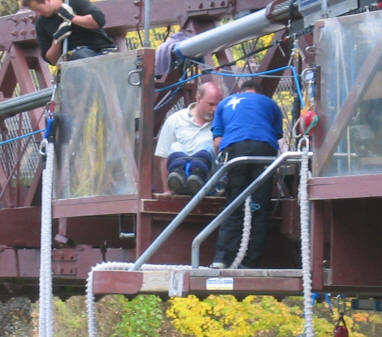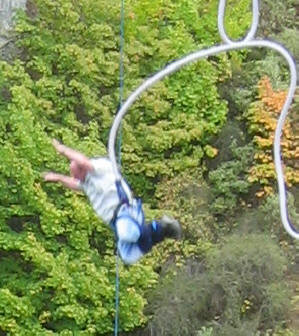 When he came up, he was still shaking a bit and told us that he agreed with the guys to push him a bit. Well, Jan no worries, you did it and you're our HERO of the day!

After the adventures of Jan and his co-jumpers we drove on to Milford sound. It was a long (250km) but beautiful drive as actually all drives in New Zealand. Along the way we had a nice outdoor lunch as usual and moved on. There wasn't much traffic on the road.
The last part of our trip, the last 30 km to Milford sound were fabulous. Never seen such a nature. It was raining terrible, and on both sides of the road there were steep mountains and huge waterfalls. Simply water falling down from the rocks everywhere. When we crossed a river, you could she wild water and its incredible strength.
As a bonus we came through a tunnel with no lights! The only light was the light of our car! On top of this the tunnel was leaking! It was scary but also a good fun. After this tunnel the waterfalls even got bigger. Awesome.
Around 7pm we reached Milford. After such a drive and late time already, we decided not to drive to Doubtful Sound tonight, but leave tomorrow early in the morning.

There was only one pub & restaurant in the town. It was raining and this place was the only shelter for us. But it was a very pleasant place with good music, food and drinks. We got some food and hooked our computer up to the electricity. Put on top of that some nice beer and wine and we had a lovely evening in the only pub in Milford.
At 11 or so it was time to put our van on the parking place and go to sleep. We were not the only wild campers here, even though there were signs "No camping" everywhere we counted 10 other campervans.
Wednesday 15th of March 2006

Place: Milford Sound to Doubtful Sound, New Zealand
Climate: More and more sun and blue sky, just a few clouds, 220C
Health: Both Henk and Anit ok
Thought of the day: So beautiful, but actually sad if you hear the story about New Zealand how it was before people settle down and how it is today (Henk) We are really in the middle of nowhere (Anit)

We woke up at 7 this morning, not to be late in Manapouri town, from where the boat would leave to Doubtful Sound. We first had a quick breakfast and had a look at Milford Sound in the morning: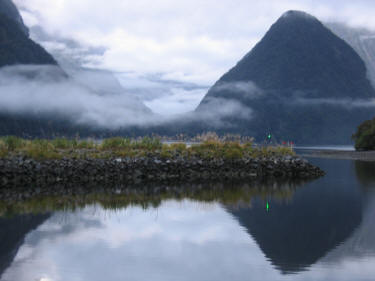 We wanted to leave Milford before all the big buses full with tourist came. On the way we saw again the great scenery but it wasn't raining any more and many of the waterfalls we saw yesterday simple were not there. It is true that Milford Sound looks more spectacular in the rain…
On the way we made a stop at the Mirror lakes but it was not so breathtaking. We arrived in Manapouri on time. After we checked in we parked the car and made sandwiches. At 12.30pm we could board. We went first by two small boats. There were people for the overnight cruise like we, people for a day cruise and people visiting the Power station. The staff was really friendly and professional. When we arrived at the Power Station we changed into two busses. We had cross a pass from where we caught a first glimpse of Doubtful Sound: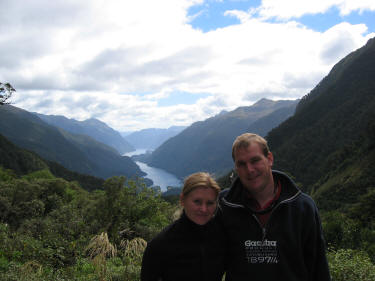 The coach driver and guide in one person, Russell, told us some interesting stories about the Fiordland National Park.
After 30 min we arrived at harbor of Doubtful Sound. It is called "Doubtful" after Captain James Cook discovery. He came by boat close to the fiords and doubted whether he would get enough wind to get out of the fiords again.
At the harbor the ship's crew greeted us. The Fiordland Navigator was amazing, just have a look: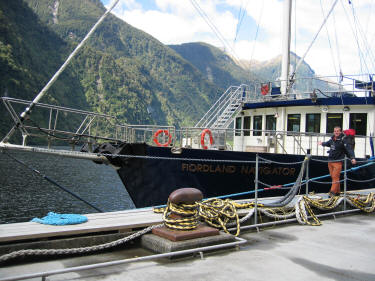 She was only 5 years old and looked like a new one. We wee first invited into the saloon where a lady welcomed us onboard, introduced the rest of the crew and highlighted the cruise activities. Very, very professional. When we brought our bags into the rooms we got coffee, tea and muffins. We shared a 4 persons room with other older couple. Even though it was a budget option, the room and the bathrooms were very clean and comfortable. We stared to sail. It was so peaceful… After an hour we arrived in a quiet bay where we could choose activities like kayaking, small boats or swimming. We chose kayaking. By this we could watch the nature from close. There were about 30 people kayaking, the older people choose boats and some simply stayed on board. After kayaking there were 4 crazy boys who dared to jump into the cold fiords water. And guess who was among them? Our Henk: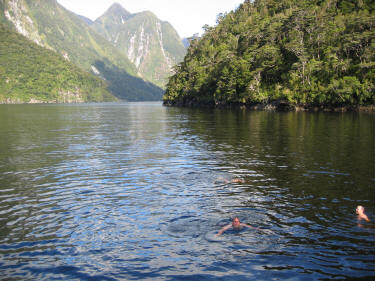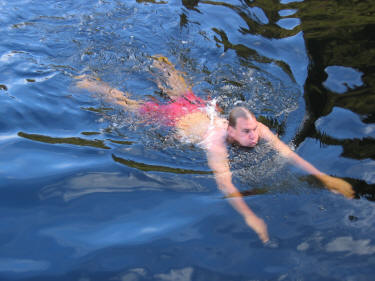 He said it was even colder that the Baikal lake!
The crew took a good care of them though providing towels, coffee and tea as well as delicious soup to warm up. The ship went into direction of the ocean. When we came to the open sea we could immediately feel it because of the huge waves. At certain moment we arrived at the group of rocks where we saw a group of seals: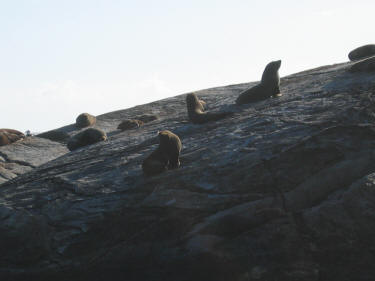 The dinner was at 7pm. We sat with two Japanese girls and a lady from France, Martin. The buffet dinner was very nice. We had a nice chat together. On the ship we met couple of other people from different countries. After the dinner and actually after delicious dessert we were invited to a slide show presented by a naturalist, our guide who was with us the whole trip and gave comments to the flora and fauna we observed from the ship. The show was all about the NZ birds which were actually endangered because of animals (predators) introduced in NZ by humans. Very impressive and sad at the same time. After the show we went up to the observation desk to see the moon...The night was beautiful. at around 10pm people started to disappear in their cabins. We had again chat with two Japanese girls and also made our way to bed.

Thursday 16th of March 2006

Place: Doubtful Sound to Invercargill, New Zealand
Climate: blue sky, 200C
Health: Both Henk and Anit feeling very well
Thought of the day: Henk) The dolphins swimming just in front of our ship looked like arranged attraction for tourists but it was pure natural; amazing! (Anit)
We slept with an older couple who were already asleep when we came to the cabin and were still sleeping when we got up this morning. Anit got up first at 6am and as quiet as possible dressed up and went up the deck to watch the sunrise and the wildlife which is the most active at dawn. Well, when I went up there it was still dark, the moon was there and I could see some stars...there was nobody there...the ship was still anchored. Totally peaceful and so quiet, most of the people still slept. It was too dark to see any wildlife. 10 minutes later another people came and we had a nice chat (Anit). At 7am the breakfast was ready. Again delicious food. All what you can imagine for a perfect breakfast. After that most of the people went up the observation deck and listened to our guide's stories. at certain moment Henk saw water splashing 20 meters ahead. Dolphins! Yes, we couldn't believe our eyes; there was a group of 6 dolphins just swimming in front of our ship. They played in the wave made by our ship. Our guide told us that they save energy when swimming with the wave of the ship. They were jumping out of water and turning in the air...Lovely! They made this trip really perfect. after 5 minutes they simply disappeared in the deep water...It was very difficult to catch them on the picture but you can see the video film in our section Video Reports. Also these are probably the best photos we could make: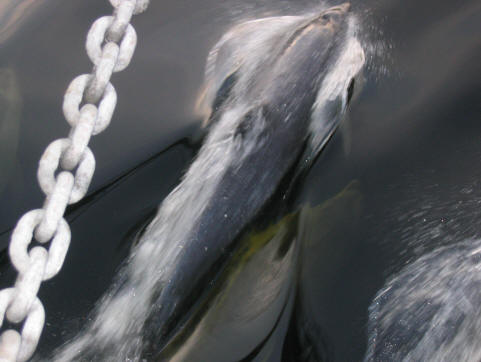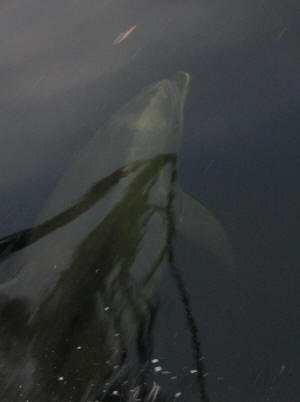 At 10am we were supposed to arrive at the harbor. The busses were already waiting for us and took us over the pass back to another harbor from where we would take two small boats and get back to Manapouri. Everything was so good organized. We exchanged addresses with new friends and say good bye to everyone. Around 1pm we left Manapouri and we took the southern scenic route to Invercargill. It took us only 2,5 hour t get there so we were there early in the afternoon and still had time to organize some things. We first checked in at Top Ten Holiday park. Then we decided to have some lunch in the city centre. We came across an Irish Pub and as soon as we entered it, we realized that tomorrow was the St Patrick's Day, a great party thus! We had there lunch and it was delicious. Later we did some shopping for the dinner tonight and checked out e-mails.
For the evening meal we cooked again delicious food and worked on the website in order to update it tomorrow.