South Island Part II; New Zealand
Friday 17th of March 2006

Place: Invercargill, New Zealand
Climate: just a few light clouds, 220C
Health: Both Henk and Anit in good condition
Thought of the day: St Patrick's day makes me think of the Polish -Irish society I was a member of during my studies, all these people with one passion: Ireland, dancing with Ada on the grass around Wroclaw and fantastic parties in Poznan...I miss you all, guys... (Anit) Our home on wheel is finally complete (Henk)

We booked the camping for 2 nights, since we wanted to work on the website today and wanted to go to the Irish pub for St. Patrick's Day. So said so done. After again a lovely breakfast we headed to town to work on the website. Ahhh, before that we made a short stop to have one more go to find a decent mattress. And yeah after 3 shops we found one with the foam mattresses. We bought a single and the lady had 2 pieces she would glue to the big one, so the size would be perfect! It cost 64 NZD, so not so bad. And from now on we will sleep much better! When we came home (=camping) it was already 5.30pm so time for the dinner. Cooking at the camping is a very nice activity because you meet all others cooking only delicious things... No wander that we are growing now :)...So nice to talk to them and cook together. Anyway, we did potatoes, cooked peas, salad and Henk made a piece of meat for himself. Of course we opened a bottle of Merlot...let's celebrate St Patrick's Day. You can imagine that after this bottle we already were let's say...under the influence... Well, and the party has not started yet! When we arrived at the Waxy O'Shea's Pub it was already 9.30pm and it was full. We had to lined up to get inside. In the line we met two British girls who told us about another Irish pub. Well, let's try it out first, and that we came back here. The other pub was nice but there was no atmosphere there really. We had a drink there and came back to Waxy. This time we just came in without waiting. There was live band there and much better atmosphere. We had Guinness and Kilkenny of course and danced like crazy till 2am. Great. Happy St Patrick's Day to everybody!!!

Saturday 18th of March 2006

Place: Invercargill to Waikawa Falls, New Zealand
Climate: sunny, 220C
Health: Both feeling ok
Thought of the day: We did it; we saw the most southern point (on main land) of New Zealand (Henk) Looking out on the great ocean I was trying to see the Antarctic, but it was too far ;) (Anit)

Today we got out of bed at 08.30h. It was not easy. Firstly we had a bit hangover from last night's party and additionally our new bed was excellent. Well, we had to move on since our parents would be online starting from 10am our time.
Quick shower, breakfast, brush the teeth and pack and go.
At the Internet café we hooked up and talked for more than an hour. It was good to hear from the family at home! MSN is a great invention. We talked to Anit's mother and father and Henk's mother and sister. After that we uploaded the last bits and pieces with lots of pictures from New Zealand and the full diary up till 16th of March.
When we finally left Invercargill, it was already 5pm. Well, we knew we could drive no more than 3 hours and it would be dark. Anyway, we decided to move on. The first thing on this southern scenic route was the Slope Point – the mainland southernmost point of New Zealand. If you really want to be at the southernmost point, you should go to the Steward island which is south from the mainland. We, however, decided to skip it. When your arrive at the Slope Point, you have to walk along the private farm land for about 20 minutes where you finally arrive at the Light House on top of the dramatic cliff. Have a look at the pictures below. We tested out our GPS device of course: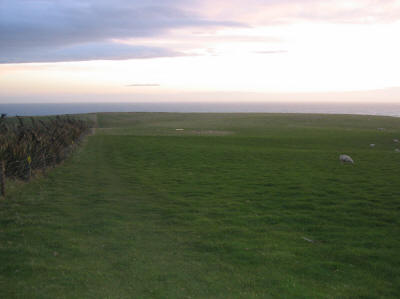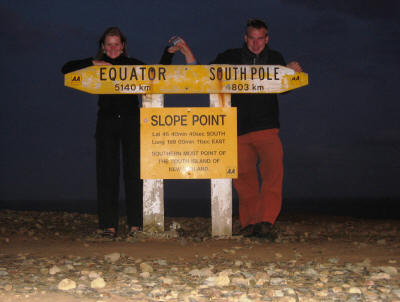 Ok, now it really gets dark, we had to find a place for overnight. We didn't want to drive at night because then you miss all the great views of the scenic route. It took us some time to find a camping spot. At first, you can't see much in darkness so it takes more time to find a good place. It is safer not to park close to the towns; better be outside, somewhere behind the trees so they can't see you from the road. Finally we saw a board with "Waikawa Falls" and we followed the track to the parking place. There was a toilet there and already one car. Perfect, we parked, brushed the teethes, put on the curtains and went to sleep.

Sunday 19th of March 2006

Place: Waikawa Falls to Otago Peninsula, New Zealand
Climate: sunny, around 230C
Health: Both feeling very well
Thought of the day: Wow, never seen sea lions from so close (Anit) Big lazy boys these sea-lions (Henk)

Following the Lonely Planet's advice we drove this morning to the place where you could see the sea lions in their natural environment. When we came there we saw maybe 20 of them lying on the beach where most of them were sleeping and only three were playing with each other. You can walk very close to them, they are not scared of people, but you should keep the safe distance just in case. Have a look at the pictures below: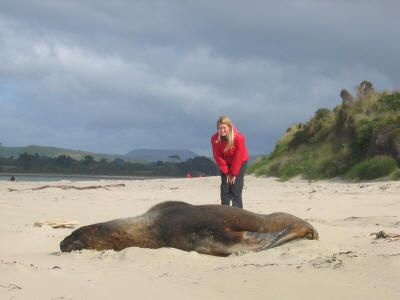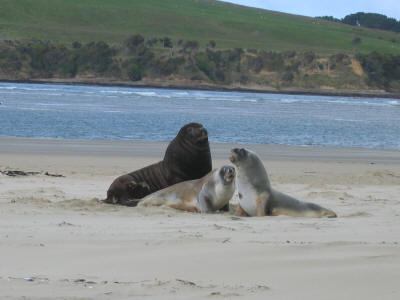 When we finally said goodbye to nice beasts, we were asked to fill out the questionnaires regarding protection of these animals. They should indeed protect them, because there are not many places on the earth where sea lions and humans live so close to each other. Not tourists but the locals are actually the greatest threat to them.
On the way we visited the Nugget Point. This is a very picturesque rock formation with the light house on top and great views over the ocean. Often they put this view on the New Zealand postcards: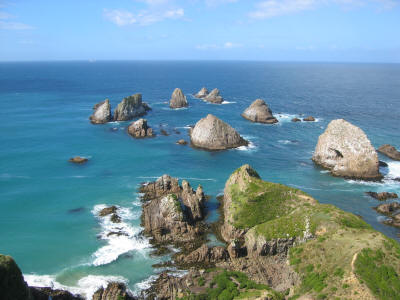 It is a must to have a picnic in this nice scenery so we decided to stop at the beach and enjoy the view longer. Our car of course didn't let us down and we drove on the beach close to the ocean. Finally we found this place: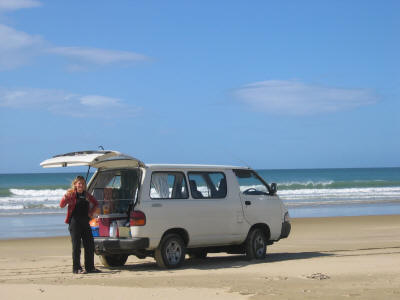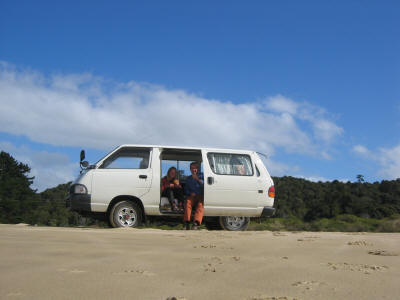 Later this day we drove up to the Otago Peninsula famous for the penguins colony. There are a few places where you can spot them, either by visiting a penguin reserve where humans take care of them or completely wild where they just come ashore to feed the small ones. As we are basically against any form of zoo, we chose to see them "naturally". At first, it was difficult to find a place. Finally we arrived at the parking place. It was a long walk to the observation point along the beach. First you go down very steep sand dunes, then you walk along the beach where you meet sea lions again and eventually you arrive at the rocks where 2 hours before the sunset the penguins might come ashore. They are very shy and when they see somebody they would not come. You can observe them form about 150 meter. We were lucky to see 5 penguins. It was funny to see them jumping up the rock. We had binocular which helped a lot but the distance was too big to get a nice pictures: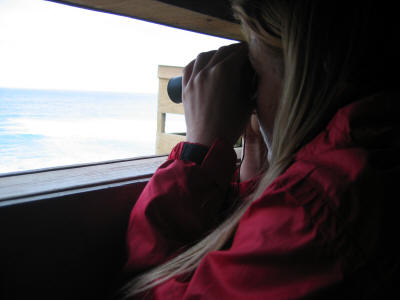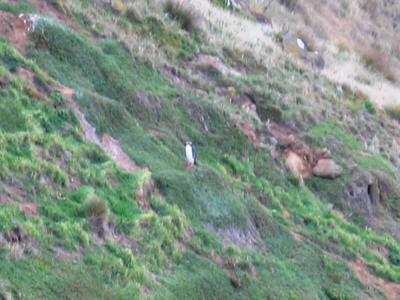 When we came back to the parking place it was already dark. Well, we stay here for overnight, why not? Only, let's make sure we don't park in front of "NO OVERNIGHT CAMPING" sign.


Monday 20th of March 2006

Place: Otago Peninsula to Christchurch, New Zealand
Climate: sunny and warm, 230C
Health: Both Henk and Anit ok
Thought of the day: Our van is great. 4WD, we love it!(Henk & Anit)
Today when we woke up, we decided to go up to Christchurch. There was not really much to see along the coast, so we decided to take a motorway in order not to arrive too late in Christchurch. We took one off road however where we saw beautiful reindeers: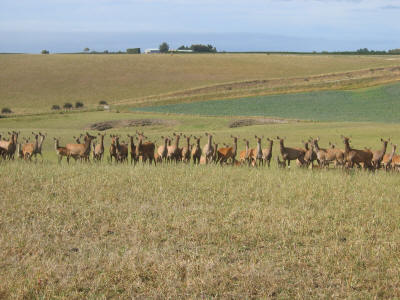 They belong to a farmer to whom we spoke for a while. He and his son had a lot of land, cattle and reindeers.
The second off road was to find a nice picnic spot for a lunch. It's not easy in New Zealand to find a place where you could be alone. Either you come across "Private road" or there is already a campervan and people there. We didn't give up and found a small road leading to the beach. The dirt hard road changed into soft road full of small stones. The whole beach here was actually stones. When looking for a nice spot Henk drove on the beach and got stuck. Ha, ha, I told you Henk not to do that…(Anit) What now? Well, to get the car out of these stones, we changed the driver (Anit was steering and Henk had to push). But not much because the 4WD low gear did the whole work.
Now we could have our lunch with a nice view again: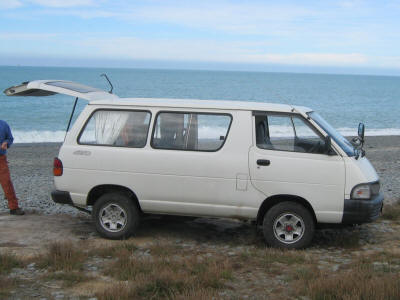 It took us a while to find a Top 10 Holiday Park there, but finally we found it. The staff was not really friendly, for the first time actually, because up till now, we have experienced only nice people.
Anyway, we had to do the laundry which took us much time because there was no electricity and the staff was very slow to solve the problem. But since we were not the only one to queue for the free washing machine, we met people and had a nice chat.


Tuesday 21st of March 2006

Place: Christchurch to Kaikoura, New Zealand
Climate: raining and colder, 200C
Health: Both Henk and Anit feeling very well
Thought of the day: I was totally not aware that there are already so many activities in Antarctica (Anit) A place you must visit when going to New Zealand (Henk)
There was one activity we wanted to do in Christchurch and it was visiting the Antarctic Centre. We are not really city people as you can see, we prefer nature, that's why we didn't have to see Christchurch city centre. We were both surprised to learn about Antarctic life and all activities taking place there. The Centre had great interactive displays. They even had a chamber where you could experience the Antarctic storm. You get a jacket and shoes and you go to a room where they use air-conditioning system to achieve temperature and wind similar to those in Antarctica: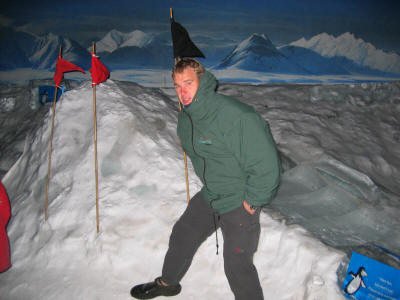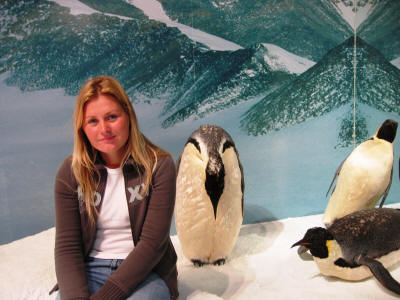 We also learned that The Netherlands was involved in the Antarctica Treaty and Poland had already its research base there: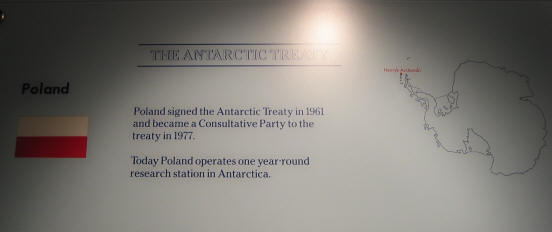 After this informative visit we drove up in direction of Kaikoura. It was starting to rain again. The main activity of Kaikoura is the whale watching which we were planning to do the next day.
When we came there we went first to the Top 10 Park to make sure we have a place for overnight. Afterwards we visited the Whale watching centre to book a trip for the next day. Unfortunately, due to the bad weather, they were not sure whether they would go with the boat the next day. They advised us to book a trip and to check in the morning if they go or not. Nobody could really tell what the weather would be the next morning so we just had to wait. In the night it was raining like a hell so our hope was going down…


Wednesday 22nd of March 2006

Place: Kaikoura, New Zealand
Climate: rain, around 190C
Health: Henk and Anit in good condition
Thought of the day: I don't like waiting (Anit) Should have cancelled this activity (Henk)

The first boat in the morning was cancelled (we woke up at 05.30h to be in time?!?!?). That's the one we should go with. The lady from the Whale Watching centre told us to wait and join the later boat. What can you do? There is not much to do Kaikoura so we just sat in the café, drank coffee and waited for good news. Some people advised us to wait for the next day when the sea was hopefully calmer otherwise we could get sick on the boat and have no pleasure at all. After 1pm they finally allowed one boat to go. Later we heard that most of the people got sick and got some of the money back. This definitely convinced us to book for the next day.
Rain doesn't stop. Sea is rough. What to do? We went to the Kaikoura peninsula to see the seal colony. When we came there, we saw seals sitting very close to the parking place on the grass: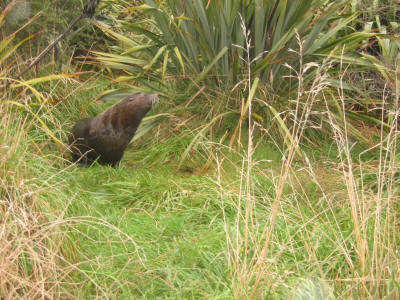 Afterwards we climbed a hill up to the observation point but in such a rainy weather you can't really enjoy the nice views.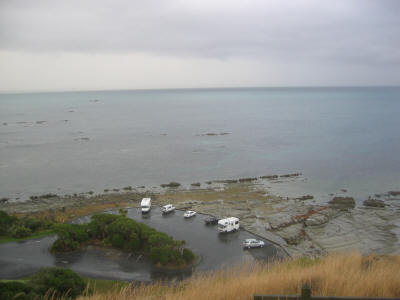 Later this day we spotted some dolphins in bay next to the Whale Watching centre. There must be many of them here. They were jumping out of the water.
The other boats today were all canceled due to the rough sea. It was still raining. We decided to camp wild this night so first we went to the public toilets for the evening toilet and than we parked the car at the parking place next to the Whale watching centre and stayed there for overnight to save some money and so we could sleep longer. We had to get up early in the morning next day for the first boat so the location for overnight was just perfect.
Thursday 23rd of March 2006

Place: Kaikoura to Picton, New Zealand
Climate: rainy, around 190C
Health: Both Henk and Anit feeling so so
Thought of the day: Practice makes the master: I can recognize better and better the different types of red wine (Anit) I don't know much about wines, only that I like to drink them a lot (Henk)
What was that disappointing! The whole whale watching trip was not worth the money. Ok, we saw 3 whales but Anit got sick together with the half of the boast because of the rough sea and the guide was making stupid jokes which were not appreciated by the group and we were not allowed to stand on the deck because of the big waves and they detected the whales by the special microphones and when a whale was there we could go out to take pictures of tails and splashing water and it all felt like in a zoo. So, basically, we were really happy when we came back from this trip.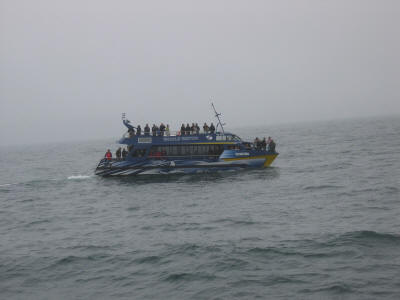 Of course to see whales is unique. There are not that many left and here are some nice tail pictures.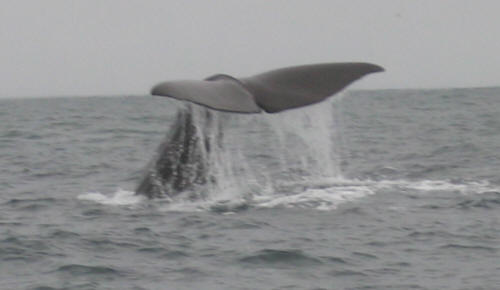 When we came back it was still early so we decided to move on. We went through the Marlborough Regions famous from wineries and of course we stopped by two of them for wine tasting. One of them, Celler de Bruin specialized in sparking wines and the second, The Vrom, specialized in the red wines.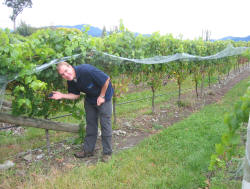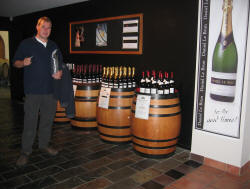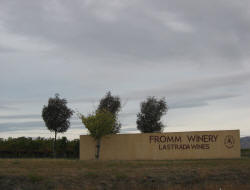 At Celler de Bruin we had also delicious meal; Henk had a perfect steak, and it is not easy to please him regarding this dish.
Already a bit dizzy we went further BY CAR (bad, bad) in direction of Picton. The idea was to find a camping spot (wild) somewhere close to Picton. We chose an off road which was very small, dirt and winding (like a spiral). Bad, bad, after the rough sea in the morning we had enough of the rollercoaster feeling.
Anyway, we drove in the middle of Marlborough Sounds which were beautiful and had many of these small lovely bays. Most of them were private though. Finally, we arrived at one of the last bays before Picton which belongs to DOC (Department of Conservation) where there was a camping and already a few cars. It looked ok, we found a nice spot and stayed there for overnight. The camping ground was full of rabbits and birds, nice, he? Only the rain didn't want to stop…
At such DOC camping's you have to pay $6 per person which you put into envelop provided at the registration board. This time however, there were no envelopes but information that somebody would pick up the money. So we decided to wait for hat person which actually didn't turn up at all.