Sydney

Saturday 18th of February 2006

Place: Wollongong, Australia
Climate: sunny with some clouds, 290C
Health: Both in good condition
Thought of the day: Unbelievable how friendly and hospitable these people are (Anit) Itís nice to be in Australia at my family's place (Henk)

We had a good night rest, which was needed after our sleepless night in the plane. After shower we had a perfect breakfast. Plain and simple but fresh bread with cheese and ham and Anit had a full choice of cereals with milk. Hallelujah. It was great. No more Asian food!
After breakfast we took the time to get organized for the coming days. What to do and where to go. Our original idea was to drive down to Melbourne and fly from there to Auckland. Tony told us it would be busy in Melbourne with the Commonwealth games coming up and the drive up north to Brisbane with a visit to the Surfers Paradise would be also good. We liked the idea also because we could then visit Maggie, Mark and Josh, our travel mates on the train from Ulan Batar to Beijing. So said so done and Henk started his big Internet research to find a reasonable priced car.
Ahhh, not to forget, Tony showed us also some pictures from some time ago. For sure some of our readers will recognize the persons on the photos below: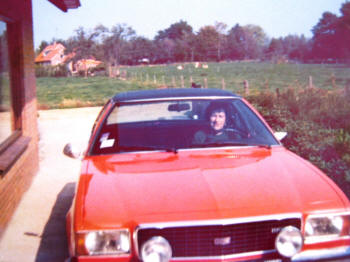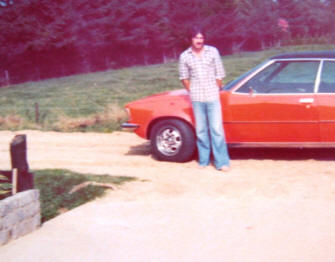 If you have seen or you know these people, please send an e-mail with further details to info@worldtrip.pl .

Sunday 19th of February 2006

Place: Sydney, Australia
Climate: hot and sunny, 310C
Health: Both in good condition
Thought of the day: I wish we could spent more time in Australia...well, looks like we have to come back here (Anit) Sydney (Henk)

Today we went with Tony, Janet and Amanda to Sydney. The weather was lovely and itís just a short drive from Wollongong. Of course before the trip, we had another delicious breakfast. After traveling for 5 months in Asia, these simple things like sandwiches for breakfast are really good.
Around nine we left for Sydney. First thing in Sydney was a harbor tour to the Opera house. From the boat you have a good view of the big harbor and we also got a glimpse of the bridge where you can walk on top of the railing.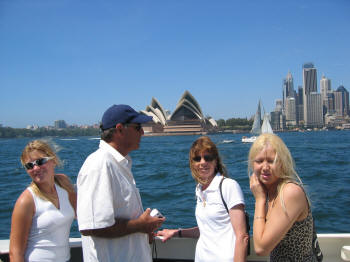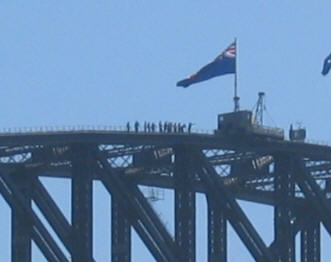 As a snack we bought some drinks and French fries and sat down in the park. Lovely.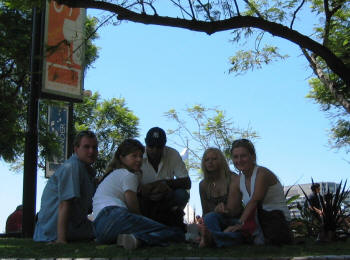 On the way back we had lunch at a food court where everybody could choose any style of food he/she wanted.
Of course it was for the ladies (Amanda and Anit) impossible to leave Sydney behind before some proper shopping was done. Close to where we had parked the car there was some kind of shopping center with all little stands ran mostly by Chinese. Of course with a lot of clothes, jewelry and all these goodies women love. And the prices were really good!

When we got home we had a nice evening. Henk had to do some more rental car research?!?!?

Monday 20th of February 2006

Place: Wollongong, Australia
Climate: sunny with some clouds, 280C
Health: Both in good condition
Thought of the day: Get outta here!?!?!?!? (Henk) Good, we have a car so the next adventure is about to start (Anit)

Today was a bad beginning of the day. TONY woke us up!!! First of all he woke us up and secondly too late! No, just joking Tony. It was a nice day and we were happy you woke us up. Anyway it was about time (10.30).
After delicious breakfast again, real bread with ham and cheese and fresh croissant we went hunting for rental cars. After Henkís in-depth investigation on-line it was now time to knock some real deals.
At first Tony took us to Thrifty where we got an offer of 390 AUD$ and then after we told him we had a better offer he dropped the price to 240 AUD$ and that still with no good insurance coverage. So, maybe better deals at Hertz. It was also the best on the internet. Yeah, we could get a medium size car (there were no small cars available at his moment) for 300 AUD$ with 0-risk insurance. That looked good. We told the lady we would call for confirmation. On the way back we tried our last luck at budget. 600 AUD$, no way. Back home we made a quick call to Hertz and then she could even give us the smaller car and we would save 30 AUD$. It sounded really good. We have a smaller car for smaller price. Great, the deal is done.
That evening we had the famous Tony hamburgerís and know what? they were delicious....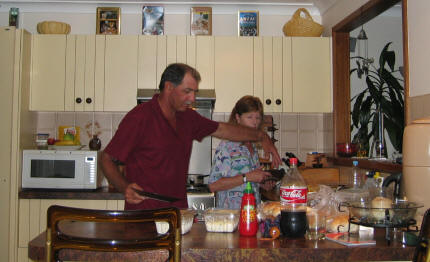 Later that evening we watched the Olympics in Italy and had our last night sleep at the Weber family.