Te Puke, New Zealand

Monday 27th of February 2006

Place: Brisbane, Australia to Te Puke, New Zealand
Climate: sunny, 280C
Health: Both Henk and Anit in good condition
Thought of the day: After 22 years back in New Zealand, for the second time around the world (Henk) I heard so many good things about New Zealand and now I am to discover it myself (Anit)

We got up at 05.00h in the morning. The taxi would pick us up at 05.30h. We already prepared most of the luggage last night. It was bit late last night, so we bought felt not awake yet. Taxi was in time and Maggie had also got up to wave us goodbye. Thanks Maggie for the nice stay at your place. Whenever you come to Europe, the door is open for you, Mark and Josh.
We arrived 2 hours before departure at the airport. A bit early, but you never know. When we got to the check-in of Emirates, the gentlemen asked for our return ticket. Return ticket? No, why's that? Well, he explained that without a return ticket we would not be allowed into New Zealand and so Emirates would not let us on the plane. If they brought us to New Zealand without a return ticket, they might be fined 5,000 NZD. What to do now? We asked if we could purchase a return ticket with Emirates. He send us to another desk, where a lady finally helped us solve the problem. We were both a bit upset and surprised. We didn't find this information on the visa web-site nor on the Emirates web-site.
Well, the only solution was to buy a return ticket and that's what we did. We simply bought a ticket back from Auckland to Brisbane in the Business class. Why business? Well we didn't want to go back to Brisbane, but wanted to fly onwards to LA, but we hadn't booked that yet. So now we just purchased a business class ticket so we could cancel it as soon as we arrive in New Zealand without any cancellation fees. Emirates was so strict, that they even checked our visa if we could reenter Australia. We luckily had a multi-entry Australian visa so that was all fine.
Now we could finally check in.
At the gate we made our last toilet stop and Henk found in the toilet a Chinese passport. He delivered it to the transfer desk at the airport. Just before we could board, we saw a group of Chinese going crazy. We thought we knew what it was about,...the missing passport. No able to communicate with them Henk took one of the ladies to the desk where he left the passport and she got it back. The whole group of Chinese was cheering and Mr. He (the owner of the passport) thanked Henk personally. Unbelievable how happy they were. When we said Ni Hao (Hello) and Xie,xie (Thank you), they went mad totally!
The plane was excellent. Again a Boeing 777. A relative new plane with good seats and everybody has his or her own video system. It was short flight, just 3 hours and we arrived in Auckland more or less in time.
When we walked towards the exit, Henk was looking if he could see his Aunt. She had just visited New Zealand and was flying back to the Netherlands at the same time as we arrived to Auckland. We, however, didn't see her.

At the passport control we were certainly asked for our return ticket. Hmmm. We didn't expect that. Good that Emirates helped us with the return flight. We had better book a return ticket when we enter the US as well, considering how strict their custom control is.
With luggage all went fine and once we got through, we met Henk's family. Uncle Jerry and Aunt Dinny Weber and their both daughters Joanne and Diane were there to pick us up. Super! Joanne just came by to say hello (she lives in Auckland) and we went home to Te Puke with Uncle Jerry, Auntie Dinny and Diane.
The first sights of New Zealand are, like in Scotland. It's beautiful.
We got to Te Puke around 5 o'clock. We slept at Uncle Jerry and Auntie Dinny's place.
Tuesday 28th of February 2006

Place: Te Puke, New Zealand
Climate: sunny, 280C
Health: Both Henk and Anit feeling ok
Thought of the day: We got a van, Hurrah (Henk) Didn't expect we would purchase a car so quickly and so easy (Anit)

Before we arrived, Henk's family already looked for a car for us and they found one that might do the job; a Toyota TownAce 2.0 Diesel 4wd. It was standing at a dealer in Tauranga. We agreed to meet Jerry (son of Dinny and Jerry) at the dealer. He and his son already had a look at it and drove it for a test. The son of Jerry is a diesel engineer, so he knew what he was talking about. We first checked it inside out. It looked fine. A Toyota TownAce, is slightly smaller than a Hiace, but big enough to sleep in it. Henk tested and there was space enough. It was a white van that belonged to a painter before. He had it for 3 years and before that it was in Japan. The most work we expected, besides the cleaning, was to remove the paint and probably repaint the bumper and maybe the inside of the car.
Together with Jerry we took it for a test-drive. It drove really good. Now it was time to negotiate.
Have a look how the car looked like before we bought it:
Yes, we bought it! When we bought it, there were still some things to be fixed/repaired though like new battery and the backdoor. It was supposed to be done until the next day and Jerry would bring it to Te Puke the next day.
Very good, we have a car. Next step was to insure it. Not unimportant!

After our big deal we all went to Jerry's place to meet his wife Ans and some of the kids. They were in the middle of re-construction of their house. When we got back home, we had a delicious meal for lunch.

That evening we went to Dianne's house to pick up e-mails and check for flights to LA. Henk also tried to book flights for his parents, but not so successfully yet. We would meet them in US and travel around together for 2 weeks.


Wednesday 1st of March 2006

Place: Te Puke, New Zealand
Climate: sunny with some clouds, 280C
Health: Both Henk and Anit in good condition
Thought of the day: Worky worky, let's get this van in good shape (Henk & Anit)

Jerry came with the van around 1 in the afternoon. He liked it. "It runs great", he said. Now it was time to get things moving. First we went to the locksmith to have maybe one lock fixed. It could not be closed anymore with the key. Well for the locksmith to put a new lock in would cost 120 NZD. Too expensive for us. We could still lock and open the door, but not with the key, only from inside, but for 120 bucks savings this was not a problem for us to do it from the inside. Then we went with Jerry to the Insurance broker in Tauranga to sign the papers and pay the insurance. 144 NZD for 3 months. Not so bad. We could only get a third-party insurance, but that was okay for our van. Now we dropped off Jerry and drove back to Te Puke. Keep in mind that New Zealand is left-driving, but after having practised in Australia, we had no problems with that any more.

At 6.00 this evening we were invited by Pam and George to a BBQ, so when we got back to Te Puke we didn't have much time left to start cleaning the van. We only did the rough dirt, so a good wash from outside and vacuuming inside. Our van looked already much better.
The BBQ-party at Pam's place was nice. Diane also came and 3 kids of Pam were there. We had fish, sausage and steak, mmmmm. Henk and Pam exchanged their memories from the past when they saw each other as kids and the rest of the evening we spent on chatting. We had good food and good fun.

Thursday 2nd of March 2006

Place: Te Puke, New Zealand
Climate: some clouds but most of the day sunny, 240C
Health: Both Henk and Anit ok
Thought of the day: Now let's get some more things done on our van (Henk)

As a start we removed the rubber mat on the floor inside and also the panels on each side. Also Henk removed the rear bumper. All these items were covered with different colors of paint: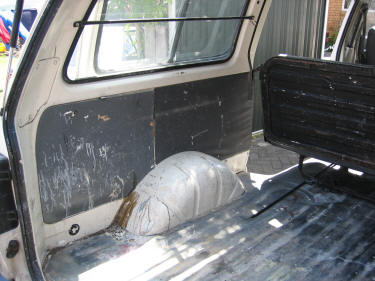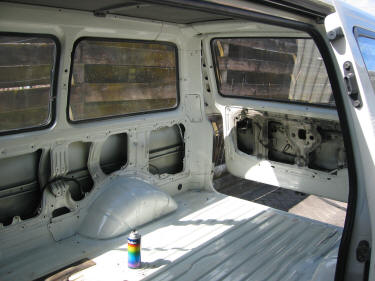 We got all the tools we needed for the job from uncle Jerry and Henk started to polish the bumper and Anit tried to take of the paint from other parts of the car. Anit also cleaned all the panels with Thinner, to make them ready for painting. One big job of Anit was to clean the floor of the van. As the rubber mat had been attached with some kind of black kit, she started to remove this and...with success, but the van got whither at the same time she got more black?!?!? To remove the black dirt from under the nails took her about a week.
Next step was to paint the bumper and panels black. We first applied one layer and the result was already great. After removing most of the paint from other parts of the car, Anit started to Polish the front bumper and the plastic interior with special polish. This car started to look great.

At lunch we got a fabulous warm lunch from Dinny, almost like the food from Henk's mam.

After lunch we moved on....to the center of Te Puke. We had to buy some supplies. During our visit to down town, which is actually 2 minutes walk from uncle Jerry's house we also popped in a travel agent to check for good deals on Cook Islands or Fiji Islands. The lady from the shop could give us and excellent deal: 680 Euro per person from Auckland to Fuiji and to LA. It was with Air Pacific. Good news. On the internet we could only get 815 Euro as best price. So, not always the internet is better. For Henk unbelievable but true.

Later that afternoon, Henk's other nice Jose with her kids and partner Kevin came along. When she was in the Netherlands, she stayed quit a while with the Pelster family.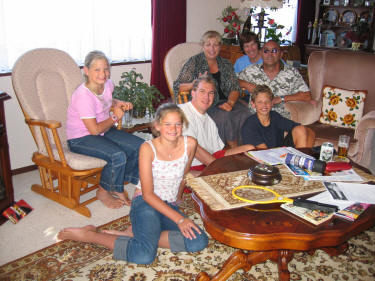 We talked about the good old times and Henk remembered she made a video of him shoveling shit and yes, they found it. So funny. Kevin told Henk he could make a copy on DVD for him. Including Henk's parents and Henk's sister, Ingrid, all younger at that time!

Jose, Kevin and the kids decided to stay for tea (= dinner in New Zealand). As we already had a warm meal, KFC was the plan. Fine chicken, with fries, coleslaw and potatoes with gravy (we also think this is something typical Kiwi).

Friday 3rd of March 2006

Place: Te Puke, New Zealand
Climate: clouds, rain, sometimes sun, 240C
Health: Both Henk and Anit in good condition
Thought of the day: The last painting of the van (Henk) You clean one thing and you think it's ready and than you discover another dirty spot (Anit)

Today Henk finished the last painting of the van. The panels and the bumper looked great. Additionally Henk painted the part where the bumper is attached to the white edge of the car and also the wheel casts. Before all the paint jobs, we went to the carpet wholesale where we bought a carpet for 40 NZD and the guy had promised us he would cut it for us. It looked super.
The more things got finished, the better we liked our van. There was still one more big job to be done... the curtains. All members of Henk's family gave us some clothes, but the already made curtains from Diane were absolutely the best. She gave us her old curtains. They were nice blue, good thick and they all actually almost fitted without much adjustment. Sorry Pam and Ans, but Diane's curtains were simply the best for our van.
Henk drilled the holes for the hooks (he demolished 4 drills with that by the way). We bought special curtain cord which we used to hang the curtains on the hooks. Our house on wheels was almost ready. Now, you can see the result yourself: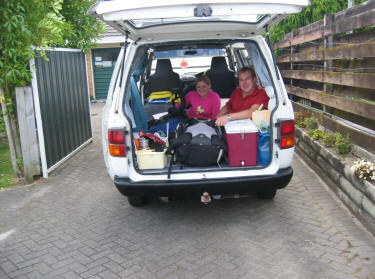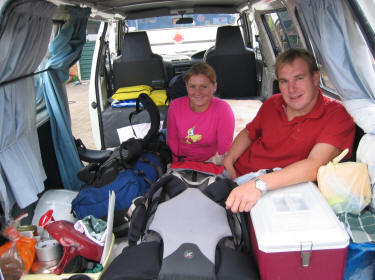 Ready to go! Our house on wheels for next 6 weeks!

Saturday 4th of March 2006

Place: Te Puke to Lake Taupo, New Zealand
Climate: sunny, 250C
Health: Both Henk and Anit feeling very good
Thought of the day: Best to start direct with wild camping, and what a spot we found! (Henk)
This morning we still had to do the small things and finally we could pack the car. Dinny gave us a lot of camping stuff so we didn't have to buy it any more. Great. We were planning to prepare breakfast and at least one warm meal by ourselves, so the plates, knifes, pans, etc. were necessary. We got a gas bottle and a camping stove from Pam and George. Jerry gave us a cool-box and water tank which we could refill with drinking water basically at every place in New Zealand. Additionally we got fruits (mostly kiwis of course) and vegetables (absolutely delicious home grown tomatoes) from Dinny and Jerry. We put mattresses inside which we got from Pam and blankets and sheets which we got from Diane and Dinny. Now, we were ready to leave. We made last plans, listened to Jerry's recommendations regarding the nicest spots in New Zealand, had a delicious lunch and after that we left Te Puke in the southern direction. The road was good, the weather was good, we felt good. Let's explore New Zealand.
In the beginning Henk was driving and Anit gave the directions. Good teamwork. On the way we passed some famous geysers and spas but as recommended by Dinny, we decided to do the South Island first, just because it gets colder there quicker than on the Northern Island.
Our destination for today was Lake Taupo. Really beautiful. We first thought of staying at the camping, but that we drove on and decided to look for a remote place at the lake only for ourselves. We wanted to test the car and do the wild camping. And so we did. Somewhere in the middle of the road around the lake, Henk spotted a place which could be perfect for wild camping. You couldn't see it from the road, and it was right at the lake. We parked like 5 meters from the lake. Wow, we had the lake and wonderful sunset only for ourselves.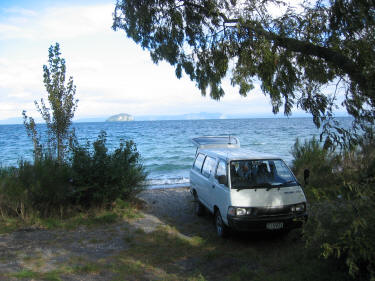 For our evening meal we made sandwiches and opened a wine, our first New Zealand wine in New Zealand. Delicious.
Afterwards we cleaned the dishes and converted our van to a night mode. Now, let's experience our first night in the van...Goodnight.

Sunday 5th of March 2006

Place: Lake Taupo to Lower Hutt, New Zealand
Climate: mixed, 220C
Health: Both Henk and Anit in good condition
Thought of the day: Shall I have a morning swim in the lake or not? (Henk) Now when we've survived our first wild camping night we can do it more often (Anit)


We woke up at 8.40am, without an alarm. Nothing has changed. The car was still at the same place, the lake was there, only the waves were smaller than last night. Nobody found out our secret place! It was freezing. So freezing that it was difficult to get out of bed. Henk was thinking about having a swim in the lake but the cold wind definitely persuaded him not to do so. Ok, let's change the van from the "bedroom" to a "living-room". First of all, remove all the curtains, some of them stay hanging, some of them are detached. The bed cover and pillows are rolled and put on one place. The backpacks are packed and replaced from the front seats to the back.
And now the time comes for breakfast. We cook water to make coffee, Anit takes muesli + milk, Henk eats sandwiches. We still have fruits which make this breakfast perfect. Only this freezing wind...
When we finished the breakfast Anit tried to wash the dishes in the lake, but not really succeeded because of waves. It was better to use water from the tank.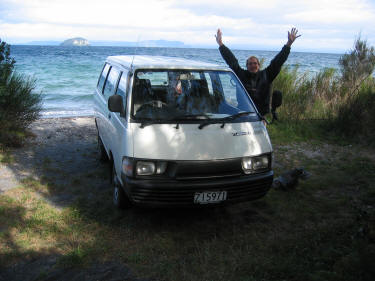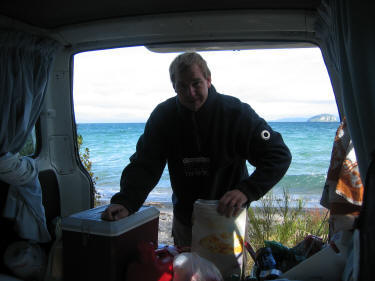 Again we packed the bus and at 10am we left this beautiful place. Today we decided just go down in direction of Wellington. Because of the chilly weather of the coming autumn, we decided to go to the Southern Island first. It gets colder here first, so better to visit it as soon as possible. The North Island we will visit afterwards.
We drove down to Wellington. On the way, we made a stop for picnic lunch. They have these nice picnic spots along the way so you can stop, have your meal and enjoy the views at the same time.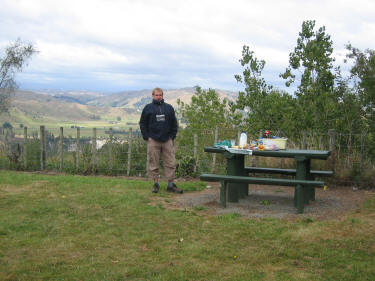 When were in Te Puke, Jerry informed us about the New Zealand Top 10 Holiday Parks. These are camping's with very good facilities, they don't cost much and are a good accommodation option especially when you buy a discount 10 top Holiday Parks member card. We found one of these parks 13 km from Wellington (there was no such a park in Wellington itself). Ok, let's try it out. When we arrived there we were actually nicely surprised by the facilities they had there, from very clean toilets and showers, to laundry facilities, kitchens, internet and BBQ areas. That night we decided to spent there. For the evening meal we had fish and chips from the take a way shop nearby. We did the laundry and dried it immediately in the dryers. Good. Now we only need this member card which gives 10% discount for accommodation at each park around New Zealand and offer discounts for a number of tourist attractions including ferry from North to South Island. At this park, they didn't have them at that moment, but the lady gave us already a discount. Good, isn't it?