USA Part I
Saturday 22nd of April 2006

Place: Fiji to Los Angeles, USA
Climate: Cloudy and not so warm as expected, 200C
Health: Both Henk and Anit in good condition
Thought of the day: Well, we are in LA and it's time to finalize things for the visit of my parents (Henk) The custom procedures were not as strict as I expected (Anita)

That evening when we got into the plane, we first had to claim our seats. A family who had tickets for only 4 seats took 6 seats. When Henk asked for their boarding cards, they could not answer or show anything. Hmmmm. A hole line was forming behind us. The family was not even making moves to get up from our seats?!!?! Henk became in a polite way very unfriendly with them. Henk has no understanding for people who sit in the wrong seat, and this group of people even did it on purpose! Finally they moved!
The rest of the flight was fine. We must say, flying with Air Pacific is quite okay.
When we arrived in the afternoon in LA (the same day due to passing of the date line) we walked towards passport control. A huge amount of people, but actually it went smooth.
When it was our turn, we were not allowed to go together, because….we were not married. The gentlemen asked Anita many questions and also Henk, but in a very friendly way. Ahhh, also we had to give finger prints and they made photos of us. Individual of course.
After passport control things went smooth. We got our bags, went through custom control and took the shuttle to our hotel; Four Points by Sheraton. We had decided to book a hotel close to the airport for the coming days to organize things for Henk's parents. Due to price differences on certain dates, we would stay 2 nights in this hotel and would move together with Henk's parents to the Radisson, which was only 5 minutes walking from the airport.
Later on we went back to the airport to find a Lonely planet book about Mexico and to get something to eat. Also we wanted to check transportation possibilities to Disney Land and Universal Studios.


Sunday 23th of April 2006

Place: Los Angeles, USA
Climate: sunny and warmer, 230C
Health: Both Henk and Anit in good condition
Thought of the day: What to do, when to go to Disneyland and how? Questions, questions, questions! (Henk) Can't sleep, can't sleep, can't sleep... (Anita)
We did not sleep well last night. Actually we watched most of the night TV. Jetlag??? Yes, probably. It is strange to pass the date line, although it should not really make a difference. Well it did and today we slept and tried to recover more or less.
Well, we also worked on our web-site and decided not to go to any theme parks before the visit of Henk's parents. We could not find the right transportation and we didn't like the times and the price of the travel agencies that offer these fix hotel pick-up tours.
Breakfast was nice by the way. Four Points by Sheraton is a good hotel and, as already said, it is located conveniently.

We had lunch in our room. We just took a bit extra from the breakfast buffet, like fruit, bagels and yogurts.

Monday 24th of April 2006

Place: Los Angeles, USA
Climate: getting warmer, 230C
Health: Both Henk and Anit in good condition
Thought of the day: Today they come, hope they enjoy their flight (Henk) The most important thing: not to be late to meet Henk's parents, well, we were too late... (Anita)
We woke up at 8 o'clock. Still some things to do. We gave our laundry and they promised us we would have it back before 6pm. We did some more work on the web-site.
Nothing special happened during the day. Time passed by and at 19.30 Henk's parents would arrive.
Then at 6pm no laundry. Well okay, we have time, let's wait. Then 6.30pm still no laundry. What to do? The manager came and he called the laundry company to ask where the laundry was. Too late for us. It was getting close to 7pm and we had to leave to the Radisson hotel where we would stay the coming night. At least the staff was so friendly to bring us directly to the Radisson. Checking in took of course more time (there was a line, etc, etc). and we ran after checking to the airport. It was now close to 19.30.
At exactly 19.30pm we were at the airport, but……too late.
The plane (air New Zealand) arrived earlier than expected and Pauline and Gerrit were already there. It seemed that also custom and passport check had gone really fast. You see, it is not so bad to get into the US.
It was good to see each other again and together we walked to the hotel.
At the hotel Pauline and Gerrit checked in and Anit and Henk went back to the Four points by Sheraton, to pick up the laundry.

The laundry was finally there and we didn't have to pay anything. That was nice. If there is a problem, at least it gets solved in a decent way.
Later at the Radisson, we went all together to the bar which is on top of the hotel and has a nice view of the airport. We had a few drinks and some snacks. No more chicken wings with this ugly sauce!?!?! JAK!

At about 10pm it was time to go to bed. We agreed to start 1 hour later than planned with our big journey through the west of the USA. This is holiday for Henk's parents so no need to hurry.


Tuesday 25th of April 2006

Place: Los Angeles to Santa Cruz, USA
Climate: cold, especially after 300C at Fiji...
Health: Both Henk and Anit and the parents feeling good
Thought of the day: Everything is going smoothly, good (Anit) Let's go and make a small journey through the U.S. of A (Henk)
We got up not too early and had breakfast around 9am. Breakfast was good. Must say that the Radisson at LAX is better than the 4 points by Sheraton. The rooms and the breakfast are better and really walking distance (500 m) from the airport.
Anyway, we got our luggage, checked out and took the shuttle back to the airport. This may seem a bit strange, but at the airport you can take the Avis shuttle to the Avis, what we did.
At Avis we received quick and good service. One tank for free and Anit could also drive the car. Unfortunately, Gerrit could not drive the car. According to the policy of Avis it is more important to have a credit card than a driver's license.
We received a brand new Pontiac Montana. It's a MPV 7-seater comparable with a VW Sharan. A very comfortable car: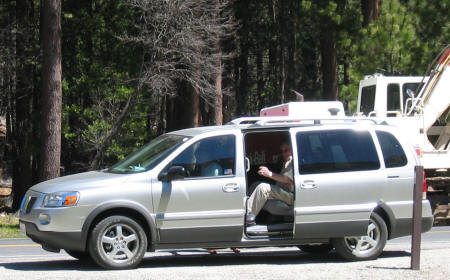 What a great car!! Cars are anyway quite cheap to rent in the US. For this Pontiac we paid 721 Euro for 12 days, full insurance and unlimited mileage plus we received an extra tank of gas (which means we could return it empty.
For people going to the US and renting a car, we would definitely recommend such a car. Lot of space, easy to get in and out, good view since you sit higher. Really ideal for sighseeing.
We took the 1 North and headed in the direction of San Francisco. The beginning was already impressive with some massive roads (5 lines or more each side) going out of LA.

It was a scenic drive with a beautiful coastline, especially the second part of the drive. The aim was to get to San Francisco today, but we found out this was one bridge too far.
In Santa Cruz we started looking for a motel and the second one we took already on the side of San Francisco (would give us a good start in the morning).
The guy checking us in was a bit weird and also after the Avis experience we almost thought credit cards are better than cash. The guy insisted on taking a prepayment on Henk's credit card and he would refund this after our cash payment in the morning. Well okay, not logical but what can we do? The problem is not that he does this, only that you have to keep all the documentation (invoice, etc) in case it goes wrong and they get the cash and also charge the card. You never know nowadays.

For that evening we discussed where to eat. We saw 2 restaurants as the options. One Thai restaurant but empty and an American place. Well being in the US, let's kick off with the American bar. The food was quite okay, although the atmosphere was more cafeteria-like. After the dinner we made some shopping in the local supermarket and went to sleep.

Wednesday 26th of April 2006

Place: Santa Cruz to San Francisco, USA
Climate: nice, 240C
Health: Henk, Anit and the parents feeling very good
Thought of the day: Good to see and talk to my family again (Henk) Have to get used to driving with an automate located next to the steering (Anit)
Continental breakfast was included in the room rate. This type of breakfast exists out of muffins, orange juice, weak coffee or tea and fruit. Nothing special but it's always good to start a day with a full stomach.
After we checked out, we continued our coastal drive, getting closer to San Francisco. Around 11am we were well in the city center. We first decided to go and see the Golden Gate Bridge. It's still one of the most famous and pretty bridges. We drove over it and had a look from the view point. Imagine this, every year they use many liters of paint to keep the bridge nice red. At the view point it was quite chilly, with some strong winds coming from the ocean.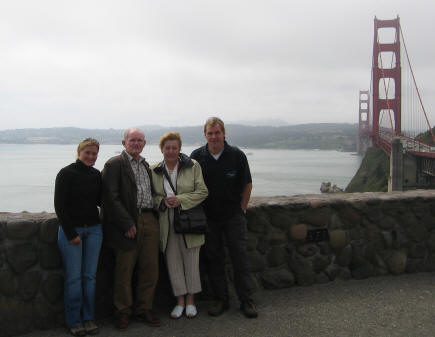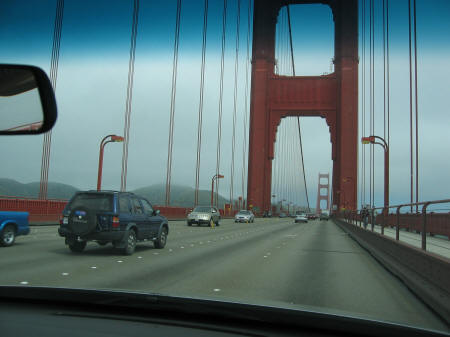 After the visit to the bridge we headed to the harbor center, parked the car and looked for a ferry ride to Alcatraz. Henk had already been there during his visit in 1994, but it's a good place to see and one of the points of interests in San Francisco.
After we booked the tickets for Alcatraz, we first had some lunch. What do you eat at the sea? Yes fish, mmmm delicious and with a nice bottle of white wine, which was complementary by the way. We got it as a promotion with our tickets to Alcatraz.
On our way to Alcatraz, we got a nice view of San Francisco, all included in the price: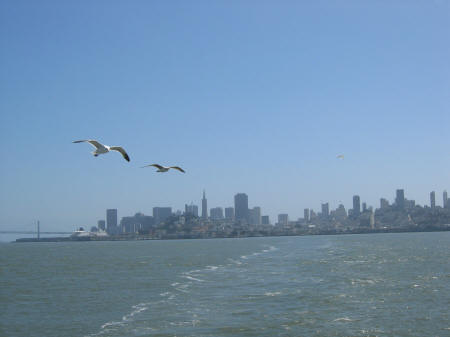 Alcatraz used to be a prison for heavy delinquents and is now turned into a museum. People like Al Capone, Machine Gun Kelly and the Birdman had lived here.
Actually Alcatraz was like any other prison, except for 2 differences, it's on an island and it became famous due to all the Hollywood films. Who does not know the movie "Escape from Alcatraz" with Clint Eastwood?
The best way to enjoy Alcatraz is to take the audio tour. With four people is this by the way not so easy, especially if you all want to keep in the same past.
In the picture you can see Anit checking new housing possibilities for us?!??!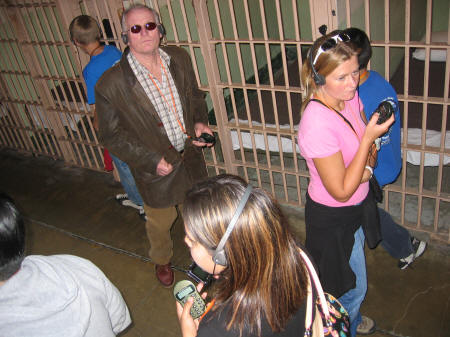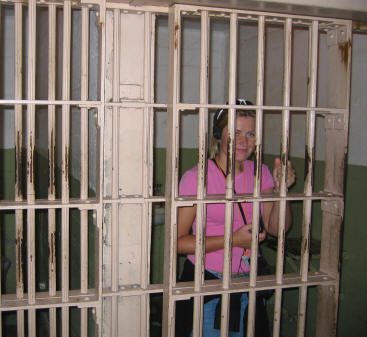 When we returned from Alcatraz, it was time to further explore downtown San Francisco on foot. We walked along Fisher's Warf and……………………………BOEHAAAAAAAAAAAAAAAAAH. Henk got the creeps. A guy simply sitting on the street behind some bush, which he brought with him, jumped away from his bush towards Henk and yelled BOEHAAAAAAAAAAAAAH. Simple concept, but Henk got completely scared. A few meters further we stopped and watched new victims. Great fun. The guy was good en the joke was excellent!
We walked on and went back to the alley where there were many restaurants. We had lunch there. It was a nice little street with shops and restaurants, really pleasant. We bought our first US-souvenirs and Henk met an old teacher from the Grundel, his high school. It's always amazing who you meet.

One thing we still needed to do was going with the authentic San Fransisco tram, but where is it? We looked on the map, asked around and yes we found it.

We took the ride all the way down and later up again…..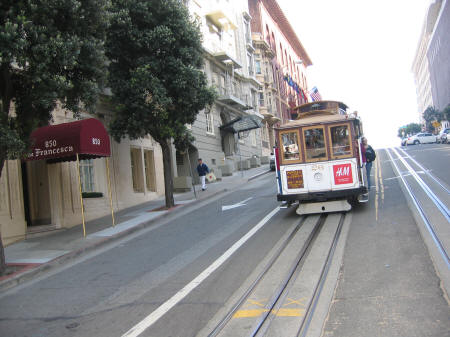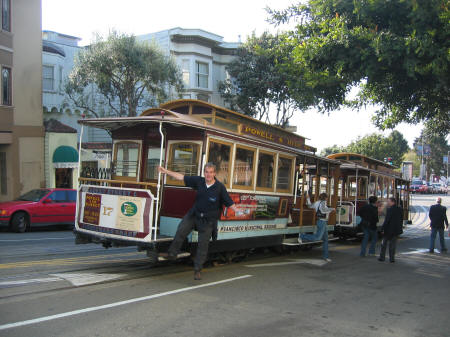 We decided to stay the night in San Francisco and it was about time to find a motel. We already had seen a good street full with motels and with the coupon book we took from MC Donald's we found a nice one.

Dinner tonight? Nahh, the portions in the US are so huge, that a light breakfast and one warm meal is more than enough.