USA Part II
Thursday 27th of April 2006

Place: San Francisco to Yosemite Village, USA
Climate: sunny and warm, 240C
Health: Everybody feeling very well
Thought of the day: The National Parks in the US are amazing, so beautiful (Henk) Always wanted to go to Yosemite NP (Anit)
This morning, after breakfast we took off in the direction of Yosemite National Park. The idea of visiting this place came first from Anit who read a lot about this park before. It was her dream to see the place.
To get out of San Francisco was a challenge. Anit was driving and Henk was supposed to navigate...and guess what happened??? We were driving around for an hour or so and could find a way out. But fortunately everybody stayed calm (Henk's parents are really patient) and after a while we found the right way.
Driving in the USA is really easy, maybe besides the big cities where you really have to be careful and know the way.
We had plenty of maps which helped us find a way easily.
The road and the views were amazing. Wild nature, mountains and rivers, something what we really love. Even Henk's parents prefer more nature than big cities. In the afternoon we reached the gate of the Yosemite National Park: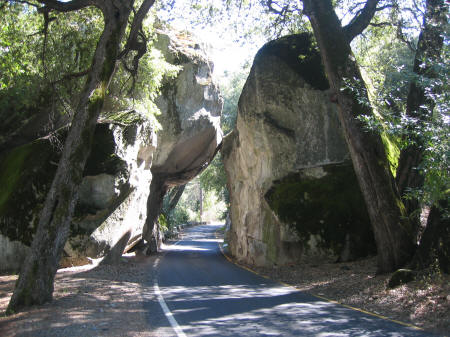 Especially for Gerrit, Henk's father, there were 3 deer waiting for us when we entered the park: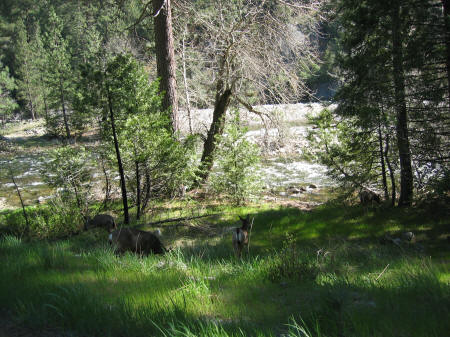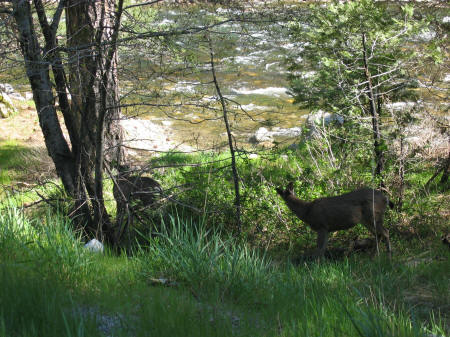 We were very excited to see the wildlife. Actually the biggest dream was to see a bear...We will see...
After a beautiful route in the park we reached a Yosemite village where we wanted to stay overnight. We didn't book anything as we never did hoping to find some descent accommodation. To our surprise, it was really full and the accommodation that was left was really expensive. We checked around and successfully booked one room (for parents) and one tent (for us) using a booking phone. When we arrived there we found out that our reservation has not been made yet. Well, what shall we do now? 'The reservation has been confirmed with Henk's credit card and nobody knew what happened to this reservation? We had a problem. After a while finally the reception got the fax with our reservation and we finally got our rooms. Because of this hassle we got a better room for Henk's parent and we got a bog tent.
The next what we did was driving to the waterfall. It was huge and very impressive: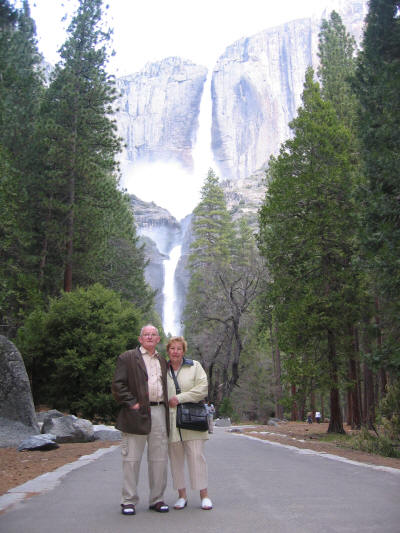 Close to this waterfall there was a hotel with a nice restaurant where we had a dinner. It was a very nice day.
Friday 28th of April 2006

Place: Yosemite Village to Three Rivers, USA
Climate: sunny and warm, 250C
Health: Everybody feeling very well
Thought of the day: More and more beautiful nature (Henk & Anit)
What a beautiful morning! When we woke up we saw huge rocks surrounding our camping, what a view!
It was cold in the night at least in our tent. We had lots of blankets and of course each other, but it seemed not to be enough. Together we took a breakfast at the camping canteen and afterwards took a shuttle bus to the point where a trail begins to the Mirror Lake. It was quite a long walk but the nature was so beautiful and the surroundings so peacefull. When we reached the place, we understood why the call it a Mirror Lake: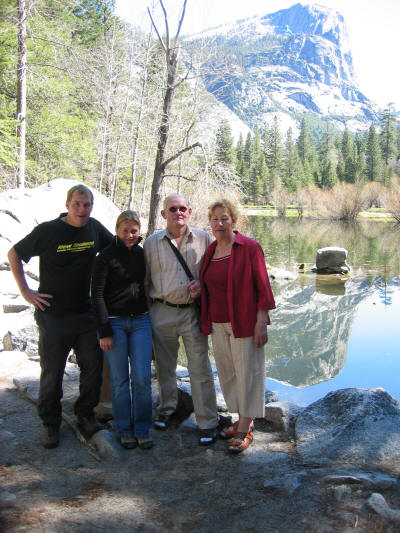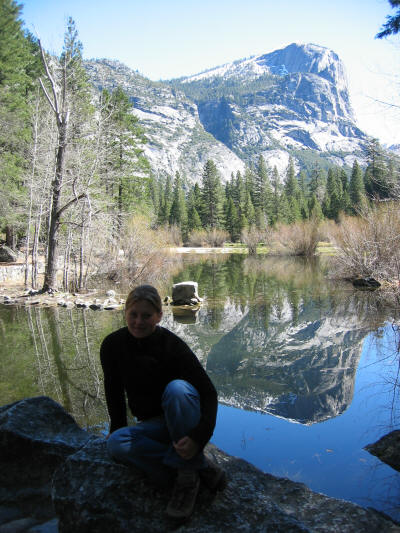 There are plenty of different trials in Yosemite so you can spent easily 2 weeks here. Especially when you choose the more remote trials you for sure encounter bears, deer and other wildlife. After the walk we slowly drove through the park stopping at viewing points (see below on the right the tunnel view) and admiring the great nature: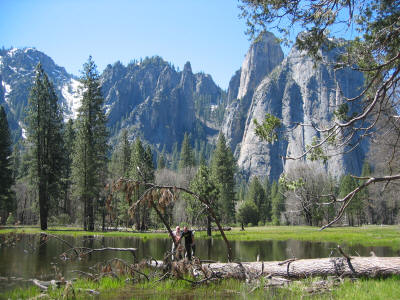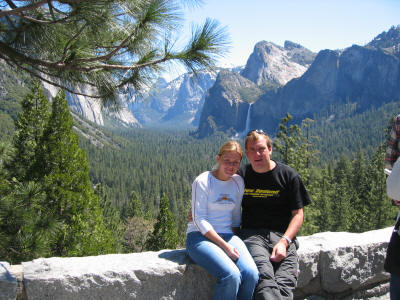 When we were driving out of the park, we made a small off-road to see the ski area here in Yosemite: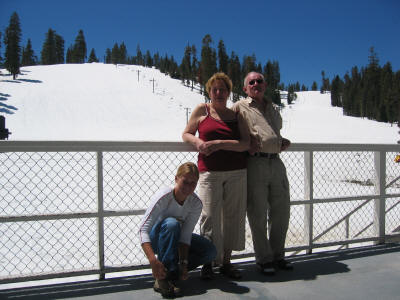 So, next winter, skiing in USA? Who will join us?
Later we drove through another park, Sequoia National Forest, where you can see giant sequoia trees. We made a stop here to see if they were really so big. We were really surprised, have a look: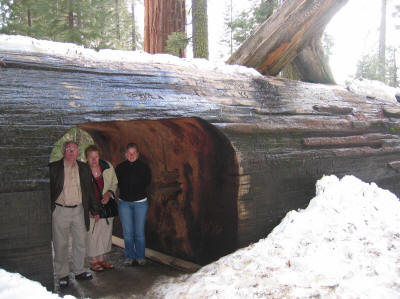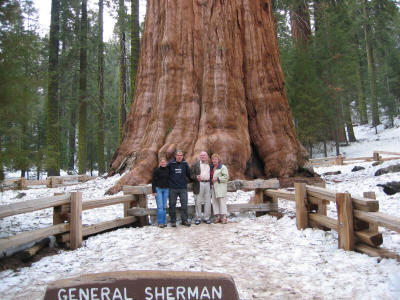 The biggest of them all is the "General Sherman"
Late in the afternoon, one the way to the park's gate we saw a lot of deer: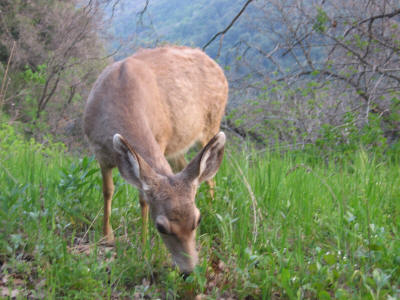 When we left the park, we decided to overnight in Holiday Inn Express in the village called Three Rivers.
We were all a bit tired but decided to have a drink in a local restaurant. We were not hungry but felt like eating some ice creams. We bought them in the local pizzeria and enjoyed them in the room of our hotel. Goodnight.
Saturday 29th of April 2006

Place: Three Rivers to Stovepipe Wells (Death Valley), USA
Climate: sunny and hot, 300C
Health: Everybody feeling very well
Thought of the day: Hot, hot and hot part one (Henk & Anit)

The continental breakfast at Holiday Inn Express was good. Afterwards we talked shortly via msn with the family in Hengelo, than packed our bags and took off again, this time in direction of Death Valley. On the way we saw a lot of fruit plantations, especially many orange plantations where we even stopped to grab some.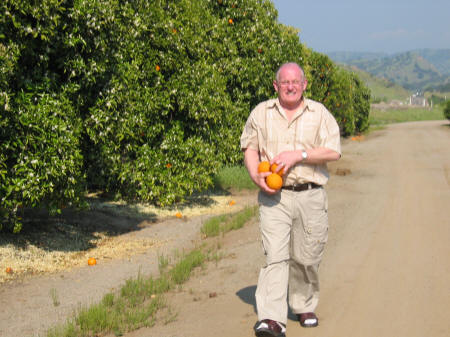 They were delicious.

We made many kilometers today. The landscape was changing continuously. First farms with cows, plantations and later less and less vegetations, more cactuses, bare rocks... It was getting really hot. The road was straight and was leading to nowhere... at least that was a feeling we got... We made a short stop at the lake to rest, had a lunch in a Mexican restaurant somewhere on the way and continued to reach the village called Stovepipe Wells. When we came there they told us that they have only one room available and it was only because somebody had just cancelled reservation. We were luckily, because other places were also full and it was already late in the evening. We had one room to share which is not ideal but in this situation we really had luck.
It was soooooo hot... To cool down we decided to jump into a swimming pool. The whole village was in the style of old western village: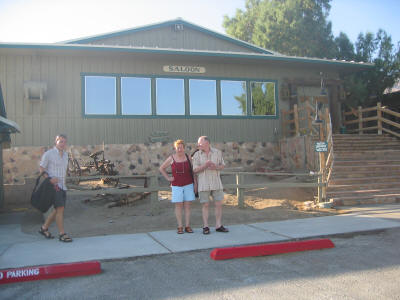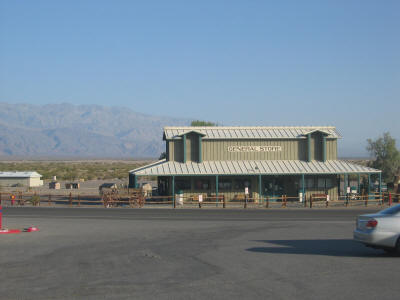 In the saloon where we took some drinks we met a group from The Netherlands and spent together a great evening.
Sunday 30th of April 2006

Place: Stovepipe Wells (Death Valley) to Las Vegas, USA
Climate: sunny and very hot, 340C
Health: Everybody smelting because of the heat
Thought of the day: Hot, hot and even the hottest part two!! (Henk & Anit)
7am wake up! Paulien woke us up, come on, come one, get up! Ooo, so early??? Good plan, actually, because we had to do a lot toady. After breakfast we first made a small trip to a nearby Mosaic Canyon. As the name says, the rocks here make a mosaic-like formations and it is gorgeous to see: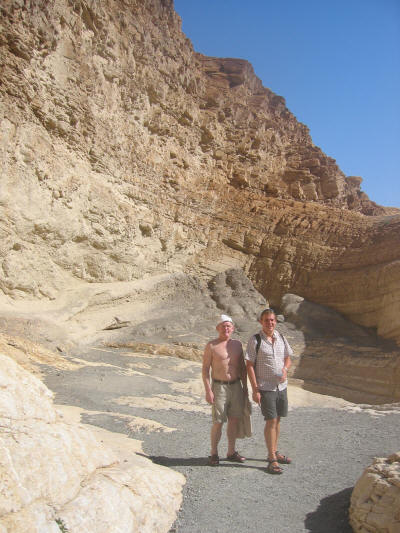 On the way to Death valley we saw some amazing sand dunes: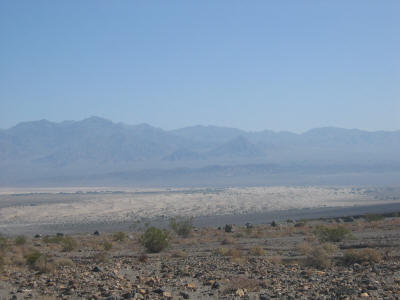 Around midday we arrived at the Death Valley Museum where we bought the entry tickets, got information where to go and what to see and watched the film about the Death Valley. Having a clear picture of where to go we first made our way to the lowest point in the Death Valley. On the way we made a short stop at the Old Borax Mine: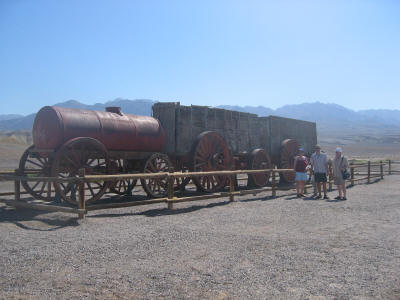 It was impressive to learn about the works being made here before with the unbelievable heats of 40-50 degrees Celsius and long transportations trips throughout the valley with use of donkeys.
The next stop we made was at the lowest point of the Death Valley, the Badwater Basin, 855 meters below the sea level: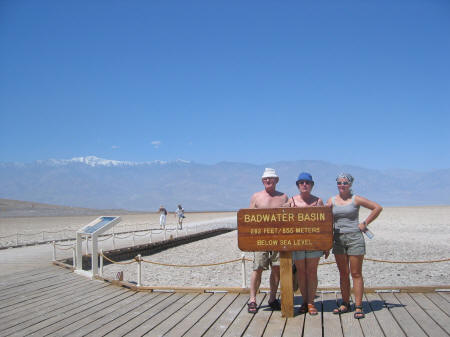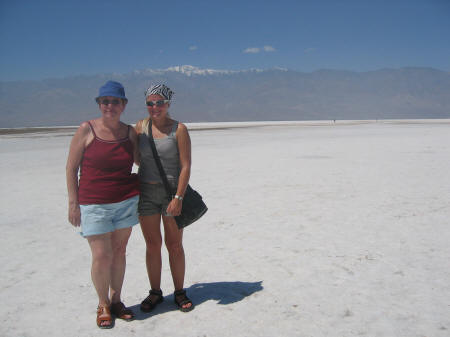 What you see here, is not snow, it is salt which remained after the water from the sea evaporated. Everywhere here is white, what a view! And what a heat, man! The salt forms which we later saw were like amazing crystal formations. Below you see a close-up of these formations.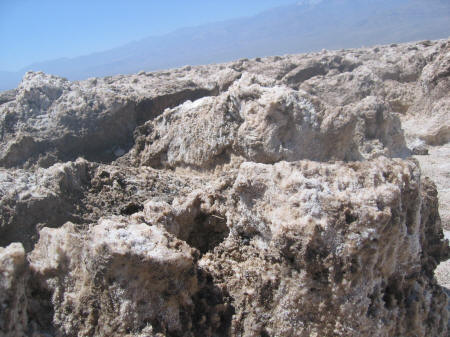 We drove through the Death Valley and admired the wild nature. We were melting from the heat so we stayed in the car as much as possible. Later we drove through a Artist's Palette drive where there are rocks of amazing color combination: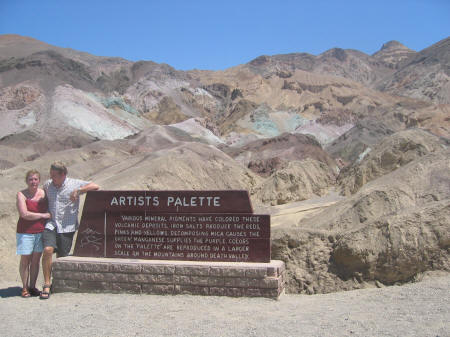 One more stop in the Death Valley was at the Zabriskie Point (is he Polish?) from where you can get a view on the fabulous rock formations: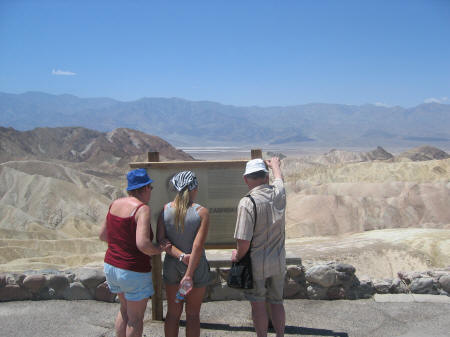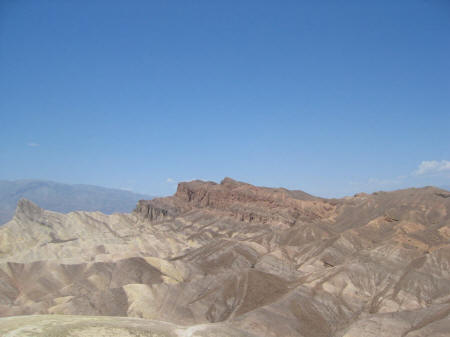 This was the last stop in the Death Valley. Later we went out of the park in the direction of Las Vegas. On the way we made a stop at the bar where there was a kind of western play going on. we really liked the show. In the end Henk joined for a little shoot-down.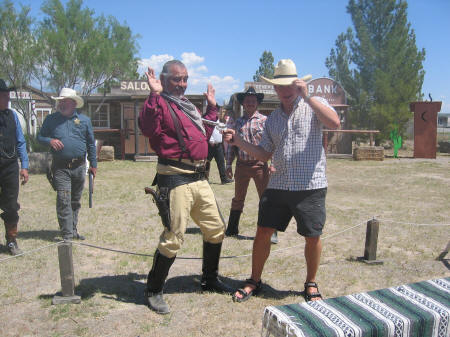 We had a quick drink here and drove further into a town to have some late lunch. The lunch was good and we proceeded to Las Vegas. We didn't want to be too late because we had to find a hotel there. When we arrived in Las Vegas, it was already late afternoon and much traffic. We had some accommodation options which we wanted to check before we made a decision. We knew it was not going to be cheap but we also knew we could get a good deal (we were not during a weekend). We drove around and asked for the prices. The hotels were amazing. All different and all magnificent. At certain moment however, we were all tired and decision had to be taken. We chose Circus Circus Hotel which had a good price, but was also a bit far from the city centre. Well, we had a car so we could always move around.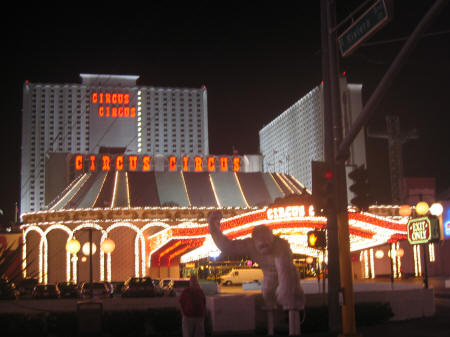 We checked in and went out for the dinner to a very pleasant restaurant opposite our hotel. Tomorrow we were going to discover Las Vegas!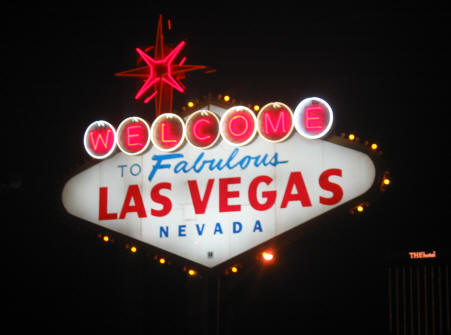 Monday 1st of May 2006

Place: Las Vegas, USA
Climate: sunny and very warm, 300C
Health: Everybody feeling very well
Thought of the day: It's for sure not a city of only gambling, so much to see and to do! (Henk) Viva Las Vegas, what a great place (Anit)

Today was the day to explore Las Vegas. Las Vegas is actually mainly one street full of hotels, casinos, restaurants, shops and clubs. You can't be bored here! There is so much to see. Every hotel has its own theme, everywhere are shows and live music and of course casinos which are open 24 hours. We all were first time here so everything seemed so interesting. Las Vegas, it's only one street but to walk it you need a lot of energy. We visited the famous hotels and had a look in the different casinos. Below some pictures of The Venetian Hotel & Casino: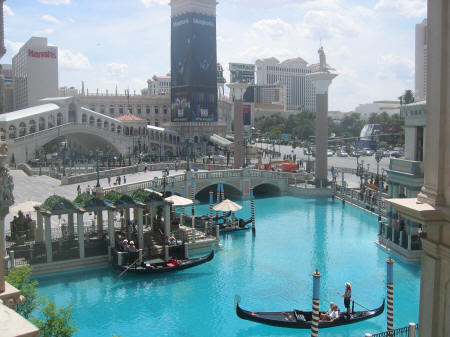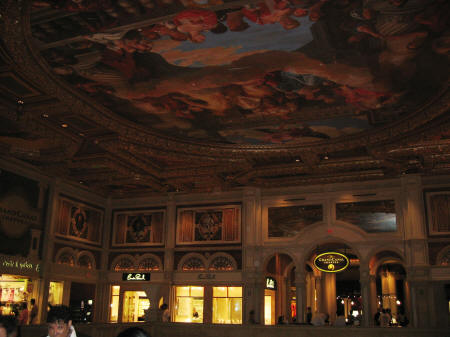 We visited, among others, La Mirage, Venetia, Paris Las Vegas, Caesars Palace, Belagio and more. Below you can see Pauline and Anit wondering the great architecture inside the Paris Las Vegas Hotel, while sipping delicious French wine...what a life...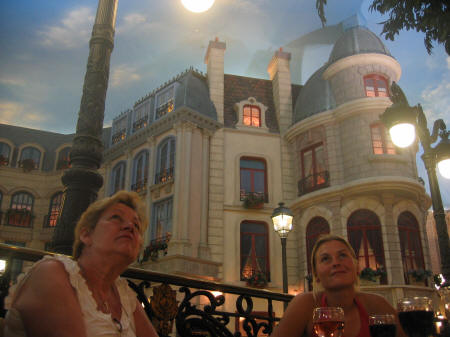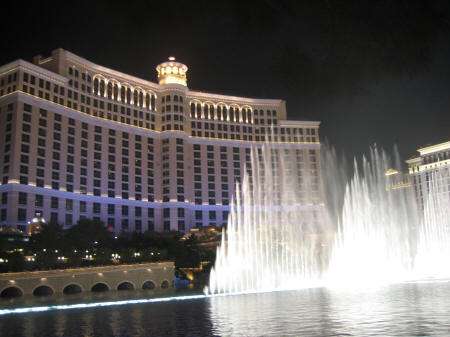 Viva Las Vegas! We had a dinner in a great French restaurant with a terrace just on the main street, opposite the Belagio hotel and Casino (see picture above on right). It's great place, because at the Belagio they have a water fountain, music and light show every evening and we just could watch it while enjoying a great dinner. In addition, there was the strike of Mexican emigrants who demonstrated on the streets for legalizing immigrants. All that together made it a very special evening for us.


Tuesday 2nd of May 2006

Place: Las Vegas, USA
Climate: sunny and hot, 300C
Health: Everybody feeling good
Thought of the day: Dear readers, this is THE place to go, amaze yourself and have fun for a couple of days (Henk & Anit)
Today we decided to start the day with a swim in our hotel pool. We realized that sightseeing during the day is killing due to the heat. That's why, after breakfast in our hotel, we decided to spend some time in the swimming pool.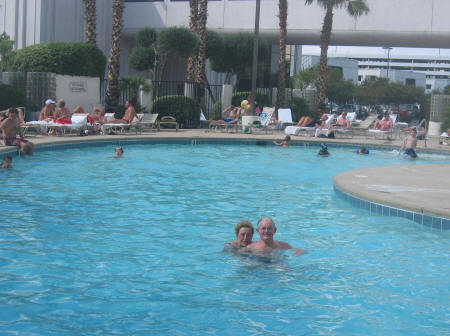 Gerrit and Pauline relaxed in the swimming pool while Henk and Anit first made laundry and some other necessary things. Later on, we joined the Gerrit and Pauline and cooled off in the water. In the late afternoon we made ourselves ready and again we went to enjoy Las Vegas. Some of the attractions were closed unfortunately, but we went to the Paris Las Vegas hotel, our favorite. We had a dinner at an Asian restaurant and had a walk in the lovely city: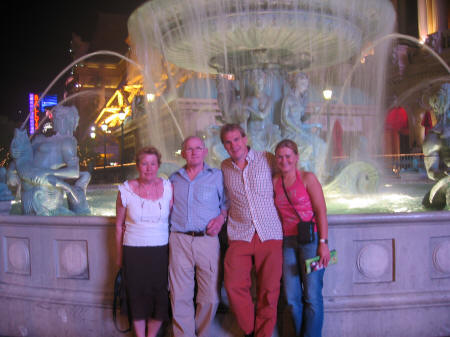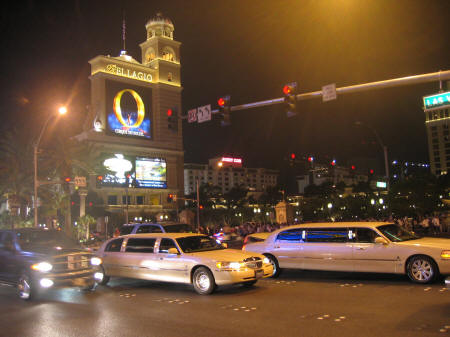 We visited the beautiful interior of the Belagio hotel full of fresh flowers: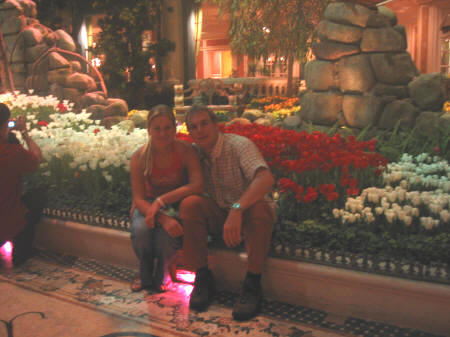 The Belagio is really the number one hotel in Vegas and is the most centrally located.

After the dinner we visited one of the bars with live music where Anit had a nice surprise: she was asked to show her passport in order to make sure she was old enough to enter the bar. He wasn't sure if she was above 21 years?!?!?!?!The policeman was really nice: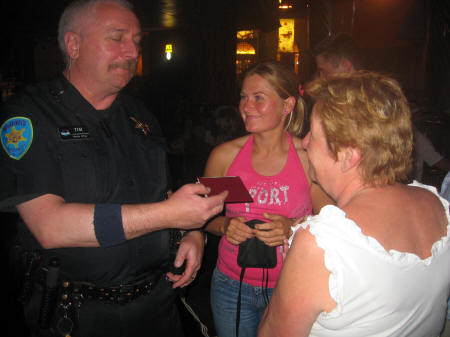 Later that evening we spent some time in the Piano Bar where the public can "buy" songs and the two gentleman or two ladies (depending on the night) play the desired songs on the pianos: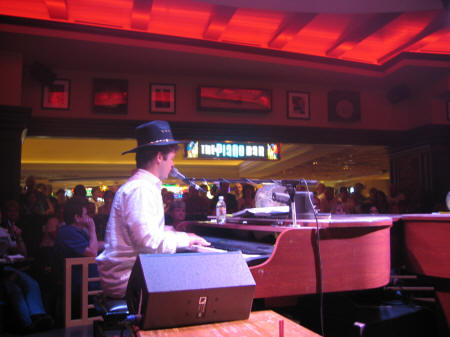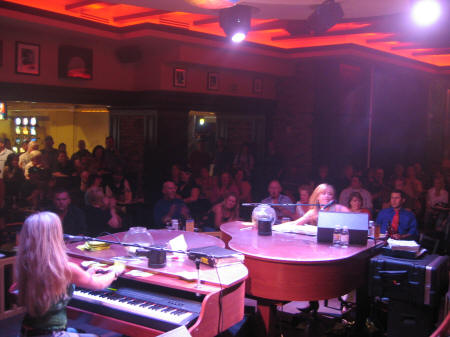 Live goes on here 24 hours a day. There is a lot going on during a day but the real live starts at night.

Wednesday 3rd of May 2006

Place: Las Vegas to Williams, USA
Climate: sunny and hot, 300C
Health: Everybody in good condition
Thought of the day: It was very nice in Vegas, definitely a place to come back again (Henk) I wish we could stay longer here (Anita)

Around 9am we checked out of Circus Circus hotel and left Las Vegas behind us. Our next place to visit would be the Hoover dam. After 2 hours drive we reached the dam. What an impressive piece of work. The dam is named after President Hoover. In the time he was a president of the United States, there was a big depression going on. In order to stimulate consumption and decrease unemployment, president Hoover supported projects like te Hoover dam. Additionally, the dam controlled the amount of water flowing through the Colorado river and therefore protected the land behind the dam against flooding. On top of that, the dam generates cheap electricity.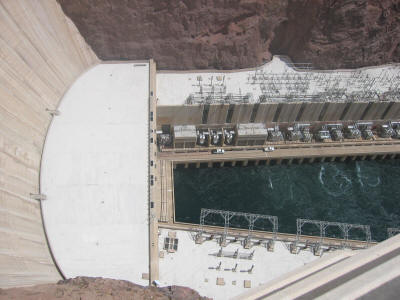 To just see the dam is already impressive, but additionally there is a museum and a tour which takes you inside the dam all the way down where you can see the turbines.

The goal for today was to get as close as possible to the Grand Canyon. Itís quit a drive from Vegas and if you also make a stop at Hoover (like we did) itís better not to drive all the way into the park the day (unless you have a reservation at a hotel or a lot of money).
We decided to stay the night in Williams. While driving towards this town, we found out that we would cross parts of the original route 66! Is was an excellent drive and it gave us a special feeling driving parts of this route.

In Williams we saw that it was a typical sleeping American town, more or less in the old style of the Route 66. We quickly found a good motel and looked around for a nice place to eat. The Lonely Planet recommended a pancake restaurant, but that would be more something for next morning.
We went to the Route 66 Restaurant. What an awesome place. Everywhere you could see, feel and smell the typical USA from that time.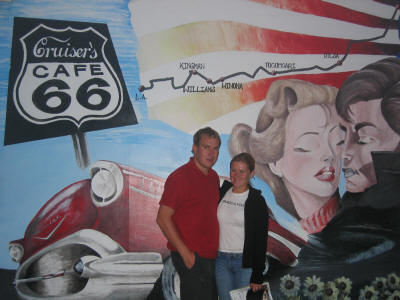 We had some wine and beers at the bar, and later ordered some food. While we were having dinner, a group of motorbike riders came in. We soon heard they were also from the Netherlands. Time to say hello and meet them. The gentlemen were from Limburg and quit soon the rounds of drinks were going around.




For some of us maybe a bit too quick, but we had a great evening!!!


Thursday 4th of May 2006

Place: Williams to Cameron, USA
Climate: sunny and hot, 300C
Health: Everybody feeling very well
Thought of the day: Grand Canyon, wow, it's a wonder! (Anit) I simply love the USA! (Henk)
We woke up this morning with a little headache which made us think of the great evening we had yesterday. When you feel a bit weak it's a good idea to eat good breakfast and so we did. We chose a restaurant recommended by Lonely Planet for its great pancakes. And you know, they really had great pancakes...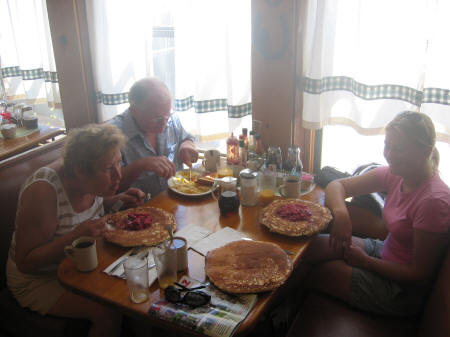 This is unbelievable how big the pancakes were. We realized that one would be enough for us 3. Gerrit ordered a traditional American breakfast. The funny thing is that they have the system of "eat as much as you want" but believe us, you are not able to eat one, so big it is... With the full bellies we left in direction of the Grand Canyon National Park.

We first stopped by gate to take a picture with the welcome board: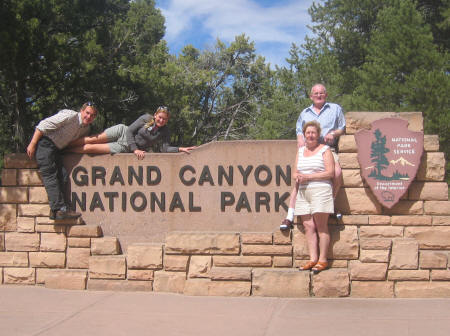 At the entrance we got the maps and some recommendation where to go. We also watched a movie about the Grand Canyon and later on even bought this film as a souvenir. The first place we visited was really crowded. No wonder there were so many people there, THIS PLACE IS A WONDER!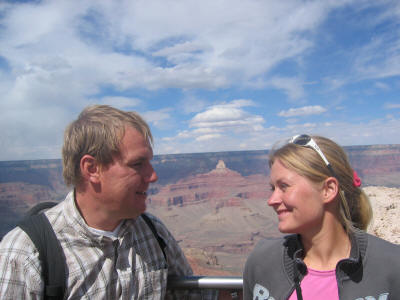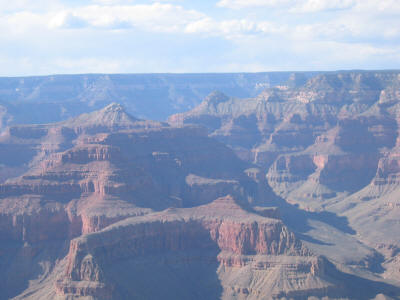 Later on we decided to take a shuttle bus which took us to the remote places where you can't get by car. The views from there were also impressive: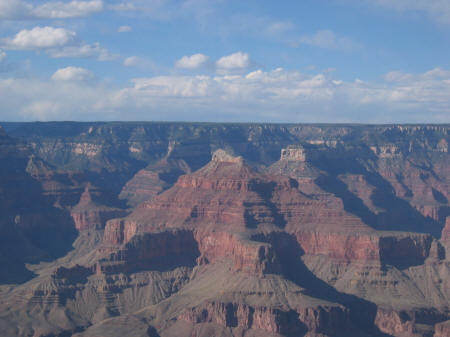 We had only one day in Grand Canyon so it was not possible to do any trail. However, we made a short walk down the canyon to see if from the other perspective. When you reach the Colorado River, it must be really impressive...
The time went quickly. On the way out of the canyon we made the last stop at the view point to capture the sunset: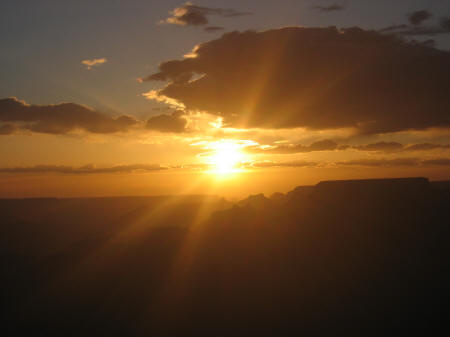 It was already late when we left canyon. We discussed to overnight in the little town called Cameron and hoped to find a place in a hotel. This place was so small that we didn't even realize that we were already there. We came to one place which looked good for overnight and asked if they had any room left. Actually they only had one... Well, we didn't really feel like driving further because we were tired after the busy day, so we decided to take this room. There was further nothing to do in this village so we had a dinner at the hotel restaurant and went to sleep.

Friday 5th of May 2006

Place: Cameron to Jean, USA
Climate: sunny and hot, 300C
Health: Everybody feeling very well
Thought of the day: If somebody would ask me which park I like the best I couldn't answer...they are all so different and so beautiful (Anit) Strange hotel we slept last night (Henk)
The goal of today was to get beyond Las Vegas. We would visit the last park, The Zion National Park and than return in the direction of Las Vegas, pass it and have a not so long route to LA the next day. The route was really nice. We made a stop at the Colorado river: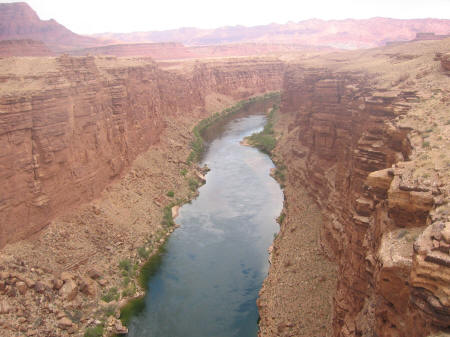 Later along the way we encountered a village where people used to live in houses made in the huge stones: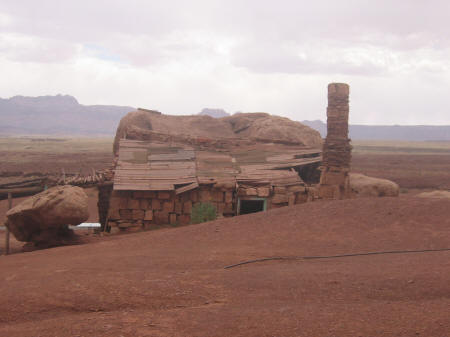 In the afternoon we arrived at the gate of Zion National Park. Here we saw again huge stone formations. They were different than the Great Canyon but also very impressive: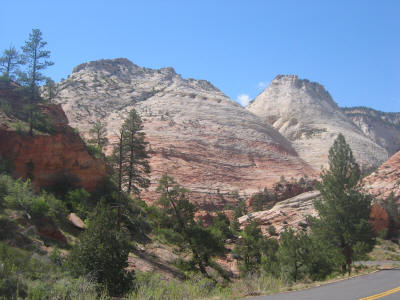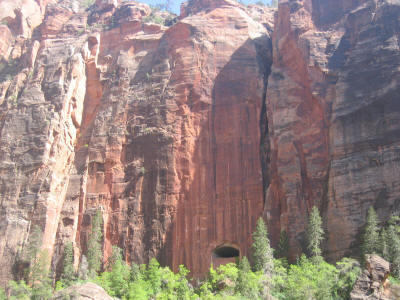 We drove through the park (yes, in USA, it's possible to get by car almost everywhere). You don't have to get out of the car even. Anyway we did get out to take some pictures. When we left the park a couple of hours later we had to speed up to reach Las Vegas. We don't like to come back to the same place but there was no other convenient road to come back from the park. We reached Las Vegas late in the afternoon and decided to drove a bit out of the city to get a cheaper room. We were, however, wrong thinking that outside the city would be cheaper. When we arrived at Jean which is about 20 kilometers further, we found a hotel which even had a higher price that a room in the Circus Circus hotel in Las Vegas. We had some drinks and dinner in the hotel's restaurant in the evening.
Saturday 6th of May 2006

Place: Jean to Los Angeles, USA
Climate: sunny and hot, 300C
Health: Everybody feeling very good
Thought of the day: Last part of the trip with my parents, it's a pity, but it was very nice (Henk) The time went so quickly...(Anit)

In the morning we had some breakfast in our hotel. It was fine. We checked out and hit the road. On our way to LA we would drive through Mojave dessert. Henk new that somewhere in this desert the airlines store their planes, because it is so dry. But how can we find this place? Along the way we asked a truck driver who new the right spot. It was a bit a detour, but there was no other way to get closer.

Before going to the air plane storage we discovered the was an old western/gold mining town along the way. It was like a small theme park, but worth visiting. We had a nice walk around, had some drinks, lunch and moved on.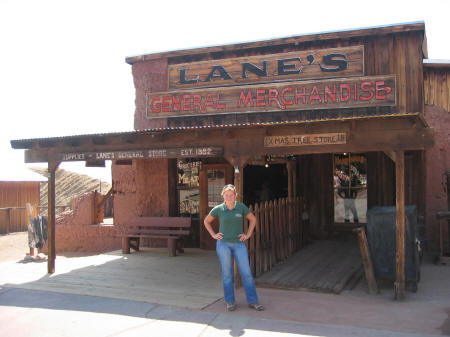 When we arrived at the place of the planes, it didn't look so impressive at all, but when we were really close there were quit some planes. We tried to capture Henk together with his planes on the photo: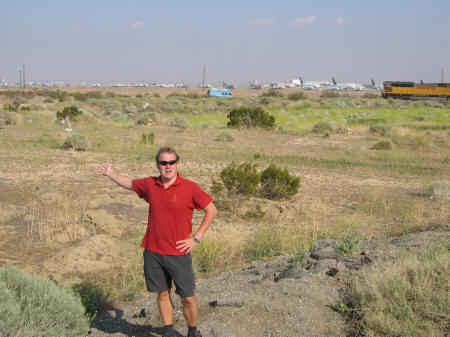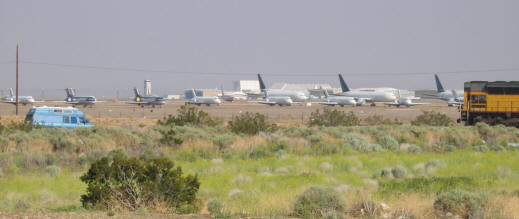 This was our last stop before LA. In LA we wanted to keep the car for one more day, but wanted to inform the rental company so we first made a stop at this place. Jeee, it was difficult to take the car again from the parking. They couldn't understand why we came in and wanted to go out again. When Henk showed them that we still had rental time left, it was finally okay.
We checked in at our Hotel, this time at the Crown Place, also very close to the airport. Tomorrow was the last day of Pauline and Gerrit's visit and we would go to the Crystal church to follow the mass. This is quit a famous church of which the mass is always on TV in the Netherlands.


Sunday 7th of May 2006

Place: Los Angeles, USA
Climate: sunny and warm, 240C
Health: Everybody feeling very good
Thought of the day: You see, it is also possible to make the church interesting and that many people want to visit it. It's not necessary that the word of God is boring (Henk) Never have I been to such a mass (Anita)

We woke up early, since it was quite some drive to the Crystal church. Actually it is not in LA, but a bit on the outside. Luckily on Sunday's not so much traffic, ooops, not so much traffic. It was going alright, but traffic enough.
When we arrived at the church it was not so busy yet. It was good, so we could find a good spot to see all. What was also nice, was that we could follow the rehearsing of the choir. The singing was really good and impressive.
Close to 11 the church was almost full and the mass began. The both priests (father and son) opened the mass and...also a big door went open, that broad in the light and fresh wind from outside.
The mass was like we would say a bit the American way but quit impressive. Especially the singing we liked.




After the mass we walked around and see more of the church.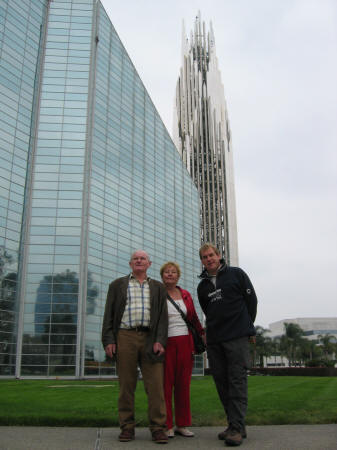 Just after the church we looked for a hotel near Disneyland were Anit and Henk would go next day. A must see of course. The motel was quickly found and the location was quit good.
Now it was about time to get back to the airport. It was still some drive and we didn't want to be too late. The plane left in the evening directly from LA to Frankfurt and then from there to Munster.
At the airport we first dropped the car and then we took the shuttle to the airport.
Pauline and Gerrit checked in, all was fine. There was still time for some lunch. Only Henk and Anit had some, since Pauline and Gerrit would get enough in the lounge and in the plane.

It was time to say goodbye to each other. Anit and Henk wished Gerrit and Pauline a good trip back to Europe and also Gerrit and Pauline wished Anit and Henk a good trip to Mexico.

Bye bye, Gerrit and Pauline. Thanks for coming over, we had a great time and see you again in a few months!!!

Anit and Henk had one more thing to do, rent a car. This time we tried Thrifty rentals. They seemed to have a good rate and yes, after some negotiations we got a nice car for only 160 US$ for 4 days. From there we drove to our new motel and prepared for our next day visit.
Goodnight.