USA Part III

Monday 8th of May 2006

Place: Los Angeles, USA
Climate: sunny and warm, 240C
Health: Both Henk and Anit feeling very well
Thought of the day: I wish I had been here when I was a child (Anit) Today our tour of LA starts, with part I: Disneyland! (Henk)

We woke up round 7 in the morning in order not to be late at the park. We had some quick breakfast and took off in our red Chevrolet. Lot of traffic on the road. Normally on Monday there is a lot of traffic like everywhere in the world.
We arrived exactly at 09.00h at the park. Already quite some people were there, but on Monday it shouldn't be too busy.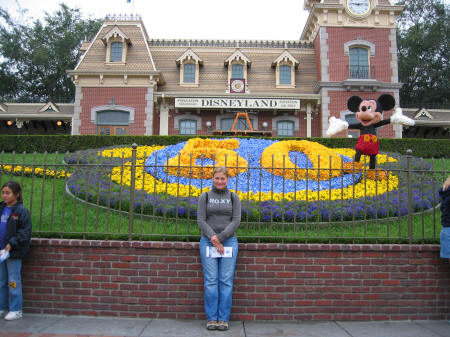 As Henk had been here already before, Anit was the most impressed. What a beautiful park. Where to go and what to do first? We bought a combi-ticket, so we could also visit the new park with more thrilling rides.
First the original Disneyland. We decided to take the rides that could be the most crowded when the groups come. We headed to adventure land to take the Indiana Jones ride. Man, it was scary. We sat with 12 people or so in a sort of car and raced up and down through darkness and faced some of the adventures you could see in the movies. Good, good start.

Magic Mountain in tomorrow world was on of the next things. They revised the attraction and it was really thrilling. Henk also wanted to visit the Star Wars attraction and so we did.

One of the next things was a meeting with Mickey. We went to his house for a coffee and a nice picture….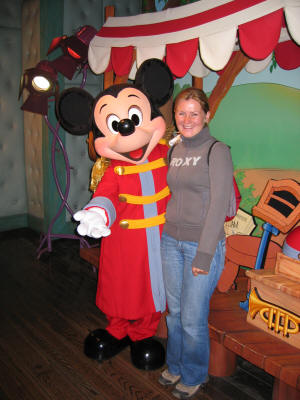 In the early afternoon we had lunch and later we visited most of the things we wanted in the traditional Disneyland. Afterwards, we headed to the newer part, which is more focused on an older audience with more thrilling rides like a rollercoaster that brings you up side down and the Hollywood Tower Hotel…………………………………….

We didn't know what to expect at the Hollywood Tower Hotel. It looked dark and old from the inside and we waited a bit before we could enter te final attraction. It was a lift. We sat down with 15 people or so and than the bars locked us up and then………it got dark….the lift started to shake and took off….It felt like if we were going straight through the roof. Then it suddenly stopped, the door opened and we could see the outside and we were at the very top! Woaaaaahhhhhh, the door closed and the lift simply dropped down, stopped for a while and dropped down again. It was dark and actually you didn't know where you were. Everybody was jelling.
It was funny, unexpected and thrilling. What a ride!!!
The funniest thing after this ride was a visit to the turtle who plays in the movie Nemo. Hey dude. The turtle was on a big screen, but you could actually speak to him and he would speak back. It was a show of about 15 minutes or so.
At about 6pm we went back to the other park to see the Disney parade. This year Disneyland has been opened for 50 years and every evening they have a big parade with all the stars: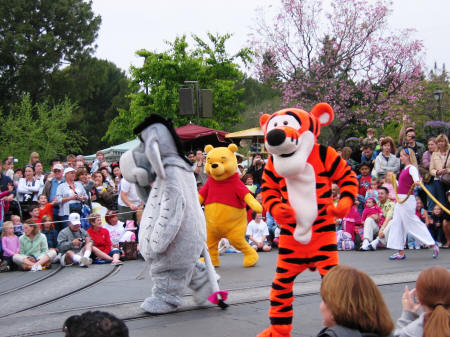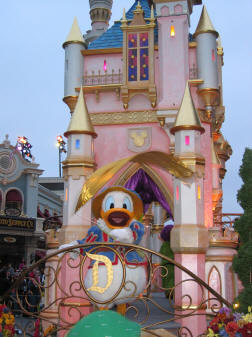 After this fantastic parade we took some more rides and around 21.00h we left the park back to the hotel.

It had been a great day, we were tired and as soon as we saw our bed we got down and fell asleep.


Tuesday 9th of May 2006

Place: Los Angeles, USA
Climate: sunny and warm, 240C
Health: Both Henk and Anit feeling good
Thought of the day: First time we had problems finding a hotel in the US (Henk) Could we possibly spot some stars today? (Anit)
We woke up a bit late. For today the only plan was to change the hotel. What looked easy was not so easy. We tried many hotels and almost all were occupied or terrible expensive. There was a gaming fair in LA and that was the reason.

Finally we found a place and would stay here for 2 nights. It was quite okay and also the price was fine. Later on we went to the Universal Studios to check prices and the opening time. We already got a bit exited about tomorrow.

It was already late in the afternoon when we settled in the hotel and we had a quick bite at Taco Bell (Mexican Fast Food).
Later that evening we visited Hollywood boulevard to see the stars of the stars.
Anit has her own star, can you believe it?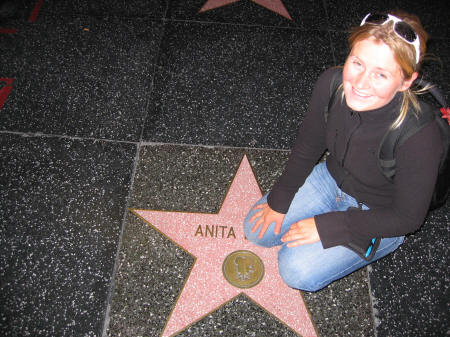 Tomorrow would be a fun day again, Universal Studios!


Wednesday 10th of May 2006

Place: Los Angeles, USA
Climate: sunny and warm, 240C
Health: Both Henk and Anit feeling good
Thought of the day: Movies, I love them (Henk) Where are the movie stars??? Will we spot some???(Anit)

We woke up early to be in time at the Universal Studios. Since we had seen that there was a Subway at Universal we decided t have breakfast there. They really have nice fresh sandwiches and you can choose your toppings. Hmmmmm, delicious!
At 10am the gate opened and we were one of the first to enter. As advised on the folder and as Henk remembered from his previous visit 22 years ago we started with the tram tour.
The tram takes you actually trough the studios where they make the movies, so Universal is not only a theme park but also a factory where the movies are made. The guide was good and funny. After a little drive we entered one of the studios and it was getting dark. What was going on?? Suddenly we saw King Kong. All started to shake. It was thrilling. Luckily we could escape and drive on.

A few blocks further we saw the set of the movie "War of the Worlds" with Tom Cruise where they used a real plane which they crashed on purpose: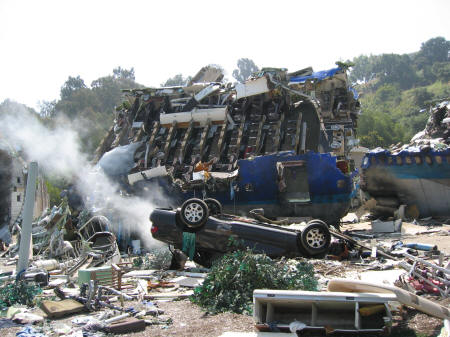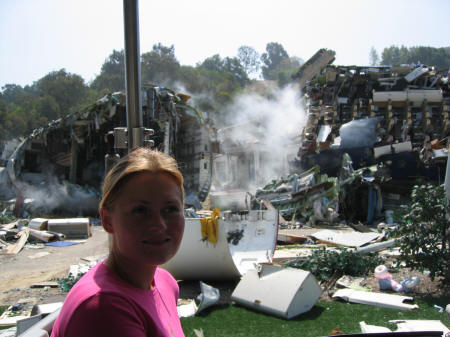 One of the golden oldies is of course a visit to Jaws and yes, he was still there….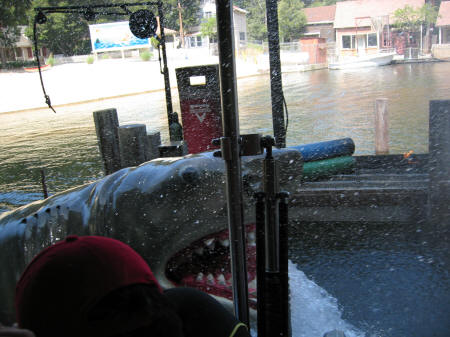 Also nice was to see how they create a rainy day and a water flood.
After the exciting tour with the tram we were ready for some other action. As it was not so busy in the park we could enter all attractions quickly without too much waiting. The first thing we did was the mummy ride and yes it was dark and yes it was scary and yes we screamed!!!!

One program what actually is quit interesting is where they show you how they make special effect and people from the audience are asked to join in. Henk had his own big role in Hollywood. He had to say certain sentences which would be put in a film. Hilarious!

Also very good is the Terminator 4D show where movie and real acting is mixed in a nice way and of course the stunt show "Water world". It was a show of 40 minutes or so and the stunts the actors made ware hilarious. Even a plane was flying into the open-air-theatre.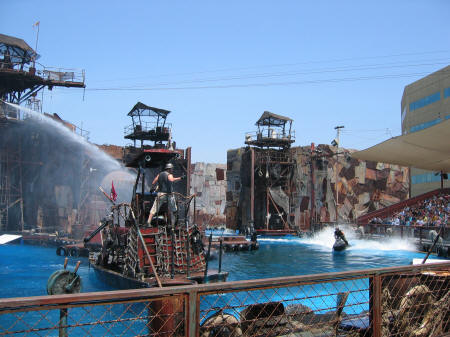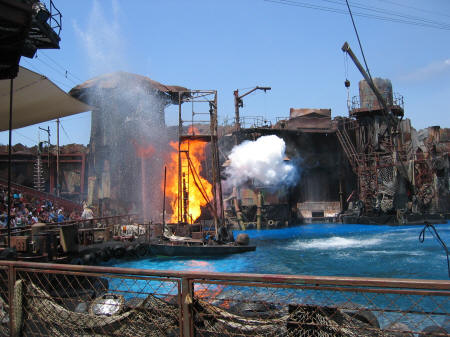 One other good attraction (all attractions are good by the way) was Shrek in 3D. We were sitting in a theatre with the funny 3D glasses and it looked like Shrek was next to us, but on top of that the chairs we sat on moved. So when Shrek was ridding a horse, it felt like we also were riding a horse. When it rained they splashed the water so we got wet!?!!?!??!

After the Shrek show Anit had a rendezvous with Mr. Shrek himself: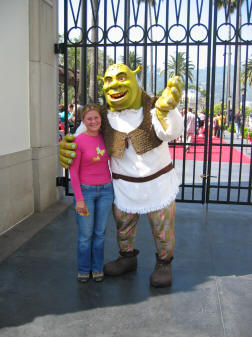 After we had left Universal Studios it was time to see Beverly Hills and the big houses. Luckily (Henk said) we were a bit late, so the shops on rodeo drive were already closed. That saved us a lot of money!!!
We cruised a bit through the street of Beverly Hills and gazed at the fantastic houses. Later that evening we went to a little nice French restaurant in Beverly Hills (price was normal) to finish our fantastic day.

Tomorrow we would go to our next destination: Mexico!